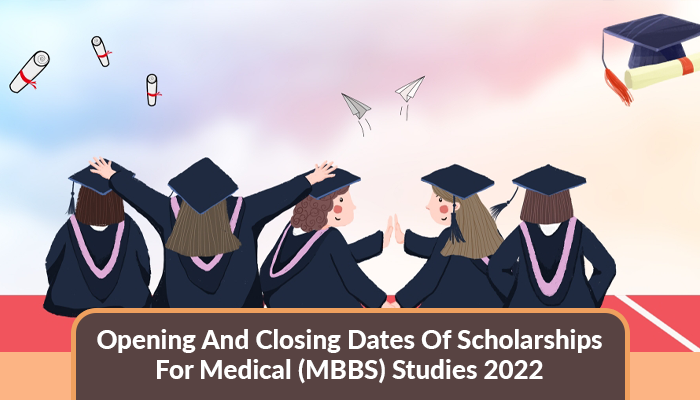 Students who want to go abroad for medical study and experience different culture there along with standard quality study are at the right place to find scholarship anywhere in the world. As the world is progressing rapidly with the increase in health challenges. A lot of things are left there for research. Every student wish to study in top ranked institutes of world but finance make it difficult for them, here is a chance for them to win a scholarship for their wish to come true.
Top Scholarships For Study Of Medicine In 2022
Here is a list of scholarships announced for undergraduate, postgraduate including PhD studies in the field of medicine
1. Fulbright Scholarship For International Students In USA
This scholarship is announced for postgraduate study level (Masters and PhD) in any university of USA. Almost 4000 students achieve this scholarship from all over the world every year. This scholarship program is organized by binational Fulbright foundation or US embassies.
Benefits Of Fulbright Scholarship USA
Full tuition fee waiver
One time air ticket
Health insurance
Monthly stipend
Selection Criteria For USA Scholarship
For each country the selection or eligibility criteria is different
Deadline To Apply
15th September 2022 is the application closing date
2. New Zealand Aid Program
New Zealand scholarships are open now for the limited Universities of NZ. These announced scholarships are for bachelors, masters and PhD students. NZ Aid Program gives scholarships to specific universities for all the subjects taught in those universities.
Here is list of universities that accept applications for NZ Aid program
University of Auckland
Lincoln University of New Zealand
Massey University
University of Canterbury
University of Otego
University of Waikato
Victoria University
Benefits Provided By NZ Scholarship
Fully funded scholarship which cover tuition fee
Living allowance of $49/ week
An 3000$ establishment allowance
Two way air fare is provided
Research and thesis cost also covered by this aid program
Requirements To Apply
Must get a student visa
Must have all academic transcripts at the time of application
Pass the English language test IELTS/TOFEL
Deadline To Apply
Closing date for this scholarship application is 28th February 2022
3. Australia Award Scholarship
This scholarship award is for Australian universities and courses taught in that universities. Grant is awarded to all study levels (Under and postgraduate)
Benefits Of Australian Aid
Provide full tuition fee waiver
One-time in and out air ticket
Cover establishment cost
Allowance for living expenses
Health insurance
Deadline To Apply
Last date to submit application for scholarship is 30th April 2022
4. Global Korea Scholarship
This aid program is funded by Korean government for all international students to start their study in under and postgraduate programs taught in Korean universities. Along this it also provide opportunity to learn Korean language.
Benefits Of Global Korean Scholarships
Full tuition fee waiver
One time air ticket
Settlement allowance
Based on category of study level 900,000KRW to 1,000,0000KRW monthly allowance
20,000KRW medical allowance
100,000KRW for best proficiency score in Korean language
Research and thesis cost also covered
Eligibility Criteria
Applicant and their parents must be permanent resident of their country of origin
Not have Korean citizenship
Medically fit applicant are acceptable
Age must be under 25 for undergraduate and under 40 for postgraduate
Last degree marks percentage must be 80%
Deadline For Application
Applications closing dates vary according to level of study. For more details visit website.
5. Friedrich Ebert Stiftung Scholarship
This German scholarship provide grants for bachelors, masters and PhD applicants in any course studied at German universities. Help the students from all over the world to advance their education and career.
Benefits Of Scholarship
Full tuition fee waiver
€744/ month
Medical allowance of €71/ month
A family allowance of €115/ month, if families come with applicant
Cover research and thesis cost
Eligibility To Apply
Domestic and international students are allowed to apply for this scholarship
Applicant must have critical thinking
Must hold previous studies degree
Deadline For Application
Closing dates for this scholarship applications is 31st May 2022
6. Heinrich Boll Foundation Scholarships
This undergraduate and postgraduate scholarship is accepting online applications from international students. Scholarship is awarded for each course taught at German or Sweden universities.
Coverage By Scholarship Award
Allowance of 850€/ month
Books allowance of 300€
Additional funding for research and thesis
Eligibility To Apply
Applicant must have graduate degree
Those who are applying for PhD must have been accepted as doctoral students by their Government or university
Deadline For Submission Of Application
Last date to apply for this scholarship is 1st March 2022
7. Bilkent University Scholarship For International Students
Bilkent university accepting applications for undergraduate, master and PhD studies from all over the world in Turkey.
Benefits Of Bilkent Scholarship
100% tuition fee is covered by this scholarship
Percentage of scholarship depend upon rank of student
Eligibility Criteria
Applicant must be an international student
Must get admission in an undergraduate or postgraduate degree program
Must have last studied program's degree
Must have at least 2.5 GPA out of 4
Meet the English language requirements at Bilkent University
Deadline For Application
Applications submission will be closed on 4th July 2022
X
FREE STUDY ABROAD

Free study abroad expert advice