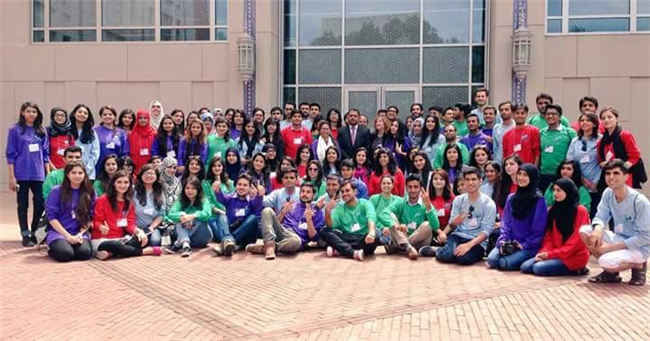 University of Science and Technology (USTB) and Pakistan Agricultural research council have signed an agreement to collaborate in information and technology department and start degree programmes with mutual assistance and exchange academic research.
According to the terms of MoU, Pakistan Agricultural Research Council and University of Science and Technology will begin student exchange programmes, exchange training faculty of students and will share academic cost of the research.
The strong links between academia and industry promotes the economy. This bond helps academia in shaping better skills in future professionals. The future and progress of economy largely depends upon industries of micro electronics, computers, telecommunication, robotic technology, man-made material and biotechnology.
The government of Pakistan is making maximum efforts to bring foreign investments to these fields. In this prospect, Pakistan Agricultural Research Council has established seven major research divisions for the purpose of conducting research in agro-ecological needs of the region. These research units are as follows:National Agricultural Research Centre (NARC), Islamabad , Southern Zone Agricultural Research Centre (SARC), Karachi , Arid Zone Research Centre (AZRC), Quetta , National Tea Research Institute (NTRI), Mansehra , Sugar crops Research Institute (SRI), Thatta , Himalayan Agricultural Research Institute (HARI), Kaghan and Mountain Agricultural Research Center (MARC), Juglote sai, Gilgit.
Major investment in Information and Technology field is coming from CPEC project. Chinese Government has started many scholarships and exchange programmes with Pakistani Universities to help promote its IT industry. The IT industry in Pakistan went through major developments in Past 18 years. Because the growing importance of IT globally, Pakistani government reformed its IT policy under leadership of Prof. Atta-ur-Rahman in 2000.
In this prospect, the Pakistani Government initiated computerizing e-government systems in Pakistan for major departments such as police, law enforcement agencies and district administration. The National Database and Registration Authority (NADRA) also started computerized identity card system the same year. Ever since 2000, effective changes and introduction of computerized administration in public and private sector provided a large number of employment opportunities.
Now the phenomenon of career counseling has encouraged the IT industry to engage and strengthen the ties between industry and academia. The progress of software development in Pakistan has also been worth appreciation. It is fastest growing industry in Pakistan. Pakistan produces 15,000 IT graduates per year, although this average is still very low in terms of global need.
Pakistan has to put more emphasize on generating more IT graduates. Software Development, Business Analysis, Quality Assurance, Project Coordination, Networks, Security, Support, Implementation or Product Marketing are all IT related professions. Pakistan's IT industry needs assistance from international educational institutes for help design the academic training of IT students.
Here are a few scholarships programmes provided by foreign Universities to study abroad.
RNCM Junior Fellowship, 2019
International Student Scholarship In Cookery Or Pastry, Le Cordon Bleu New Zealand
Prague College Scholarships
AIBT Scholarships, 2018-19
Graduate Research Scholarship At Koreatech
Singapore Government MOE Tuition Grant Scheme, 2018
Manchester Metropolitan University Graduate Diploma In Law Scholarships, 2018
X
FREE STUDY ABROAD

Free study abroad expert advice