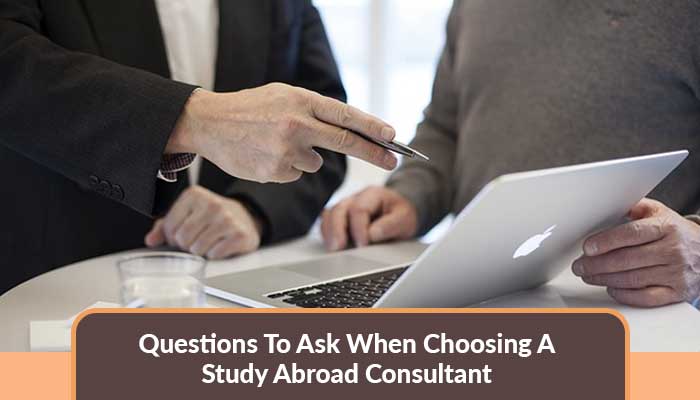 Many students seek to study abroad because of the opportunity to receive a high-quality education from prestigious universities or institutions known for their academic excellence. Consulting with study abroad consultants, educational institutions, and embassies can provide you with the most up-to-date information for planning your study abroad experience.
Study abroad consultants are professionals who provide guidance and support to students who wish to pursue their education in a foreign country. These consultants specialize in providing information about various study abroad programs, universities, scholarships, visa requirements, and other related aspects. To get answer of all these questions you have to choose a best study abroad consultant to guide you. Here in this article we have explain five important questions to ask from a consultant while choosing him/ her for study abroad journey.
Experience In Study Abroad Advising
The experience in study abroad advising of a consultant refers to their knowledge, expertise, and track record in assisting students with the process of studying abroad. Though every consultant has their own approach and method to deal with study abroad programs and applications. To inquire about a study abroad consultant's experience in study abroad advising, you can ask the following questions:
How long have you been working as a study abroad consultant?

What countries and educational institutions are you familiar with?

Have you personally studied or lived abroad? If yes, where and for how long?
Services And Support Provided By Consultant
The difference in a good and great consultant is that great one provide support you throughout your study abroad journey from starting of application to the final stay and accommodation in hosting country. While asking for the services and support provided by the consultant, you must have to keep your basic requirements in mind. Here are some questions you can ask:
What services do you provide to students who wish to study abroad?

Can you guide me through the entire application process, including selecting universities, preparing documents, and securing a student visa?

Do you assist with scholarship applications and financial planning?
Ask About Reference Contact Of Past Student
An honest review can help you to choose the best counsellor for your study abroad journey. It can be valuable to gather information from past students who have worked with that consultant. Request the contact information or references of previous students who have received study abroad advising from the consultant. This will allow you to reach out to them and ask about their experiences and satisfaction with the consultant's services.
Update Of Current Study Abroad Trends And Regulations
Study abroad trends and regulations are constantly evolving due to various factors such as changing geopolitical situations, advancements in technology, global health concerns, and shifts in educational policies. You can ask from your consultant
How do you stay updated with current study abroad trends and regulations?
This question will let you know the ways he/she use to get up to date rules and regulations in visa requirements, admission process, and implementation of new rules in education system of different countries. Such as either he/she attend international conferences, a member of a study abroad association or participate in training sessions.
Study Abroad Challenges And Their Solutions
Studying abroad also comes with certain challenges along with the rewarding experience. Create a checklist of your queries about if you have some about the challenges and their solutions faced by the past students during their study abroad journey then ask from consultant. You can ask
What are the challenges I might have while studying abroad?

Will you continue to provide support once I am studying abroad, such as assistance with accommodation, cultural integration, or any issues that may arise?
Top Study Abroad Consultants For Pakistani Students
Studyabroad.pk is a reliable platform you can explore to find registered consultants that provide free advising services to Pakistani students who are interested in studying abroad. Some of the top consultants you can consider for your study abroad journey are as follows
X
FREE STUDY ABROAD

Free study abroad expert advice