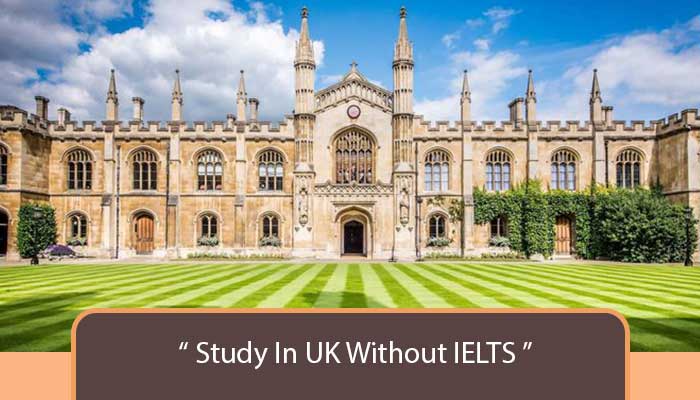 The United Kingdom has one of the strongest bases of education systems and many candidates want to presume their studies in the UK. The concept of studying abroad always sounds like an eligible option and since the UK is a multicultural country and the diversity of people make it even more vigilant. If you belong to an Asian country, you can still mix up with ease because you can find many people belonging to different countries. The UK can present you massive job opportunities and a UK higher education degree is well recognized in Pakistan. The UK requires three years for an undergraduate degree and then one extra to complete a postgraduate qualification if you're a medical student. International English Language Testing System also known as IELTS, this system works in many countries that test your language skills and later on determine your capability for higher education abroad. Most people give an IELTS test to qualify for UK studies but did you know it's not all together necessary?
Requirements To Study In UK Without IELTS
Your English proficiency is the basic requirement to study in the UK, if you have the record of your previous education and you have an excellent score in an English subject, you're approved to study in your favorable university. If your previous education is in English then you're at luck because the accountability of your previous education is an essential element. Here are some points of eligible requirements to study in UK without IELTS:
English language abilities, comparable to CLB level B2 or higher, you can also try to improve your spoken English abilities for better impression

70% above marks in High school education, English Language and this the requirement if IELTS condition from the university is 6.5 no band less than 5.5.

If the university requires IELTS score 6.5 no band less than 6.0 then you need 80% marks in High school, English language.

Some Universities also accept you with 60% marks from 10-12th standard, English subject.

Some short courses in English and proving that English was the medium in your previous education.

Doing a pre-sessional English Course can be proven beneficial, it is a course that is offered by the university.

If you prepare eloquently for your online interview, it can leave an efficient impact to study in the UK without IELTS.

If you have done your bachelors with an English major, this can also create a smooth space for you but it is not compulsory as you can also apply in other subjective degrees.
How to Acquire Study Visa Without IELTS:
If the university accepts you since they don't have a criteria for IELTS, you can obtain a document that states, you can acquire a visa without an IELTS score.

The general acceptance letter acquired from the University.

You can also take the Secure English Language Test (SELT) that is considered mandatory by UK Visas and Immigration (UKVI) as valid proof for English proficiency without IELTS.
Benefits Of Studying In UK
UK degrees are well recognized all over the world, Asian countries give extensive salaries to the candidates who have acquired their higher education degree from UK

Multicultural values will make it easy for you to blend in and it creates feasible adjustment apprehension.

The United Kingdom is a developed country that is economically stable, so studying in the UK has economic benefits.

The stable economy can start your career with a few preferences and your earning will be quite efficient.

Some universities which hold great histories and are known to be the oldest institutions were found in the UK.

People belonging to different countries can acquire scholarships in UK based universities.

You can also acquire free health services with the eligible criteria.
Universities In UK That Does Not Require IELTS
Here's a list of universities that does not require IELTS to study in UK
Sheffield Hallam University

University of Warwick

University of Basel

Birmingham City University

University of Bristol

Audencia Nantes School of Management

Riga Technical University

University of Geneva

London Southbank University

Northumbria University

Robert Gordon University

The University of Bolton.

University of Northampton

University of Plymouth

Portsmouth University

Swansea University

University of Greenwich

University of Central Lancashire

Aston University, Birmingham

Liverpool Hope University

University of Strathclyde

Royal Holloway University

Northumbria University

Coventry University

Staffordshire University

University of Surrey

Queen's University Belfast

Glasgow Caledonian University

University of Portsmouth

University of York

Northumbria University

University of Dundee

Oxford Brookes University
Your grip on the English language and general efficiency in the English language are the necessary requirements and strategy to study in the UK without IELTS. Universities may ask you to prove your efficiency in the English language, so be prepared for that time. Although there are universities that have made IELTS compulsory, it's not to worry about since many prestigious institutions have not made IELTS compulsory. Some universities also implement entry test or special English examinations, so you can qualify their English language criteria.
X
FREE STUDY ABROAD

Free study abroad expert advice