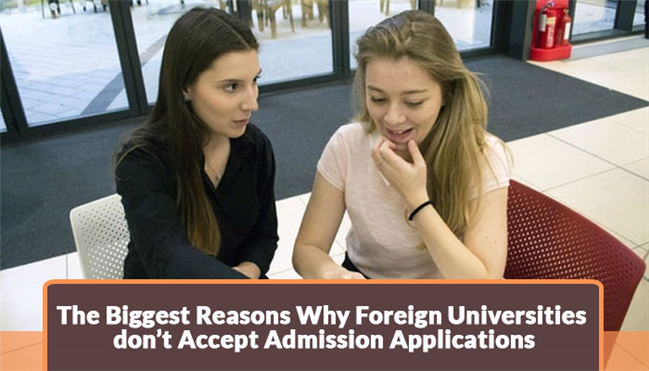 Everyone wants to get admission in foreign universities. Even many students apply for scholarships at every session and some of them get the chance to study there. Foreign universities reject the application without describing any reasons and students always gets confused about why their applications don't get accepted.
Here in this article, I would point out a few reasons that might become the reason for which foreign universities don't accept Admission Applications.
Candidate did not qualify under the terms of the Admission
Every University specifies some terms and condition that need to be fulfilled for getting admission in abroad university. If any candidate applies without getting or fulfilling term of his / her application than the foreign university will not accept the admission application .
Incomplete Application
Incomplete Application submission might become a reason for application rejection so be careful at the time of filling your Admission form. This might sound like a stupid if you had submitted your incomplete application; students should always try to get help from their seniors for doing paperwork in order to submit application accurately.
Eligibility
If a student does not fulfill the eligibility criteria of the foreign university there is not a single way that the university would accept the application. A student holding 3rd grade in his whole academic career is not eligible for applying in most of the foreign universities for higher studies. Candidate must have:
• Good grades.
• Good projects/work.
• Papers (esp. if you are into the technical/scientific field; not that it's not important in non-STEM).
Missed the Deadline
Missing Deadline is not a very unusual thing. Most of the students fail to fulfill and send their application form with the due date. Keep in mind that if you are late, you would be definitely out.
Candidate didn't include a valid contact
If a student didn't add the phone number at which he can be connected it can be a reason, the organization might be able to not contact and the student could not get the status of his application.
The application contained several Spelling Mistakes
If a student's application contained many grammar mistakes than the foreign universities would not accept admission application. You must have to fulfill application form and all other documents with correct grammar.
Copy Personal statement or essay from the Internet.
The personal statement is a stepping stone to gain entry into the foreign university. Personal statement or essay is a way of communicating with your admission tutors and explaining them your about why you are interested to get admission in this programme. So make sure that the written statement is the only way by which you can express your personality. Be careful in writing a personal statement, if you would copy and paste material your application would be definitely rejected.
Submitted irrelevant or inappropriate supporting documents
Every student needs to provide supporting documents in order to promote his Application. The required documents should be listed accurately. All those students who post or deliver these documents must download and include the document cover sheet that will be generated when you complete your application. Try to avoid adding irrelevant documents and send the good quality of copies.
Handwriting is illegible
There is a possibility when you have requested to submit a handwritten essay. Keep in mind that your writing is neat and legible. Don't write in a way that they become frustrated to decipher your writing.
Candidate did not include enough postage
If you are sending your application by mail carefully put the postage on your envelope so that your application would reach on the correct address. If a student would not write the address correctly his application would not be able to reach the required destination as a result foreign universities will not be able to accept Admission Applications.
If you want to increases chances of success in getting admission in foreign try to avoid all that mistakes. Best Wishes
X
FREE STUDY ABROAD

Free study abroad expert advice