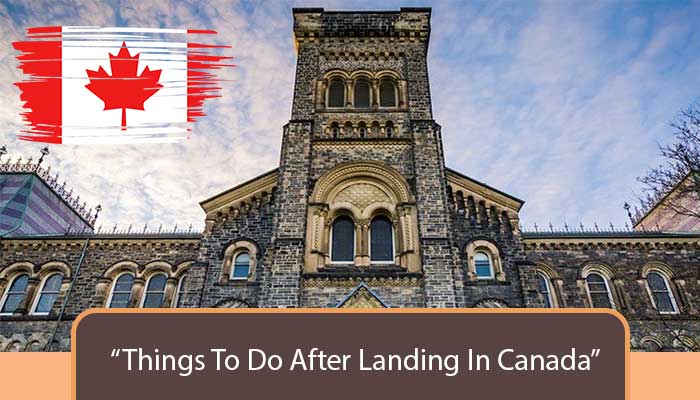 Canada has become one of the top destinations for studying abroad. Every year, a significant number of students enroll themselves in Canadian universities. You can enter Canadian premises as soon as the Canadian embassy grants you a visa. You must give yourself a little bit of time before starting your academic session to get to know most of the basic stuff beforehand.
If you are traveling for the first time, you must be extremely confused about what to do first and how to handle things. Here in this article, we will guide you through the most important things that you can do after landing in Canada. You can follow the below-mentioned things upon arriving in Canada. It will be helpful for you to settle your stuff.
Get a Social Insurance Number (SIN) card
You must apply for your SIN (Social Insurance number) as soon as you arrive. You will need a nine-digit number to work in Canada. The government of Canada allows students to work up to twenty hours per week, which is why students should also get their social insurance number. You can apply for your SIN at any Service Canada office.
You must know that there is no fee to apply for a social insurance number. A social insurance number is a confidential document that you shouldn't share with anyone. You need your passport and other supporting documents to apply for your social insurance number card. However, you are advised to apply for a SIN card as soon as you land in Canada.
Bank Account
Bank accounts are a necessity for everyone to handle all sorts of finances. You must open your bank account at a well-reputable bank in Canada. You will be required to provide some documents to open a bank account in Canada. The supporting documents include residency proof, address, and more.
You can also apply for a credit card as soon as you open your bank account. Paying your dues and having a credit record for future concerns will be beneficial. You can visit your nearest bank with your student ID, SIN card, and passport.
Health Insurance
Health care is a basic necessity, which is why you must ensure your health insurance soon after you land in Canada. It is the only thing that covers most of the medical services. However, some facilities do not fall under the health insurance card, for instance, dental services, laboratory tests, and ambulance services.
In some places, there is a waiting period of around three months to get your health care services, which is why you should apply for health insurance as early as possible.
Canadian Phone Number
Get yourself a Canadian phone number to get you back to socializing. The most well-known yet expensive telecommunication networks include TELUS, BELL, and Rogers.
However, there are many more companies, and you can choose one that best suits you. You can get your SIM card at the port of entry or you can also book it online.
Arrange an Accommodation
Arranging accommodation is one of the most necessities. Various websites and apps can help you book a hotel or rent an apartment. You can also get yourself an Airbnb for the first few days.
However, it is not a long-term solution for your living. You will need to find a permanent residence for yourself. Moreover, students are also allowed to get accommodation at their campus, which is one of the best options.
Obtain Study Permit
You must know that you have to collect your study permit on your arrival. You need to carry all the required documents in your hand carry so it won't be a hassle to find any of the documents at the last moment.
Student ID
You must get your student ID after landing in Canada. Student cards come with several perks, including access to libraries, a bus pass, access to university events, and much more.
Some universities have made student ID mandatory to enter the universities premises, which is why you must get your student ID at your earliest possibility.
Buss Pass
You should get a transit card to travel at the most economical rates. It will be helpful for you to move to and fro through the city. It is one of the most beneficial things for students, especially if they do not have to spend a lot of their money on traveling.
Visit your campus
You should visit your campus before the start of your term. It would be beneficial to learn a few details in advance. You will be able to understand the routes because you are in a new location with unfamiliar surroundings. The bus schedules and routes will be visible to you as well. You can clear up a lot of your confusion by going to your campus.
You can estimate how long it will take you to get from home to campus using this information. To understand more about your university and the degree program you have registered for, attending your orientation will also be beneficial.
Frequently Asked Questions
1. What to do after landing in Canada?
The most basic things you can do after landing in Canada include applying for a social insurance number, getting a local SIM card, searching for accommodation, health insurance, and much more.
2. Is it important to apply for a Social Insurance Number?
Social Insurance number is a nine-digit number that is required to work in the premises of Canada. Even if you are a student you must apply for it to work part-time.
3. How much money should a student carry with them while traveling to Canada?
If a student is carrying a total or more $10,000 CAD, they must declare it at the customs. It wouldn't be an issue if it is declared on customs. However, if it is not declared it might lead to an issue.
X
FREE STUDY ABROAD

Free study abroad expert advice