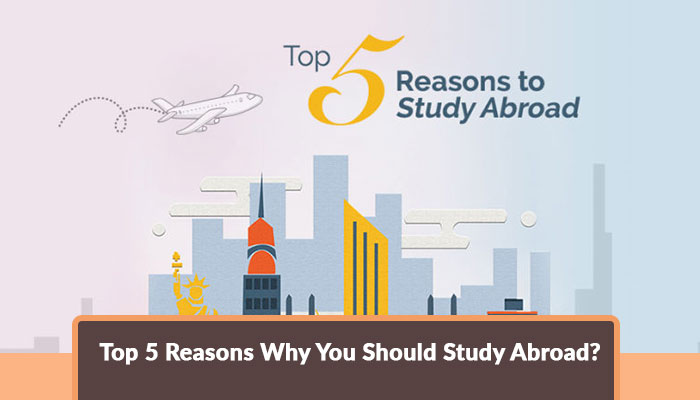 There are many people that usually ponder on the question that why you should study abroad? The answer to this question is that studying abroad is considered one of the valuable and the best experience that anyone can have in their life. The students that decide to study abroad encounter a wide range of opportunities for rapid progress in their respective careers. Studying overseas not only provide the experience but also opens new pathways and job prospects. In addition, the students will be able to get the degree from well-known institutes/universities. Besides this, there are also many other reasons to study abroad and some of them are mentioned below.
Explore The World
Studying abroad is a life-changing opportunity for the students that one should not miss at all. There is plenty to explore in your chosen destination and you can travel the world. You can travel to many countries depending upon your choice to continue your studies. Each country offers a wide range of places and many other things that the students love to visit and enrich themselves with the more. Moreover by experiencing different parts of the world one can build their character also expands their minds.
Learn A New Language
Another major advantage of studying abroad is that the students can learn a new language. It is a matter of fact that it is not easy to learn a new language as it can be challenging but by putting in some effort you can easily have a strong command of the other language. If you are studying in any other country that it is difficult for you to communicate with the people of that country so it is better to have the basic knowledge of the native language that is spoken every day.
Better Education Facilities
One of the common reasons to choose to study abroad is to get better education facilities and to have the experience of a high standard of education. Studying abroad means you can take advantage of the opportunities provided by the globally-recognized universities of various countries such as the UK, USA, Australia, and Canada. The universities of many countries offer a wide range of degree programs and also scholarship opportunities for Pakistani students. So look for the world's highest-ranking universities and grab the available opportunity to get enrolled in them.
Wider Career Opportunities
After finding the study abroad program when comes to your home country, you will return with a new perspective, a great education, and a willingness to learn new things. These all factors are found to be attractive to future employers and you can have wider career opportunities. Moreover, with a better academic record and experience, you will be able to get the best job in no time.
Become Independent
While studying abroad you face a variety of challenges and by overcoming them daily you can become independent. Going to university in another country is often the first time you will live alone and it can be tough sometimes but with the passage of time, you will be able to navigate the challenges that are also very important for personal growth.
Final Thoughts
Study abroad programs provide the best opportunities to the candidates in various ways. The students can have a once-in-a-lifetime chance to get a better experience that is not limited to just the curriculum but also to the other areas of life. It also offers the chance to the students to travel the world and one of the biggest benefits of studying abroad is to get an excellent opportunity to learn more about yourself and the world.
X
FREE STUDY ABROAD

Free study abroad expert advice