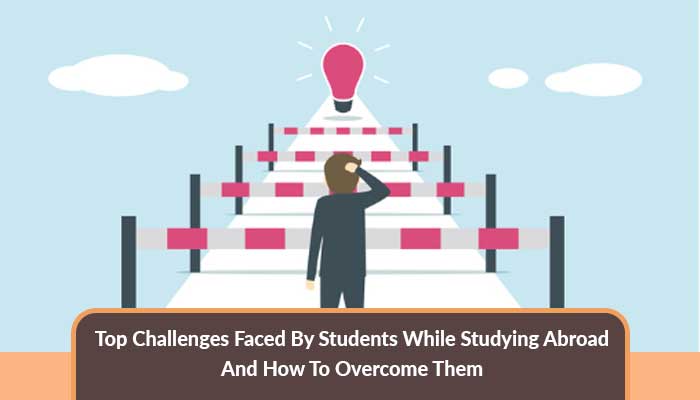 A student's studying abroad experience can be exhilarating. You can relocate to a new nation, pick up new talents, and make friends. You probably believe that the change would be simple, but while it may be thrilling and motivating, it won't be simple. Even if studying abroad has many wonderful advantages, it also has drawbacks.
According to a survey, many students face difficulties while studying abroad. Some have issues adjusting to the culture, while others face difficulties in connecting with the people around them. As a result, the majority of students abandon their plans to study abroad and return to their home land.
In this article, we'll talk about the top challenges faced by students while studying abroad and how to overcome them. You may already be aware that the best way to minimize the problems or issues is to handle them with confidence in yourself.
Top 5 Challenges Students Face While Studying Abroad
1. Language
The language barrier is the primary issue when traveling abroad. It can be very isolating to live in a country where no one speaks your language. Living abroad and attempting to make sense of the lifestyle of foreigners can present communication challenges. As a result, many international students may experience feelings of homelessness and loneliness. You can let this stress you out or see it as an opportunity to learn.
2. A Sense Of Being An Outsider
Students will certainly experience that they are an outsider at least at some points, regardless where you go. Students will feel that why other students are just looking at them and why nobody talks to them. Cultural differences also play a vital role in giving someone a sense of being an outsider, dressing sense is different in various cultures, and people will be different who will treat other students differently.
3. Currency And Budget
Another common challenges that students face when studying abroad is trying to adjust their budget according to a different currency. Due to the differences in currencies students may not understand and buy the expensive things and those expensive things will end up disturbing their budget. Also additional taxes other than the price on tags will give a migraine.
4. Time Zone Difference
Differences in time zones can be really annoying while studying abroad. Students will continuously face difficulty in finding the proper time to contact their family, while living in a total different time zone than their family.
5. Maintaining Academic Grades
Students will definitely face a challenge in Maintaining Academic Grades in the beginning while studying abroad. Students who are not used-to of doing laundry, cleaning and cooking will definitely get exhausted after all of that house-hold work and will feel sleepy while studying. Students will find it really difficult to manage studies along with the laundry and cooking.
How To Overcome Those Challenges While Studying Abroad
1. How To Overcome Language Problem
Prior to the beginning of your study program, it is best to practice the language more. Also, don't be afraid to ask the locals for help or to pronounce the word again for you. Typically, they will appreciate you for even trying their native language. Be confidence in yourself and regularly interact with the locals and practice the language. Having a translation app installed in your mobile will also help you to solve the language problem.
2. How To Deal With The Sense Of Being An Outsider
Make an effort to learn about the local customs and terminologies. Why nobody talks to you? Well it goes both ways, try to start the conversation and understand their thinking day by day. Smile more, smiling is the most common way to greet someone or to interact with someone, this will develop your image as a friendly person and in no time you will be able to blend in with the other students.
3. How To Manage Currency And Budget Problems
Make sure you are familiar with the exchange rate before you pack your things and get on the plane. An online currency converter installed in your mobile will definitely help you save money and understand the currency differences. Ask the store employ about the tax before buying anything. You can search for the things you need online and compare the prices.
4. Time Zone Difference
Download a mobile app that will tell you about the time differences of different time zones, and find the best suitable hour to call your family and friends. Tell your family to note the time and you will be available in-between this time.
5. Maintaining Academic Grades
If you just buckle down and work smart, you can balance your time to your advantage. Make a timetable and follow it properly. Decide a time to do laundry or cleaning and when to complete your assignments and tests. And remember you can always ask for help from the fellow students.
X
FREE STUDY ABROAD

Free study abroad expert advice