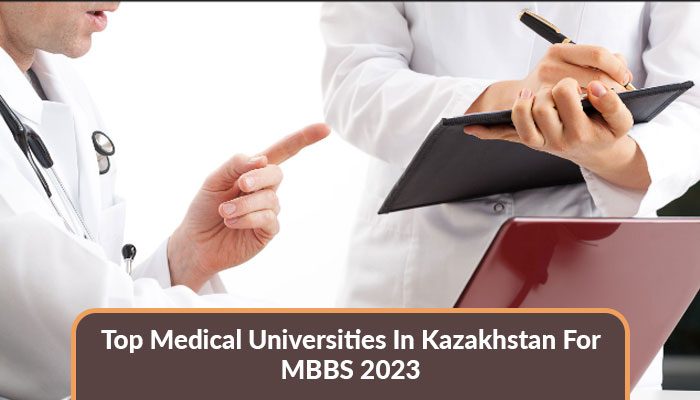 Kazakhstan, officially the Republic of Kazakhstan, is a transcontinental country largely located in Central Asia with the most western parts of it being located in Eastern Europe. Every year a huge number of students select Kazakhstani medical universities for medical studies. Currently almost 5000+ foreigners are studying medical courses including study of medicine and BDS (dentistry) in Kazakhstan. Top medical colleges in Kazakhstan are approved by PMC, WHO, ECFMG. Kazakhstan medical universities offered degrees are accepted globally. It is a prime destination for Pakistani students.
Tuition fees in Kazakh medical universities is very affordable.
Living cost in Kazakhstan is also not much higher.
Students with minimum 50% marks in their intermediate are eligible to apply for medicinal studies
MBBS graduates from Kazakhstan can start their medicinal practice in Pakistan after passing NLE exam.
Key Features
| | |
| --- | --- |
| Particulars | Details |
| Duration of MBBS | 5 years |
| Basic Eligibility | Intermediate with minimum 60% in (subjects: Physics, Biology, Chemistry) |
| Language of Teaching | English |
| Currency | Kazakhstani Tenge (KZT) |
| 1 KZT | 0.38 PKR |
| Living cost | 96,000 KZT/ Month |
| Tuition Fee | 15,00,000-20,00,000 KZT/ year |
| Contact to Consultant | |
Kazakhstan Top Medical Universities
Here is list of PMC accredited medical universities of Kazakhstan to which Pakistani students can apply
State Medical University Semey
Semey Medical University is one of the largest medical universities in Kazakhstan with its own hospital
Tuition fee: 14, 25, 000 KZT/ year
Intakes: 1st June to 20th June
Karaganda Medical University
The Karaganda Medical University, established in 1950, is Kazakhstan's first medical university. Committed to providing high-quality medical education to medical students from all around the world. The medical university has 8000 international students studying in different streams at different levels
Tuition fee: 802114 KZT/ year
Intakes: April
West Kazakhstan State Medical University
Cost of study: 18,00,000 KZT/ year
Intakes: main intake: From August
Winter Intakes: From December
West Kazakhstan Marat Ospanov Medical
This university situated in Aktobe has 14 specialties to offer to its students out of which, of course, medical is the most demanded option by Pakistani medical aspirants. For all those who want to pursue MBBS in Kazakhstan
Tuition fee: 16,34,686 KZT
Intakes: From April
Kazakh National Medical University
Kazakh national medical University is a milestone in the history of education, medicine and the country asa whole. These are traditions that have become the basis of professionalism.
Tuition fee: 1881000 KZT / year
Intakes: May
Kazakh-Russian Medical University
Kazakh-Russian Medical University admits persons with general secondary (general secondary), technical and vocational (primary and secondary vocational, post-secondary) and higher (higher vocational) education.
Intakes: March to May
Tuition fee: 1000 000/ year
The Khoja Akhmet Yassawi International Kazakh-Turkish University
Akhmet Yassawi International Kazakh-Turkish University based on the Intergovernmental Agreement between Kazakhstan and Turkey to train modern highly qualified specialists from young Turkic-speaking countries
Tuition fee: 700 000 KZT/ year
Intakes: April- June
X
FREE STUDY ABROAD

Free study abroad expert advice