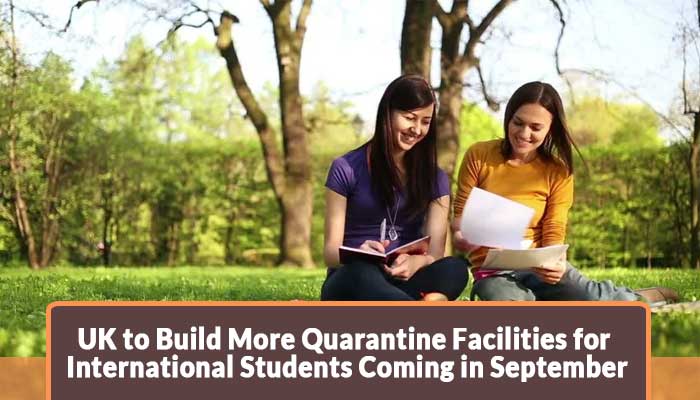 Following the success of the country's vaccine rollout strategy, the United Kingdom has emerged as the top priority for international students. According to a recent survey conducted by QS World University Rankings, the United Kingdom has earned enormous popularity among foreign students, who laud the country's efforts in combating the deadly virus.
However, with a rising number of international students, it is anticipated that the United Kingdom may run out of quarantine facilities. As a result of the removal of the travel ban from Red-Listed Countries in September, thousands of students will be travelling to the United Kingdom to begin or complete their degree programmes. Universities in UK fear that the lack of Quarantine facilities might result in the lack of countless international students which can greatly damage the education sector of UK as well as the economy.
Quarantine for International Students
International students travelling in the UK in September, particularly those from Red List countries, will be required to quarantine for 10 days before beginning their on-campus studies. As per studies there were total 556,625 international students studying in UK before the pandemic, out of which more than 100,000 students were from red list countries. Thus, in order to assist students and to prevent such mishandling, The Russell Organization, a group representing 24 of the United Kingdom's best universities, has requested the Government of the United Kingdom to establish more quarantine facilities for international students.
The Government has announced that more than 40,000 are available for quarantine purpose but according to some university leaders this number will not be sufficient for international students as other international travellers will also be staying at those facilities.
Lord Karan Bilimoria, President of the UK Council for International Student Affairs said that, "if the number of students coming from red-list countries reaches close to the 2019-20 academic year, it would exceed the currently available quarantine capacity."
UK Visa Requirements
According to the new visa requirements students need to arrive in UK before September 27 in order to be considered eligible for the New Visa Graduate Route. Talking about the visa requirements of UK, Paul Blomfield, Labour chair of the all party parliamentary group said that, "the government should take measures to make visa requirements more flexible, so they do not lose their right to stay. Further, they must do so without incurring additional costs of flights and accommodation changes."
Representatives from the UK's leading universities have stated that they are optimistic about the situation and that the government will act swiftly to fulfill the requirements of international students.
X
FREE STUDY ABROAD

Free study abroad expert advice