United Kingdom never had any shortage of high ranked institutes. Among these top ranked institutes two are particularly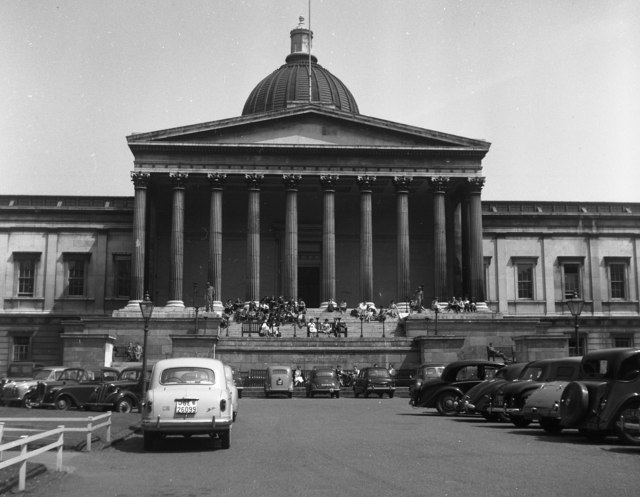 very famous in the whole world. These Institutes are Oxford University and Cambridge University. You must have heard their name at least once in your life; you can click their name to learn more about them. These universities have always been among world's best universities. However, these are not the only universities in UK. There are some other institutes that are also ranked among top 10 of the world rivaling the prestigious Oxford and Cambridge.
One of these institutes is called University College London also known as UCL. University College London (UCL) is a public research university located in London, England. Every year QS Ranking publishes a list of world's best universities to study in coming year. In this year's publication, QS ranked University College London world's 7th best university to study in 2018. In the same list, Cambridge and Oxford were ranked 5th and 6th. Right next to them comes the UCL in this ranking. It is safe to assume that, at present, University College London is UK's 3rd best university.
It is one of UK's oldest and London's oldest university. It was established in 1826. It is also third largest institute of UK by total number of students. There are currently over 38 thousand students enrolled at UCL with an academic faculty of over 7 thousand. Over the centuries, it has always maintained its position among world's most esteemed educational institutes and has developed with the time. Here is link to official website of University College London. UCL motto is:
"Let All Come Who By Merit Deserve The Most Reward"
---
UCL Campuses
Main campus of UCL is in Bloomsbury, London, with the main Quad on Gower Street. It is a big attractive location where students enjoy spending their with every educational and other facilities available. They are also building a new campus at Queen Elizabeth Olympic Park, to form part of a wider education and cultural sector. UCL also has partnerships with many other global institutes.
---
UCL Achievements and Alumni
Over the centuries, University College London has educated many history makers. This institute has even taught numerous 'Fathers of Nations' of many different countries including India, Kenya and Japan. More than 29 Nobel Prize winners and 3 Fields medalists have been UCL alumni or staff. They have particularly made most achievements in the field of medicine and Physiology with 18 Nobel Prizes. Some of the most famous UCL associated figures of history are following.
1. Mahatma Gandhi (influential leader of India)
2. Jomo Kenyatta (Father of the Nation of Kenya)
3. Sir Abubakar Tafawa Balewa (first Prime Minister of Nigeria)
4. Itō Hirobumi (first Prime Minister of Japan)
5. Junichiro Koizumi (former Prime Minister of Japan)
6. Kwame Nkrumah (founder of Ghana and Father of African Nationalism)
7. Sir Seewoosagur Ramgoolam (first Prime Minister and Father of the Nation of Mauritius)
8. Chaim Herzog (former President of Israel)
9. Tomáš Garrigue Masaryk (Father of the Nation of Czechoslovakia)
10. Lord Woolf (Chief Justices of England)
11. Charles K. Kao (Godfather of broadband)
12. Peter Higgs (proposer of the Higgs mechanism)
13. Alexander Graham Bell (inventor of the telephone)
14. Francis Crick (co-discoverer of the structure of DNA)
15. William Stanley Jevons (early pioneer of modern Economics)
16. Lucien Freud (globally known artist)
17. Sir William Ramsay (discoverer of all of the naturally occurring noble gases)
18. Colin Chapman (founder of Lotus Cars)
---
UCL Faculty and Departments
All research and teaching at UCL is organized into faculties and academic departments. It is comprised by a total of 11 faculties. Each of these faculties further houses a number of departments.
1. UCL Faculty of Arts and Humanities
2. UCL Faculty of Brain Sciences
3. UCL Faculty of the Built Environment (The Bartlett)
4. UCL Faculty of Engineering Sciences
5. UCL Faculty of Laws
6. UCL Faculty of Life Sciences
7. UCL Faculty of Mathematical and Physical Sciences
8. UCL Faculty of Medical Sciences
9. UCL Faculty of Population Health Sciences
10. UCL Faculty of Social and Historical Sciences
11. UCL Institute of Education
---
Study Cost at UCL
| | |
| --- | --- |
| Tuition Fee | Program |
| £16,340 | for most Education programs |
| £17,190 | for most Linguistics programs |
| £17,710 | for most Arts, Humanities and Social Science-based programs |
| £18,300 | for Laws |
| £18,580 | for most Economics programs |
| £19,230 | for Arts and Sciences (BASc) programs |
| £20,820 | for most Mathematics programs |
| £21,360 | for most Statistics programs |
| £21,960 | for most Science programs |
| £22,850 | for most Architecture programs |
| £23,710 | for most Archaeology, Engineering and Astrophysics programs |
| £24,140 | for Fine Art; |
| £32,670 | for Medicine (£21,960 for the integrated BSc year). |
| £19,010 – £25,890 | MRes programs |
| £14,370 – £43,930 | Other Master's programs |
---
How to Get Admission in UCL
All international students have to submit their application through UCAS in order to get admission at universities of United Kingdom. This procedure is a little different but difficult. Here you can read my article on How to Apply for Admission in UK Universities. Admission at UCL is also same. You register at UCAS and select UCL for admission in the form. After you have applied, you may be required to take a test relevant to your program.
Law studies' applicants must sit the LNAT (National Admissions Test for Law) and Medicine applicants are required to sit the BMAT (Biomedical Admissions Test). You should prepare all the documents in advance that need to submitted. Here see All Documents You Need to Get Admission in a Foreign University.
X
FREE STUDY ABROAD

Free study abroad expert advice