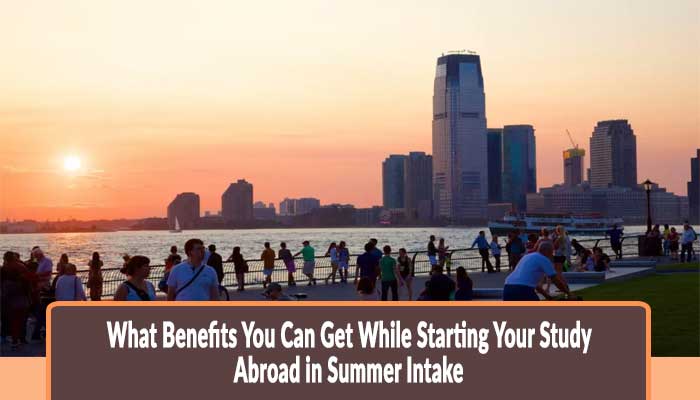 Are you interested to start your higher education journey from abroad and are considering the summer intake? Well, let us explain that it is a good move for you. Experts say that summer is the best time to start your higher education and this is the best idea for almost all the worlds' best study abroad destinations. We would like to share with you the main benefit here that programs are shorter in summer but you can get the complete fulfilling experience of study abroad. However, below is a detailed discussion that what benefits you can get if you are going to apply for study abroad in 2021 during the summer session?
1. Earn More Credits In Less Time
Summer term in almost all the best universities in the world allows students to move up in their program faster as compared to other sessions. You can also take some additional classes outside of your majors. This is the reason that most of the seniors recommend the summer study session.
2. You Can Meet Diverse Students Group
It has seen that during the summer session more students get enrolled as compared to other study sessions. So, you can meet diverse students group. It would be helpful for you to make more friends or create more networks with international people that will help you to find better career opportunities after completing your studies.
3. Smaller Classes More Attention
The classes are smaller during the summer session and this is the reason that you can get more attention from your faculties. When you go abroad for higher education then your basic concern is to get knowledge in a way that you need. So, you can fulfill all of your requirements easily during the summer session. Moreover, while having more attention from your teachers or faculties you will not only get good study experience but you will also have a good guideline for personal grooming.
4. Summer Offers Good Weather
Throughout the world, the summer season is considered the best season. Most people plan their tours and recreational activities in the summer season because it offers good weather. So, if you are going for study abroad in the summer season then you will have double benefits i.e. exceptional study experience as well as enjoyable weather. The USA, Canada, and Western Europe, etc. all considered the best study abroad destinations and in almost all these study abroad destinations, the summer season or weather is considered most enjoyable weather or season than other seasons.
5. Summer Session Is Cost Effective
Study abroad cost or budget is the main concern of international students. They try to get financial benefits while studying abroad. For all those who are thinking to save money during their study session, they are highly recommended to choose the summer study session. The experts or seniors revealed that summer study session is comparatively cheap than other sessions. In some destinations, the summer semester is about half of the price of a regular semester.
Start Your Summer Study Abroad Application
Have you decided to start your study program in this summer session but haven't started your application yet? Well, do not be worried because you have reached here which means you are quite close to your goals. Studyabroad helps you finding the best options for you. You are requested to fill the given assessment form and based on this assessment you will be guided by the professionals that how to start your study abroad application. So, do not waste your time and join us as soon as possible to make this summer season the best season of your life.
X
FREE STUDY ABROAD

Free study abroad expert advice