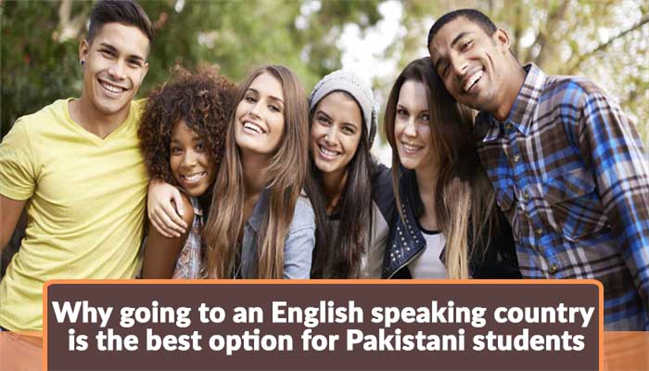 English is the official language of Pakistan having half of its population speak in English and why would not it be? English is being taught to Pakistani students from a very young age. The higher education system of Pakistan is offering almost all of its programmes and courses in totally English medium syllabus and in Campuses the lectures and language for communicating is English. Knowing 70% of English language's literary, grammatical and idiomatic terms, Pakistani higher education students can very much call it as their own native language. When it comes to choose a study abroad destination, it is certainly convenient to choose those countries where native language is English because of the following reasons:
No Language Barrier in Finding Jobs:
Foremost benefit will definitely be of having no language barrier while communicating in campus, with locals or doing part time jobs. Even though, if a student does not have an absolute command, still he/she will manage to enhance and master the English language skill.
Probability of Passing Language Proficiency Tests in English:
Language proficiency tests are compulsory perquisites for admission in Foreign Universities or Colleges. As a student of Pakistan's educational system, English is not an alien language to you. The weaknesses could be covered by practicing and learning and Language proficiency tests in English such as IELTS and TOEFL can be passed with success more easily than any other language such as Dutch, French, Japanese etc.
In English Speaking countries finding a course would not be difficult, because it will be just an extension to what you were studying in your home University in Pakistan. You can ask questions; share your point of view during the lecture more vividly in English than you could ever do in other languages.
Less Effort in Apprehending Culture and Rules:
For the purpose of completing you degree in abroad, you might be staying there for at least in year. Apprehending the culture, custom, rules and regulations, etiquettes and a way of living when you know a native language of a foreign land is less effortful and complex. It will be a lot easier to gain a driving license as well.
You Will Not Be Lost Finding An Address:
While travelling in the country or doing some part time job which requires traveling in the city will be much easier. You could be able to read sign boards and find the address of person, some restaurant or any destination you are travelling towards.
Let us be real, you can't ever learn an accent of a language which is being learnt only in one or two years. But as a Pakistan, English is known to you since KG standard and grasping an American or British accent will only be matter of a few months.
Having learnt a major part of your educational levels in English, its literature and grammar is already 70% familiar to Pakistani students. While living in a country where English is native, the left 30% of command in its proficiency could easily be achieved.
X
FREE STUDY ABROAD

Free study abroad expert advice