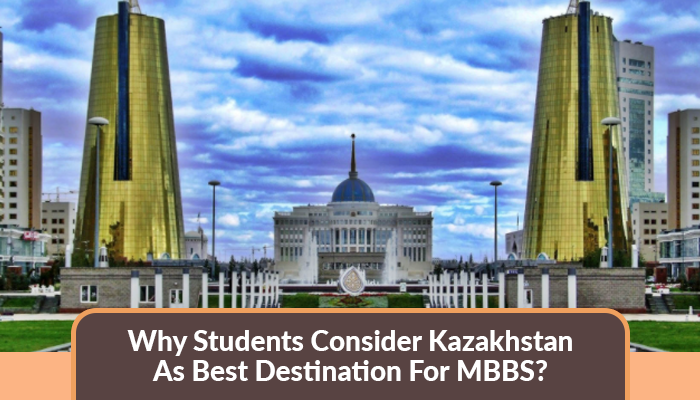 Kazakhstan, officially the Republic of Kazakhstan, is a transcontinental country largely located in Central Asia with the most western parts of it being located in Eastern Europe. Kazakhstan is officially a democratic, secular, unitary, constitutional republic with a diverse cultural heritage. MBBS in Kazakhstan is one of the most preferred country for Pakistani students. Every year a huge number of students select Kazakhstani medical universities for medical studies.
Quick Fcats About MBBS In Kazakhstan
| Particulars | Details |
| --- | --- |
| Degree Course | MBBS |
| Duration | 5 years |
| Basic Eligibility | Intermediate with minimum 60% in (subjects: Physics, Biology, Chemistry) |
| Language of Teaching | English |
| Currency | Kazakhstani Tenge (KZT) |
| 1 KZT | 0.38 PKR |
| Living cost | 96,000 KZT/ Month |
| Estimated Total Tuition Fee | 15,00,000-20,00,000 KZT/ year |
| Entrance Exam | Not Required |
| Degree's value | MBBS degree accepted world wide |
| Contact to Consultant | Click here |
Why Kazakhstan
There are many reasons to select Kazakhstan as destination for medical studies. Top reasons are listed here
Kazakh medical universities are top ranked nationally and placed in category list A of PMC
Graduated students are also eligible for USMLE, PLAB, GMC and ECFMG certifications
More than 60% population is of Muslims, so consider the best place for Pakistani students to live
More than 5000 foreigners are there in Kazakhstan for medical studies
Syllabus for MBBS is same as according to international standards
Provide modern and advance medical education system to international students
Kazakh medical universities have foreign medical teaching staff, mostly from Russia
Duration of degree is 5 years including internship, most of the European countries complete MBBS course in 6 years
The language of teaching in Kazakhstan is English
Kazakh medical universities conduct international conferences and exchange programs for students
No entrance exam is required to pass to get admission in Kazakh medical university for MBBS
Duration Of MBBS In Kazakhstan
Total duration of MBBS in Kazakh medical universities is 5 years including 1 year internship. It saves student's 1 year. Most of the European medical universities offer medical course for 6 years. PMC accepts the medical degrees of 5 years so Pakistani students after getting MBBS degree from Kazakhstan can appear in NLE exam to get license for medicinal practice.
Affiliation Of Kazakh Medical Universities
Kazakh medical universities have affiliation with
Pakistan medical commission (PMC)
World health organization (WHO)
Ministry of education, Kazakhstan
Cost Of Study MBBS In Kazakhstan
Estimated total cost of study MBBS (5 years) including living cost is 10.3 million KZT (Kazakhstani Tenge) that is equal to 50-60 lac PKR. Annual tuition fee in Kazakh medical universities vary from 15,00,000 to 20,00,000 KZT (6-8 lac PKR).
Vacations During MBBS Study In Kazakhstan
Summer and winter holidays are given in the universities to MBBS students. As there are extreme summer and winter seasons in Kazakhstan.
Post Graduate Options After MBBS
After the 5 years MD (MBBS) course in Kazakhstan, students can avail the opportunities for higher studies
The fee for the post graduate courses in Kazakhstan is very low
Students can also take doctoral degree option
Total estimated cost for post graduate course in Kazakhstan is 20 lac PKR.
Career Opportunities After MBBS
There are wide range of career options for MBBS graduates in Kazakhstan
After MBBS, candidates can apply for jobs at hospitals in Kazakhstan
Students can take admission for higher studies
Many brilliant students get job offer after the completion of MBBS
Graduated students can also apply to other countries for job
After clearing USMLE, MBBS graduate can start medicinal practice in USA
After PLAB clearance they can start practice in UK
X
FREE STUDY ABROAD

Free study abroad expert advice