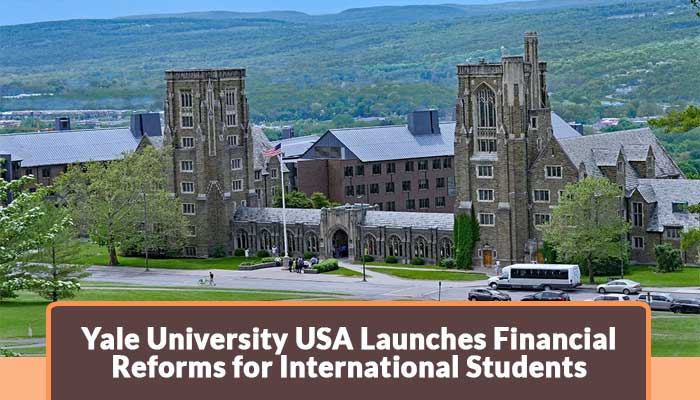 Studying abroad in one of the most prominent colleges of USA is the dream of every bright student. Yale University is an outstanding university that welcomes approx. Five thousand international students and bright scholars from across various countries. Yale University offers various yale university scholarships for international students.
International Student's at Yale University USA
Yale has an outstanding global reputation and has been established leader in the field of research, education and clinical practice. International students are encouraged towards applying towards yale university undergraduate programs as approximately 22% students at Yale are international students.
Yale's Financial Aid Reforms
Yale university has announced three financial aid reforms, including the removal of student income contributions. Historically Yale University awarded financial aid awards by analyzing student's expected financial contribution, including "student share" and "parent share."
International Student Share
The Student share was calculated based on estimation of how much student could contribute towards the cost of attending college based on year-round or summer jobs. Student share sometimes exceeds $3,700 estimated towards everyday expenses and cost of books.
The exceeded amount is referred to as student income contribution, although the Office of financial aid does not use this terminology. Student's Income Contribution could range from $3,700 to $5,950 towards yale university graduate programs.
Yale university will estimate international student's financial aid to $3,700 and will remove student income contribution towards those who have no parent share, including families having income less than $75000 a year.
Partial Aid Student Awards
Yale university will offer partial aid awards for students for the remainder, including 2021-22 academic year. Yale University will also cover international students receiving scholarships concerned with a marginal tax rate that exceeds tuition, enabling students to pay for personal, room, and board expenses.
Sammy Landino, who directed Yale's Council Financial Aid Task Force states "Yale is like a school where we go to have fun, learn and grow. Burdening students with education costs and the need to repay money removes the chances of making most of the school".
Yale reforms are the result of recommendations carried out 4th round by Financial Aid Working group formed by Benjamin Polak in the year 2015. The group is responsible for recommending policy changes towards financial aid towards students undergoing yale university undergraduate programs.
YCC Financial Aid Task Force also worked with Quinlan and Wallace Jeudes to develop strategies to increase financial aid towards students while collaborating with the Financial aid working group to propose recommended changes.
Yale's student share
Landino states that while reducing student share was the top priority during his tenure, the group also gave thought to covering healthcare and recommendation towards home equity evaluations. As Princeton University announced a reduction towards student share in the year 2019 that he was asking for, their goal seemed more achievable than ever.
Wallace Jeudes stated "Students at Yale receiving need-based aid will now only have to cover personal, laundry, and book expenses which may amount to less than $3,700 dollars. This contributes towards a 34% decrease towards student share, which totals to approx. $7,500 over four year study period".
Yale University would invest $3 million towards their accessibility initiative as Yale endowment reached $42.3 billion in the year 2021, enabling it to increase Yale's financial accessibility. Yale Policy to increase socioeconomic diversity and decrease student loans.
Yale's Scholarship Program
Yale University is also focusing on offering yale university scholarships for international students. Quinlan stated that "increasing scholarship grants for admitted students for the current year and reducing student share will communicate Yale University commitment towards "affordability with prospective students.
Yale University had offered need-based aid or scholarship to international students ever since 2001. Still, students had to pay US taxes towards all money that exceeded their tuition cost, including board or room, or other expenses. International students will enjoy this funding towards their financial aid awards for fall 2021 semester.
X
FREE STUDY ABROAD

Free study abroad expert advice