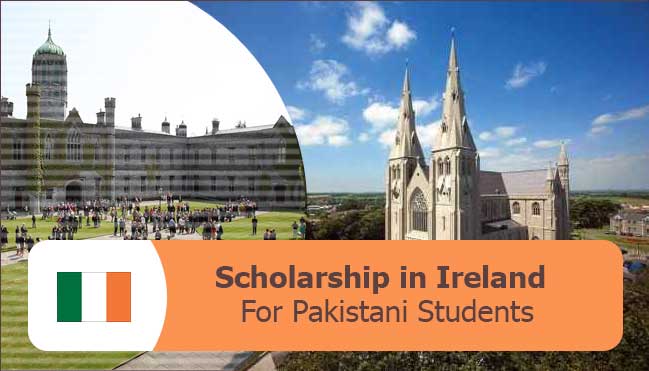 Fully Funded Scholarships in Ireland for Pakistani Students 2024
Ireland is offering numerous scholarships to foreign students to promote its higher education institutions internationally and for the purpose of strengthening bilateral ties with foreign countries. Pakistani students have been offered several under graduate and post graduate Irish scholarship opportunities for Pakistani Students on year to year basis for different study programmes taught in English language. The scholarship programmes have specific number of scholarships for Pakistani students; the first to apply will have greater chance of selection. The selection criteria for each scholarship programme for Pakistani students in Ireland depend on hosting university's merit. All the upcoming public and privately funded scholarships in Ireland for Pakistani students will be uploaded in this section.
Overview of Irish Education System
Ireland stands equivalent to UK, USA, Canada and Australia in excellence of education. To match the international standards of education, Ireland's higher education institutions went through various transitional phases and reached optimum level of quality. Ireland has tradition of valuing education; the oldest university in Ireland was built in 1592. Research oriented and skill oriented institutions are separate in Ireland that offer globally recognized degrees with modernly designed broad based curriculum under supervision of dignified teaching faculty. Pakistani students have permission to work part time during students and also apply for post study work permit for job search. Ireland is home to few of the world's top ranking universities namely: Trinity College Dublin and University of Dublin.
Sign Up Here to Get Updates about Scholarship Opportunities in Ireland for Pakistani Students
The application submission timeline of scholarship programme for Ireland are usually tightly schedule. Pakistani students have to arrange the required documents for application before the deadline. You can sign up here to get timely update about application deadlines, eligibility criteria, required documents, and stipend and benefits details of scholarships in Ireland for Pakistani students. We will send you an email regarding scholarship in Ireland of your study level and study programme at once with complete details.

Get Latest Scholarships in Your Email
Get a regular scholarship alert. We'll deliver important and latest scholarships to your email
Sign up
for free
scholarship
alert
| Scholarship Name | Country | Education Level | Apply By |
| --- | --- | --- | --- |
| | Ireland | Doctoral | 24 Jan 2024 |
| | Ireland | MPhil | 31 Jul 2024 |
| | Ireland | Undergraduate, Post-Graduate | 31 Dec 2023 |
| | Ireland | Undergraduate | 31 Dec 2023 |
| | Ireland | Doctoral | 31 Dec 2023 |
| | Ireland | Undergraduate | 05 Oct 2023 |
| | Ireland | Undergraduate | 28 Aug 2023 |
| | Ireland | Doctoral | 15 Jul 2023 |
| | Ireland | Undergraduate | 20 Apr 2023 |
| | Ireland | Undergraduate | 01 May 2023 |
| | Ireland | Undergraduate | 01 May 2023 |
| | Ireland | Undergraduate, Post-Graduate | 01 Mar 2023 |
| | Ireland | Undergraduate, Post-Graduate | 01 Feb 2023 |
| | Ireland | Doctoral | 28 Oct 2022 |
| | Ireland | Doctoral | 28 Oct 2022 |
| | Ireland | Doctoral | 01 Nov 2022 |
| | Ireland | Doctoral | 21 Sep 2022 |
| | Ireland | Doctoral | 12 Aug 2022 |
| | Ireland | Doctoral | 01 Nov 2022 |
| | Ireland | Doctoral | 22 Aug 2022 |
| | Ireland | Doctoral | 22 Jul 2022 |
| | Ireland | Doctoral | 30 Jun 2022 |
Latest Universities in Ireland
View All Universities
| | | | |
| --- | --- | --- | --- |
| | Dublin City University | Dublin City University Glasnevin Dublin, Ireland | |
| | Newcastle University | | |
| | University College Cork | | |
ScholarShips Tips for Ireland
View All ScholarShips tips
X
FREE STUDY ABROAD

Free study abroad expert advice