Study abroad in Ireland for Pakistani students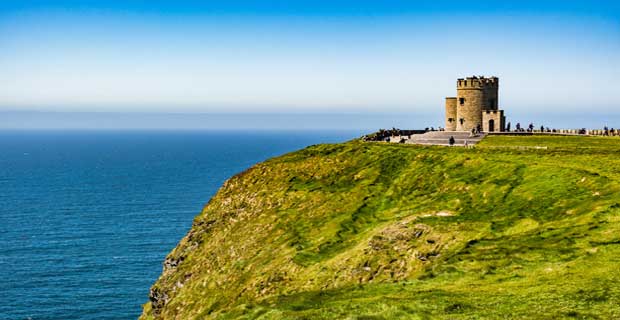 Covid-19 Updtaes of Ireland 2021:
From 16 January 2021 Ireland is opened for the students to study on campus.
Ireland is a member of European Union. OECD (Organisation for Economic Co-operation and Development) has declared Ireland as fastest growing economy. A large number of International students travel to Ireland for higher education each year because of its high quality and worldwide acclamation. It is a safe country with a low crime rate. Students are allowed to work while studying and also have opportunity to extend their visas after completing their degrees to find employment.
•
Sublime Education System:

In Ireland you will get top level education like America and UK but with lesser cost. Students go through change of lifestyle and embark onto a tedious journey of living abroad just to gain high quality of education. Ireland will serve your purpose as it has excelling higher education system with every possible course you can imagine. Trinity College Dublin was ranked at 117th position in 2018 by THE World University Rankings. Ireland uses ECTS (European Credit Transfer and Accumulation System) which is standard system to guarantee academic recognition of studies abroad. Through ECTS you can transfer your credits to any other university of the work and continue your studies there even in your home country. Irish Universities are among top ranked universities of the world and they are regarded as best. International students from all around the world chose Ireland as their study abroad destination. Moreover, Ireland spends millions for research education.
•
Admission Requirements in Ireland 2021 for Pakistani Students:

It is preferable to start arranging for application requirements for admissions in Irish Universities if you are Non-EU student. Admission requirements differ from university to university in Ireland. If you are not going to Ireland through a student's exchange program then you will have to use Central Applications Office, CAO of your chosen Irish University. It is highly recommended to submit your admission application on time and to avoid delay follow the deadlines of submissions online.
•
Students Visa Requirements in Ireland for Pakistani Students 2021:

The first step of acquiring student visa in Ireland is to obtain admission certificate from an Irish university. Then you will have to apply online for a student visa online via at AVATS (AVATS is the online visa application facility available worldwide and must be used by all applicants for an Irish Visa). They will give the list of all the required documents for visa which usually includes: Application letter, Admission Certificate, Proof of fee Paid, Travel and Medical Insurance and proof of finance to cover your living expenses.
•
Pakistani Students

Can Do Part Time Work In Ireland While Studying Without Work Permit:

Any international student admitted in Irish University for a course of one year duration (that must be recognized by the Irish Department of Education and Skills) is allowed to work 24 hours a week without work permit. He will have to obtain a Personal Public Services Number (PPS Number) which will be used for payment transfer by employers. Irish Government has set minimum per hour wage to be at least €9.55 Euros. The skilled students can earn more than €9.55 Euros per hour. This amount is larger than other European country and it is one of the feature attracting international students to Ireland. Ireland is predominantly an English Speaking Country. While finding part time jobs in Ireland learning a totally unknown language would not be an issue for you.
•
You Can Extend Your Visa Up to 24 Months To Find An Employment in Ireland After Completing Your Degree:

Irish Government allows international students to find an employment of their level in Ireland after completing their degrees through Ireland's Third Level Graduate Scheme. This scheme is applicable to those who have done Master's or PhD from Ireland. After finding employment of their choice they can apply for a green card and work permit according to their employment contract. During this extension duration of visa to find employment the students are allowed to work and support their living expenses.
•
Lifestyle and Landscape:

Ireland has a fascinating natural landscape full of greenery and clean atmosphere. Europe's largest park is in Ireland. The lifestyle is serene and calm. There is less hustle and peace in the city life of Ireland as well. Dublin was nominated as UNESCO's city of Literature. It is native land of literature giants like Oscar Wilde and George Bernard Shaw. Ireland celebrates plenty of festivals annually. The local culture of Ireland is filled with music and festivity. There will be a lot of happening in weekends for you to see. There will be much to experience for you while living in Ireland. Ireland is host to a large number of international students therefore you can get all types of student's accommodation there. Cost of living can be afforded by doing part time work. You will get dormitories/studio apartments/shared rooms and flats in Ireland quite easily. Keep in mind that accommodation arrangements must be done before you departure for Ireland, the immigration will ask for living accommodation proof upon arriving at airport.
•
A Global Platform of Recruitment Opportunities for Pakistani Students:

Ireland is home to multinational companies like Google, Apple, Microsoft and Dell. While studying in Ireland international firms and recruiters will have an eye on high achievers and promising students. Being a graduate from an Irish University you have a greater chance to get a job position in one of multinational firm in Ireland or any other company around the world. When we talk about presence of international students it means learning cultures, languages and different outlooks. You will meet students belonging from different countries of the world. It will be appropriate to say Ireland is a global platform for learning and also for attaining job opportunities.
•
Value of Irish Visa:

Ireland is member of European Union. Being a fastest growing economy the value of Irish Visa is quite high. It will open many doors of opportunities for you about which you were unknown before. Getting a visa for any other country of the world will become extremely easy for you. In addition a degree from an Irish University will add a huge attraction in your CV.
Latest Scholarships in ireland
TR080 Global Business International Scholarship in Ireland
For Bachelors in the fields of Education
Apply by

01 May 2023

TR080 Global Business International Scholarship in Ireland
For Bachelors in the fields of Engineering&Technology
Apply by

01 May 2023

Global Excellence Scholarships at University College Dublin, Ireland
For Bachelors,Masters in the fields of Art & Design
Apply by

01 Mar 2023
Study Abroad Consultants for ireland
| | | | |
| --- | --- | --- | --- |
| | ABN Overseas Education | 0309 3333 800 | Lahore |
| | BMR Consultants | 03054646329 or 03164363329 | Lahore |
| | C&W Resources | +92 51 5172 033 | Rawalpindi |
X
FREE STUDY ABROAD

Free study abroad expert advice