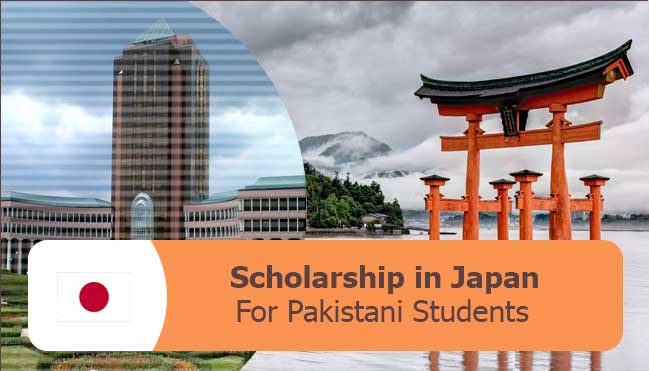 Japan's higher education institutions for Pakistani Students have impressive education quality, innovative research departments, excelling teaching methodologies, ample and cultivated academic staff, extensive libraries, and availability of a plethora of courses.
Many of Japan's universities rank among the top 100 best universities of the world and are known globally for their exceptional education quality and consistent progression towards betterment. Studying abroad in Japan is ensuring of exceptional education quality but at the same time, it is an expensive country to study and live in.
Japan is an economically well-developed country that offers generous scholarships and financial funding to international students to study at Japanese universities. Pakistani students are among the highest percentage of the international student population in Japan.
Popular Scholarships in Japan Offered in 2024 to International Students.
| | | | | | |
| --- | --- | --- | --- | --- | --- |
| No. | Country | Scholarship name | Apply Date | Category | Eligibility |
| 1. | Japan | Japinies governmnet MEXT scholarship | July | Masters, Phd | 16 yr education |
| 2. | Japan | ASF japan fully funded Scholarship 2024 | January | For high school and inter student | Age between 15&18 |
| 3. | Japan | JFUNU scholarship for Phd | April | Phd | A completed Master's degree (or equivalent) from a recognized university |
| 4. | Japan | Mext scholarship for young leader scholarship 2024 | Mid October | Master | Applicants must be below the age of 35 |
| 5. | Japan | ADB japan scholarship program for Ineternational students | Varies | Master | Gained admission to an approved MA/PhD course at an academic institution |
| 6. | Japan | Japanese government scholarship | Varies | Undergraduate | Applicants who have completed 12 years of schooling in countries other than Japan |
| 7. | Japan | Waseda university Japanese government scholarship | January | Masters Degree | 1. MEXT and 2. IPS should be submitted. |
| 8. | Japan | University of tokyo undergraduate scholarship | December | Undergraduate | This scholarship is offered to students of exceptional merit |
Scholarship Programmes in Japan for Pakistani Students 2024:
Japanese government and universities offer several Japanese scholarship opportunities to Pakistani students to increase international student mobility in their country. Each year, several existing and new scholarship opportunities emerge for Pakistani students for different study levels and diverse courses.
The latest available scholarship programs initiated by Japanese universities and private organizations are presented in this exclusive section. It is an updated list with all upcoming scholarship programs in Japan for Pakistani students with apply date, applicable courses, study levels, institute's names, scholarship awards, official notice, hosting universities, and admission timeline and eligibility criterion.
Pakistani students must prepare the required documents mentioned in the scholarship notice before the application deadline to an avail scholarship opportunity.
Sign Up Here to Get Latest Updates about Scholarships in Japan for Pakistani Students:
To get latest updates about scholarships in Japan for Pakistani students, you can sign up here for free on our website by entering your study level and course detail. We will keep you updated about scholarships in Japan related to your study field and education stream via directly sending you email at your account.

Get Latest Scholarships in Your Email
Get a regular scholarship alert. We'll deliver important and latest scholarships to your email
Sign up
for free
scholarship
alert
| Scholarship Name | Country | Education Level | Apply By |
| --- | --- | --- | --- |
| | Japan | Post-Graduate | 28 Feb 2024 |
| | Japan | Post-Graduate | 31 Dec 2023 |
| | Japan | Doctoral, Post-Graduate | 06 Dec 2023 |
| | Japan | Doctoral | 15 Sep 2023 |
| | Japan | Undergraduate | 31 Dec 2023 |
| | Japan | Undergraduate, Doctoral, Post-Graduate | 07 Dec 2023 |
| | Japan | Undergraduate, Post-Graduate | 06 Sep 2023 |
| | Japan | Undergraduate | 12 Sep 2023 |
| | Japan | Undergraduate | 06 Sep 2023 |
| | Japan | Undergraduate, Post-Graduate | 12 Jul 2023 |
| | Japan | Undergraduate | 31 May 2023 |
| | Japan | Undergraduate | 01 Jun 2023 |
| | Japan | Undergraduate | 11 Apr 2023 |
| | Japan | Undergraduate | 07 Apr 2023 |
| | Japan | Undergraduate, Diploma-Certificate | 15 Apr 2023 |
| | Japan | Undergraduate | 01 Feb 2023 |
| | Japan | Undergraduate, Post-Graduate | 01 Feb 2023 |
| | Japan | Undergraduate | 01 Feb 2023 |
| | Japan | Post-Graduate | 31 Jan 2023 |
| | Japan | Doctoral | 31 Jan 2023 |
| | Japan | Doctoral | 31 Jan 2023 |
| | Japan | Post-Graduate | 31 Jan 2023 |
Latest Universities in Japan
View All Universities
| | | | |
| --- | --- | --- | --- |
| | Kobe University | 1-1 Rokkodai Nada-ku Kobe, Japan | |
| | Tokyo Medical and Dental University (TMDU) | 1-5-45 Yushima Bunkyo, Japan | |
| | Hiroshima University | 1-3-2 Kagamiyama Higashihiroshima, Japan | |
| | University of Tsukuba | 1-1-1 Tennodai Tsukuba, Japan | |
| | Keio University | 2-15-45 Mita Minato-ku, Japan | |
ScholarShips Tips for Japan
View All ScholarShips tips
X
FREE STUDY ABROAD

Free study abroad expert advice