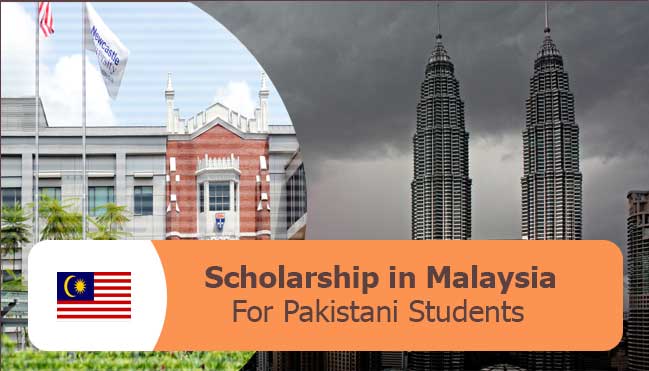 Malaysia is one of the upcoming countries offering a wide verity of higher education to international students. Like many other leading countries it is also considered to be the mist trustworthy among the students who are willing to move abroad for higher studies. Malaysian government is trying to facilitates the students at its best so they could have brought chance to study in Malaysia in this regard there are a number of Malaysian scholarship offered to international students. The Malaysian international scholarships for international students 2022 for Pakistani students are an initiative step by the Malaysia government to attract the best brain from around the globe to pursue advanced academic study in Malaysia. The scholarships aims to support Malaysian government's effort to attract motivate and retain talented human capital from abroad.
Malaysian educational system has recently shifted towards a more dynamic learning approach using modern technologies and planning philosophies that will eventually transform their students into ace professionals.
Malaysia continues to manage the high standard education provision for its international students and aims to host 250,000 foreign students by 2025. UNESCO's recently recognized Malaysia as one of the top 10 destinations for post-secondary education. Since 2014, Malaysia has climbed- up the UNESCO's latest International Student Mobility Survey from 12th place to ninth.
Malaysia offers unique transnational bachelor's degree programs like '2+1' twinning and '3+0' degrees, This country is nurturing over 80 universities including 20 public and 8 foreign university campuses.
Top ten reasons why Pakistani Students avail Malaysian Scholarship Opportunities:
The standard of education and the curriculum is parallel to any other world-class institutions as the universities employ foreign qualified professors to conduct the lesson and scholarships are offered at all study levels.
1. The universities apply latest methodologies with techno –based facilities to conduct their study program.
2. English is the main language of communication for international students
3. Malaysian institutes generally charge RM 28,870.00 per year to complete a degree program which is quite low as compared other international destinations.
4. For an international student the average cost of living in Malaysia is nearly $5,000 per month .This figure is quite low where compared to western world like USA, where living expenses are not less than $10,000 per month.
5. Malaysia offers accommodation at low prices. Mostly universities help students find accommodation. Generally around RM300 to RM450 per month are spent on accommodation.
6. Malaysia is Muslim country therefore Halal food availability is not a big deal.
7. Malaysia lies in the same continent, the travel time and airfare rates are very low than other study abroad options and the students can visit their family easily
8. There are lots of grants / funds available for the Pakistani Applicants
9. Malaysia is one of the most favorite tourist destinations and students can do some specified jobs to earn for their living.
How to apply for Malaysian Scholarships 2022:
Malaysian Qualifications Framework (MQF) has specified the minimum credits required for each scholarship programme, therefore your transcript would be well assessed by the Malaysian educational authorities to verify the eligibility criteria, and it is therefore recommended to evaluate your standings prior applying a scholarship. Once your academic status met the criteria, you can pursue the admission process by following these guidelines.
• It is better to hunt the relevant Scholarships in Malaysia for Pakistani Students earlier to avoid deadline based disappointments
• International students can apply online to any Malaysian university
• Choose the institution that offers a scholarship in the relevant field
• Note their dates of submission
• Search the sources that assist you in scholarship application procedures.
• Prepare well to succeed the interview or entry test in the institution as per your academic requirements
• Arrange, verify and organize all mandatory documents like last academic certificate, application form etc.in a folder for stress-free submission.
• Get certain about the funding issues.
• Qualify the required English language proficiency test like IELTS and other Aptitudes tests with required scores
Students who are applying for private universities must confirm that the university is recognized from the government of Malaysia.
How to get Malaysian Student Visa:
The Malaysian government has made the process of acquiring a student visa very simple. All the application are submitted to the Director of Pass & Permit Division of Malaysia and upon acceptance the applied candidate will get a student pass ,that actually acts as your student visa. You are then asked to submit some essential documents. Student pass fee is generally around US $17.65.
Once you are accepted for the student pass, the institution took all the responsibility of visa and other formalities however you have to make transactions to pay for your student pass and visa.
Malaysian Universities Scholarship for Pakistani Students 2022 in Malay:
The following list of institutes is offering grants for Pakistani candidates in Malaysia in the different graduate and undergraduate programs. Some of these institutes are as follows:
University Malaya

University Putra Malaysia

University Sains Malaysia

Al-Madina International University

Multimedia University

MaraUniversity Malaysia

Sains Islam Malaysia

HELP University

QS Ranking

Universiti Malaya (UM) 146

Universiti Sains Malaysia (USM) 289

Universiti Teknologi Malaysia (UTM) 303

Universiti Kebangsaan Malaysia (UKM) 312

Universiti Putra Malaysia (UPM) 331

International Islamic University Malaysia 551-600

Universiti Teknologi MARA – UiTM 701+

Universiti Utara Malaysia (UUM) 701+
Hence provision of most economical world class education with all accessible accommodation facilities has ranked Malaysian Scholarships on top for a Pakistani student seeking to study abroad. Never miss a chance to explore the cultural diversity dispersed throughout the country.

Get Latest Scholarships in Your Email
Get a regular scholarship alert. We'll deliver important and latest scholarships to your email
Sign up
for free
scholarship
alert
Latest University in Malaysia
View All Universities
| | | | |
| --- | --- | --- | --- |
| | Al-Madinah International University (MEDIU) | Al-Madinah International University, Pusat Perdagangan Salak II, No. 18, Jalan 2/125e, Taman Desa Petaling, 57100 Kuala Lumpur | |
| | Albukhary International University (AIU) | Albukhary International University (AIU) Jalan Tun Abdul Razak, 05200, Alor Setar, Kedah Darul Aman, Malaysia. | |
| | Wawasan Open University (WOU) | Wawasan Open University [DU013(P)] 54, Jalan Sultan Ahmad Shah 10050 Penang Malaysia | |
| | Universiti Kuala Lumpur (UniKL) | Universiti Kuala Lumpur (UniKL)1016, Jalan Sultan Ismail, 50250 Kuala Lumpur | |
| | Universiti Tunku Abdul Rahman (UTAR) | Universiti Tunku Abdul Rahman Kampar Campus Jalan Universiti, Bandar Barat 31900, Kampar, Perak | |
ScholarShips Tips for Malaysia
View All ScholarShips tips

Scholarships in malaysia for differnt
Study Level


Scholarships in malaysia for differnt
Subject Specialist

X
FREE STUDY ABROAD

Free study abroad expert advice