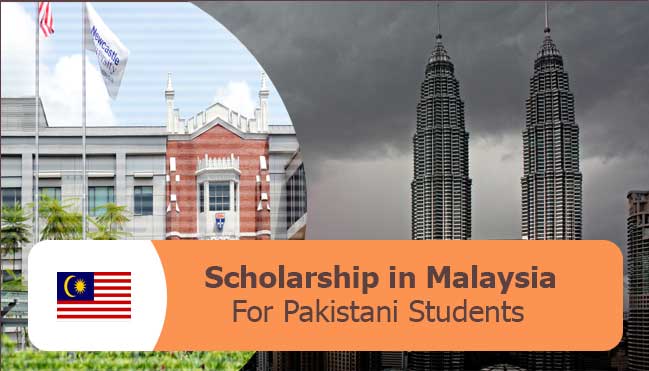 Malaysia is one of the upcoming countries offering a wide verity of higher education to international students. Like many other leading countries it is also considered to be the mist trustworthy among the students who are willing to move abroad for higher studies. Malaysian government is trying to facilitates the students at its best so they could have brought chance to study in Malaysia in this regard there are a number of Malaysian scholarship offered to international students. The Malaysian international scholarships for international students 2020 for Pakistani students are an initiative step by the Malaysia government to attract the best brain from around the globe to pursue advanced academic study in Malaysia. The scholarships aims to support Malaysian government's effort to attract motivate and retain talented human capital from abroad.
Malaysian educational system has recently shifted towards a more dynamic learning approach using modern technologies and planning philosophies that will eventually transform their students into ace professionals.
Malaysia continues to manage the high standard education provision for its international students and aims to host 250,000 foreign students by 2025. UNESCO's recently recognized Malaysia as one of the top 10 destinations for post-secondary education. Since 2014, Malaysia has climbed- up the UNESCO's latest International Student Mobility Survey from 12th place to ninth.
Malaysia offers unique transnational bachelor's degree programs like '2+1' twinning and '3+0' degrees, This country is nurturing over 80 universities including 20 public and 8 foreign university campuses.
Top ten reasons why Pakistani Students avail Malaysian Scholarship Opportunities:
The standard of education and the curriculum is parallel to any other world-class institutions as the universities employ foreign qualified professors to conduct the lesson and scholarships are offered at all study levels.
1. The universities apply latest methodologies with techno –based facilities to conduct their study program.
2. English is the main language of communication for international students
3. Malaysian institutes generally charge RM 28,870.00 per year to complete a degree program which is quite low as compared other international destinations.
4. For an international student the average cost of living in Malaysia is nearly $5,000 per month .This figure is quite low where compared to western world like USA, where living expenses are not less than $10,000 per month.
5. Malaysia offers accommodation at low prices. Mostly universities help students find accommodation. Generally around RM300 to RM450 per month are spent on accommodation.
6. Malaysia is Muslim country therefore Halal food availability is not a big deal.
7. Malaysia lies in the same continent, the travel time and airfare rates are very low than other study abroad options and the students can visit their family easily
8. There are lots of grants / funds available for the Pakistani Applicants
9. Malaysia is one of the most favorite tourist destinations and students can do some specified jobs to earn for their living.
How to apply for Malaysian Scholarships 2020:
Malaysian Qualifications Framework (MQF) has specified the minimum credits required for each scholarship programme, therefore your transcript would be well assessed by the Malaysian educational authorities to verify the eligibility criteria, and it is therefore recommended to evaluate your standings prior applying a scholarship. Once your academic status met the criteria, you can pursue the admission process by following these guidelines.
• It is better to hunt the relevant Scholarships in Malaysia for Pakistani Students earlier to avoid deadline based disappointments
• International students can apply online to any Malaysian university
• Choose the institution that offers a scholarship in the relevant field
• Note their dates of submission
• Search the sources that assist you in scholarship application procedures.
• Prepare well to succeed the interview or entry test in the institution as per your academic requirements
• Arrange, verify and organize all mandatory documents like last academic certificate, application form etc.in a folder for stress-free submission.
• Get certain about the funding issues.
• Qualify the required English language proficiency test like IELTS and other Aptitudes tests with required scores
Students who are applying for private universities must confirm that the university is recognized from the government of Malaysia.
How to get Malaysian Student Visa:
The Malaysian government has made the process of acquiring a student visa very simple. All the application are submitted to the Director of Pass & Permit Division of Malaysia and upon acceptance the applied candidate will get a student pass ,that actually acts as your student visa. You are then asked to submit some essential documents. Student pass fee is generally around US $17.65.
Once you are accepted for the student pass, the institution took all the responsibility of visa and other formalities however you have to make transactions to pay for your student pass and visa.
Malaysian Universities Scholarship for Pakistani Students 2020 in Malay:
The following list of institutes is offering grants for Pakistani candidates in Malaysia in the different graduate and undergraduate programs. Some of these institutes are as follows:
University Malaya

University Putra Malaysia

University Sains Malaysia

Al-Madina International University

Multimedia University

MaraUniversity Malaysia

Sains Islam Malaysia

HELP University

QS Ranking

Universiti Malaya (UM) 146

Universiti Sains Malaysia (USM) 289

Universiti Teknologi Malaysia (UTM) 303

Universiti Kebangsaan Malaysia (UKM) 312

Universiti Putra Malaysia (UPM) 331

International Islamic University Malaysia 551-600

Universiti Teknologi MARA – UiTM 701+

Universiti Utara Malaysia (UUM) 701+
Hence provision of most economical world class education with all accessible accommodation facilities has ranked Malaysian Scholarships on top for a Pakistani student seeking to study abroad. Never miss a chance to explore the cultural diversity dispersed throughout the country.

Thousand of annually available scholarship
Popular Scholarships Programs


Get Latest Scholarships in Your Email
Get a regular scholarship alert. We'll deliver important and latest scholarships to your email
Sign up
for free
scholarship
alert

Scholarships in malaysia for differnt
Study Level


Scholarships in malaysia for differnt
Subject Specialist

Education and Information Studies
Sciences
Human and veterinary medicine
Business and government
Criminology and law
Engineering, IT and aviation
Humanities, languages and social science
Medicine, dentistry and health
Music and performing arts
Science and Environment,
Visual and creative arts
Architecture, construction and planning
Creative Industries
Diploma in Health Science (Nursing)
Diploma in Health Science (Health Studies)
Diploma in Business
Diploma in Engineering
Diploma in Information Technology
Programming with Python
Web Development
Ethical Hacking
Android App Development
Creative Writing
French Language
Programming with C & C++
Financial Modeling & Valuation
Advanced Excel
Core Java
Digital Marketing
mathematics and natural sciences
humanities and social sciences
civil and environmental engineering
teacher training
engineering sciences
centre for liberal arts
media communications
Business and Communications
Nursing, Midwifery and Healthcare
Computing and Engineering
Film, Media and Design
Acting, Music and Performing Arts
Bartlett (Built Environment)
Brain Sciences
Engineering Sciences
Institute of Education
Life Sciences
Mathematical & Physical Sciences
Medical Sciences
Population Health Sciences
Social & Historical Sciences
Agriculture and food science
Economics and management
Engineering and architecture
veterinary medicine
Arts, Creative Industries and Education
Business and Law
Environment and Technology
Health and Applied Sciences
Associate Faculties
Archaeology
Governance and Global Affairs
Social and Behavioural Sciences
Architecture, Building and Planning
Business and Economics
Fine Arts and Music
Medicine, Dentistry and Health Sciences
Veterinary and Agricultural Sciences
Engineering, Computer and Mathematical Sciences
Health and Medical Sciences
Master of Arts in Economics, Applied Economics Specialization
Master of Arts in Strategic Communication
Master of Public Administration and Policy
Master of Science in Health Promotion Management
Master of Science in Counter-Terrorism and Homeland Security
aster of Science in Nutrition Education
Interaction Design
High-Tech Entrepreneurship
Fintech
Data Science
Host-Microbial Interaction
Professional Studies
American Degree Transfer Program
Accounting, Banking & Finance
Certificate
Diploma Courses
Arts, social sciences and communication
Business and commerce
Education and teaching
IT and Engineering
Law and criminology
Food Sciences
Agriculture
Masters of Advanced Studies (MAS, MBA)
Diploma of Advanced Studies (DAS)
Certificates of Advanced Studies (CAS)
Economic Sciences/Business Administration/Political Economics
Development Cooperation
Engineering and Related Sciences
Mathematics; Regional and Urban Planning
Agricultural and Forest Sciences
Natural and Environmental Sciences
Medicine and Public Health
Education and Law
meteorology, environment arid land agriculture
marine science
environmental design
Economics and Administration
Faculty of engineering technology
Education, Health and Human Development
Peace Studies
conflict resolution
The International Program on Japan in East Asia
The International Program on Environmental Sciences
nformation Processing Technology
Communication Technology
Agricultural & Rural Development
Communications/Journalism
Economic Development
Educational Administration, Planning & Policy
Finance and Banking
Higher Education Administration
HIV/AIDS Policy and Prevention
Human Resources management
Law and Human Rights
Natural Resources, Environment Policy, and Climate change
Public Health Policy & Management
Public Policy Analysis and Administration
Substance Abuse Education, treatment and prevention
English & Foreign Language
Technology Policy & Management
Trafficking in Persons Policy and Prevention
Urban & Regional Planning
Textiles
Readymade Cloth Technology
Environmental Science
Water Resource Engineering
Renewable Energy
Infrastructure Planning
hydrology
Air Quality Control
Solid Waste
WasteWater Processing Technology
Photogrammetry
Geoinformatics
Natural Hazards
Structural Engineering
Applied Sciences
Housing studies
Development Studies
Arts and Culture
Technology Programs
Youth Programs
Climate Change and the Environment
Renewable Energy
Food Security and Agriculture
Governance
Economic Resilience and Private Sector
Information Communications Technology
Fisheries
Energy
Weather and Climate
Plants/Botany
Animals/Zoology
educational program
Agricultural and Wine Sciences
Allied Health and Pharmacy
Animal and Veterinary Sciences
Business
Christian Theology and Ministry
Communication and Creative Industries
Environmental Science and Outdoor Recreation
Exercise and Sports Sciences
Humanities, Social Work and Human Services
Information Technology, Computing and Mathematics
Information and Library Studies
Islamic and Arabic Studies
Medical Science and Dentistry
Nursing, Midwifery and Indigenous Health
Policing, Law, Security, Customs and Emergency Management
Teaching and Education
Robot vs Human
Voice and Consumer Behaviour"
ALLIED HEALTH
BUSINESS AND ACCOUNTING
CREATIVE, PERFORMING AND VISUAL ARTS
DIGITAL MEDIA, COMMUNICATION AND ARTS
EDUCATION, TEACHING AND CHILDCARE
ENGINEERING, BUILT ENVIRONMENT AND AVIATION
ENGLISH AND STUDY PATHWAYS
INFORMATION SYSTEMS AND TECHNOLOGY
LAW, CRIMINOLOGY AND JUSTICE
NURSING, PARAMEDICINE AND HEALTH
PSYCHOLOGY, SOCIAL WORK AND COMMUNITY SERVICES
SCIENCE, ENVIRONMENT AND AGRICULTURE
SERVICE INDUSTRIES
TRADES
TRANSPORT AND SAFETY SCIENCES
Faculty of Economics and Administration
Architecture
Computer Engineering
Electrical and Electronics Engineering
Industrial Engineering
Materials Science & Nanotechnology
Molecular Biology and Genetics
Neuroscience
Telecommunications and Networking
Global Affairs
Leadership in Business
Leaders and Leadership in History
Leadership in Practice: Leading in Higher Education
Leading a Civil Society Organization: Delivering Social Value
3D design and product design
Accessories, footwear and jewellery
Animation, interactive, film and sound
Architecture, spatial and interior design
Business & management, and science
Communication and graphic design
Creative Computing
Curation and culture
Fashion communication
Fashion making and pattern cutting
Fashion styling and make up
Illustration
Engineering & Design
Energy Policy
Science and Technology Policy
Strategic Innovation Management
Sustainable Development
Development Economics
International Wildlife Conservation Practice
Agriculture and Development
Applied International Development
Climate Change and Development
Consumer Behaviour
Communication for Development
Development Finance
Environment and Development
Food Economics and Marketing
Food Security and Development
Research Agricultural and Food Economics
Research Agriculture Ecology and Environment.
Environmental Impact Assessment and Management
Global Urban Development and Planning
Planning
Real Estate Asset Management
Real Estate Development
Urban Design and International Planning
Urban Regeneration and Development
Financial assistance
Liberal Arts & Professional Studies
Faculty of Environmental Studies
Faculty of Health
international trade and economy
logistics management
financial engineering
accounting and Chinese language and literature
applied information technologies
computer system
computer network systems
software engineering.
Forest Science and Management
Marine Science and Management
Coastal Systems
French
(BTCSOL)
MTCSOL
Associate Program
arts, social sciences and communications
business and commerce
Technical training
Vocational training
Anatomy
Forensic Anthropology
Forensic and Medical Art
Architecture and Urban Planning
Biological
Biomedical Sciences
Biomedical Engineering
Business
Computing
Energy Petroleum and Mineral
Law and Policy
Nursing and Health Sciences
all subjects
International Medical Foundation Program
International Foundation Program
Foundation Program in Science & Engineering
Business Foundation Program
Computer Science with Artificial Intelligence
Management and Leadership
Interactive Media and Web Technologies
Forensic Psychology
International Digital Marketing
Global Events Management
International Finance and Banking
Applied Psychology
Sport & Leisure Management
Energy Resources Management
Professional Policing
Sports Coaching
Mental Health Nursing
Learning Disabilities Nursing
Public Health & Community Studies
Professional Accounting
Primary Education & Teaching Studies
PUBLIC AFFAIRS
INTERNATIONAL AFFAIRS
MANAGEMENT AND INNOVATION
Transdisciplinary Science and Engineering
Architecture and Building Engineering
Life Science and Technology
Chemical Science and Engineering
Mathematical and Computing Science
Materials Science and Engineering
Industrial Engineering and Economics
Information and Communications Engineering
Electrical and Electronic Engineering
Systems and Control Engineering
Earth and Planetary Sciences
Biosciences
experienced educator
teacher preparation
health and human service
Engineering and Computing
Creative Multimedia
robotics
design
Statistical Data Science
Interior Design
Support services
Research centres and institutes
Economics and Administrative Sciences
Engineering
Education/Humanities
Minor Programs
Life and Natural Sciences
Managerial Sciences
APPLIED SCIENCES
X
FREE STUDY ABROAD

Free study abroad expert advice