Toefl Test Dates in Pakistan of different cities, and their detail. to know more about TOEFL as a Pakistani students you can get lot of help from this article
Toefl test dates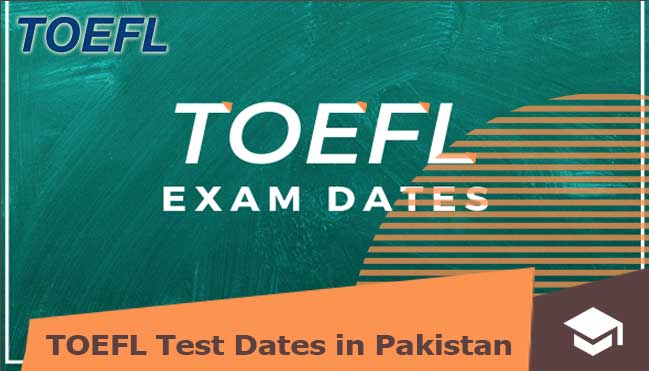 TOEFEL test is being conducted in various cities of Pakistan as Karachi, Lahore, Quetta, Islamabad and Faisalabad. The TOEFEL exam is being conducted once twice even thrice a month. Below are mentioned all the TOEFEL ibt test dates in Pakistan in 2023.
After Preparation of the test the Pakistani student is required to select a date and register for that. The Pakistani student must book themselves a place and make all arrangements 7 days ahead of the TOEFEL exam dates.
TOEFEL Test Date Requirements
There are plenty of chances that a Pakistani student can get over confident or under confident by listening to other experiences therefore its necessary the Pakistani student would keep their nerves under control.

The Pakistani student must keep the necessary documents with themselves, they must keep all of them arranged a night or two before the TOEFEL exam.

The student isn't allowed to go out during the break time therefore they must carry the some snacks with themselves.

The student must arrive early on the test center at least 30 minutes before the exam timing. Since it would give them enough time to familiarize will the exam center also will give them enough time for identification and other formalities.

Make check list so that you do not miss out on anything.
The student must remember that they have to pass TOEFEL in order to study in Foreign University therefore all the precautions are necessary. On the last day before TOEFEL exam date the Pakistani student must only go through and revise the concepts that they have learnt till date.
X
FREE STUDY ABROAD

Free study abroad expert advice