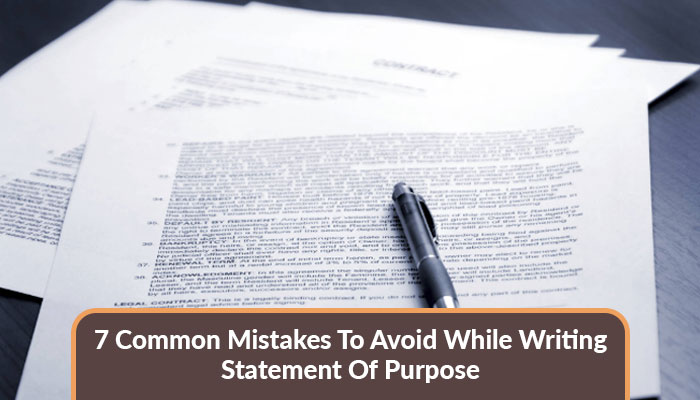 The admission process in abroad universities is about to start and to write an outstanding statement of purpose is the most challenging task for the applicants. A statement of purpose is the most requiring document that make a way to get admission into dream university. It actually make the application of applicants stand out and enhance the chances of admission in any foreign university. Yet student's statement of purpose could be their downfall too if it is not written well. In this blog we will discuss some common mistakes while writing an SOP so you don't make the same errors.
Get Hurry In Writing SOP
It is the most common mistake that an applicant make while writing SOP. An SOP is a reflection of applicant's personality, academic records, achievements and future plan. So you must arrange an ample time to write an outstanding SOP. Implement your research, ideas, purpose and aim of writing SOP. Review and edit the document multiple times before going to submit it. This will make you sure that you are not repeating yourself on unnecessary details.
Start Of SOP Writing Without Any Structure
A common mistake made by the applicants is writing without a structure in mind. Its always better to make a proper structure before to start writing. Try to write about interests and extracurricular activities that stand out in your personal history and also relevant to your course and future line.
Addition Of False Information
Never try to add information that get you debarred from the university. Admission offices in universities verify every claim you make in your application like in statement of purpose or letter of recommendation. So omitting information or a lie about your achievements and academic scores will simply lead you to the failure.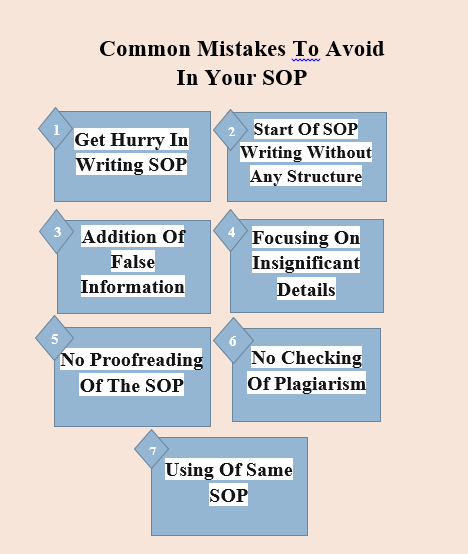 Focusing on Insignificant Details
Every year university have thousands of applications to proceed and they have not enough time to filter thorough your document. So it is best to come to the point directly. Never use flowery language, fantasies and inane hobbies. Instead of it write your future plans like what you are hoping to achieve your with goal and how it would be beneficial for the university.
No Proofreading Of The SOP
Proofreading of document is more essential thing to do. To check the grammar consistency and spelling you must read the SOP multiple times before submitting it. The question is how to read authentically? For this use the online free applications to read documents to be submitetd and filter out errors. You can also make a read from trust one.
No Checking Of Plagiarism
One of the biggest mistake is plagiarism. Keep in mind that copying of any document is a serious crime and university can reject your application with plagiarism content. Use free plagiarism tools to make sure your document is original.
Using Of Same SOP
On average, the students make one SOP and send to all universities where they want to get enroll. It is best to make different SOP for each university's application. This makes you enable to address the specific university, study programs and what you want to achieve in your future
X
FREE STUDY ABROAD

Free study abroad expert advice