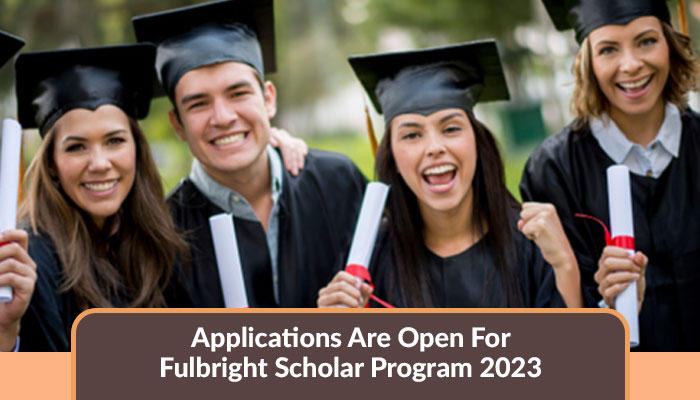 Education in the USA is provided into several public and private institutes. The country is famous for the best education institutes. American colleges are also renowned for having high academic standards, adhering to strict procedures to ensure quality, and being well-supported so they can provide their students with outstanding educations. Thousands of international students apply to USA Universities for education.
USEFP Applications Fulbright Scholar Program 2023
According to the latest updates, the United States Educational Foundation in Pakistan offers applications for the Fulbright scholar program for the upcoming session of 2023.
Selection Of Scholars
For 2023, about 15 scholars will be chosen. 13 of these positions are reserved for academics and researchers who are just beginning their research careers (2-7 years). Senior scholars (8–15 years after receiving their Ph.D. or terminal degree) are eligible for two slots.
Fulbright Scholar Program Funding
This program provides funding for up to 12 months of postdoctoral lectureship work or a combination of the two at a college or university in the United States.

The chosen individuals are supposed to educate American students, coworkers, and community groups about Pakistani society and culture.

Fulbright scholars are supposed to share their American experiences with Pakistani students, coworkers, and community organizations upon their return from the United States.
Grant Benefits of Fulbright Scholar Program
The grant pays for
Airfare

Living stipend

Health insurance

Incidental research allowance

The program also covers the costs of one additional dependent.

USEFP (United States Education Foundation in Pakistan) will support you with your visa application.
Eligibility Criteria
With the exception of clinical medicine, academics, professionals, and artists from all fields are eligible to apply.

Terminal degree in their fields, such as a Ph.D. The applicant's degree must have been held for at least two years. (Persons who have visited the United States within the last five years for research or other long-term educational opportunities are excluded.)

Candidates that are hired will have a strong command of both written and spoken English.

They will have a concise and well-developed proposal outlining their goals for the United States and how they relate to their work in Pakistan. The most essential element of the application is the proposal.

Candidates for the lectureship must have a track record of success as university instructors.

Strongly academically qualified Pakistani nationals living and working there.
Ineligibility
Individuals who hold dual citizenship in the US and Pakistan or who have a spouse, fiancé, parent, or child over the age of 18 who is a US citizen or lawful permanent resident are ineligible.

Employees of USAID, the US Department of State, or the Fulbright Foundation, as well as their spouses, children, and fiancés, as well as any dependents or parents, are ineligible.

Those who are already studying in the United States or who are traveling on a work or residency visa are also ineligible.
Application Process
For the application procedure
Visit the official website

Make sure that you are submitting an online application form.

The paper application form will not be accepted.

The application materials should be submitted online by 4:30 pm on Tuesday, October 11, 2022.
Frequently Asked Questions
Who can apply in the Fulbright scholar program in 2023?
Ans: All academics, professions, and creatives are encouraged to apply, with the exception of clinical medicine. Candidates that are hired will have a strong command of both written and spoken English.
Does this program need a test of English language proficiency?
Ans: No, this program does not need a test of English language proficiency.
Note: (Any level of the program that contains plagiarism, fraud, publishing, or other misrepresentation will result in disqualification)
X
FREE STUDY ABROAD

Free study abroad expert advice