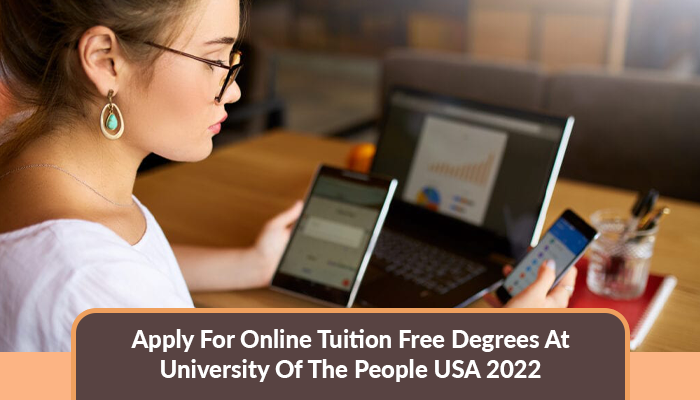 The University of the People is the Education Revolution. It is the first university that offer non-profit, tuition free, American accredited, online university. It offers academic volunteers from all over the world for online learning program. It is a great opportunity for volunteer students to start a high quality and invaluable American degree.
Courses Offered By University Of The People
UoPeople offers diploma/ short courses, bachelors and masters programs in the field of business administration, computer science, Health science and MBA. Most recently UoPeople introduced a tuition free online master of education (M.Ed.)
Watch video for details
Host Institutions
First time founded in 2009 and get accreditation in 2014. The university gained widespread support of leading academics from renowned USA universities. The university get partnership with other institutes like
Yale ISP Law School
New York University
University of California
University of Edinburgh
Eligible Countries
Students from all over the world can apply for this program. At present, students form almost 200 countries are being enrolled at university of the People.
Tuition- Free Program's Partial Fee Structure
Though the program is tuition free, the university charges only application fee of 60$ once time for each course of study program and an assessment fee at the end of the degree program to become a component of support to university.
Assessment Fee Structure
University charges only 120$ and 240$ for undergraduate and postgraduate program respectively. Based on this, an associate's degree can be completed in 2 years for 2460$ and bachelor's degree can be completed in four years with 4860$ fees. M.Ed. can be completed in 17 months for 3180$. UoPeople never demand this fee upfront but at the last of degree program.
Scholarship Grants/ Inclusion
The requirements of the university included only non- refundable admission fee and assessment fee at the end of the degree program. Students who didn't afford this fees can apply for the scholarships, there are a lot of scholarships granted by the university
Application Process
The application process is administered 5 times annually. Upcoming deadline to apply is 17th March 2022 for term starting from 7th April 2022. Applicant have to apply online applications for tuition free program.
Students can also apply for scholarship to cover application and assessment fee.
X
FREE STUDY ABROAD

Free study abroad expert advice