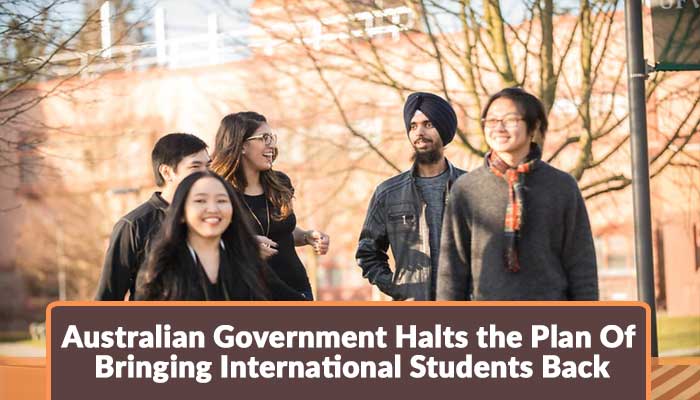 Last month Australia announced a pilot program to bring the 300 international students back to Adelaide, Australia. According to the said plan the students had to bring back in September. However, the Prime Minister of Australia, Scott Morrison says that they are currently pausing the pilot program.
The state government has shown serious concerns over its caliber for hosting over 4,000 returned travelers a week. Morrison has said the discussion will be done on Friday with the state premises. However, until this final discussion, the plan of returning international students is on hold. Simon Birmingham, the Federal State Minister recently assured that all the plans for safety requirements have been done. He elaborated that it is successfully planned that the Australians can come back to Australia from all corners of the globe. They would safely be quarantined and there will no exposure of them with the South Australian community. However, the same cautions and careful approaches will be suggested to the international students.
No Final Decision Has Taken Yet
Previously, it was reported that most of the international students are returning from Southeast Asian countries. These countries may be including in Japan, China, Singapore, and Hong Kong. Students will travel via a flight from Singapore. After reaching Adelaide all the international students would complete two-week quarantine before coming back to their campuses. The cost of this quarantine period will bear by the universities of these international students. Until the end of August, the South Australian Government was still unconfirmed to get the idea that whether students are coming from the countries having highly Covid-19 risks or not. However, Marshall said that it is not yet confirmed that, from which areas the students will come.
Students' Decision Regarding Coming Back To Australia
According to the Department of Home Minister, over half a million international students remain in Australia, 78% of them are with the student visa statuses. Students who are out of Australia are requesting the Australian government and their universities to let them back to the campus.
A student asked through twitter that is there any planning by the Australian Universities to bring international students back? We are ready to quarantine for one month and would also go through the quarantine after reaching there in Australia.
One student stated that please offered us a proper time frame to get mental relief. However, another student said that it is about 06 months that we are away from Australia and our visas are likely to be expired. So, allow them to return to Australia to renew our visas and to spend a normal life.
However, for all other latest updates regarding the Australian governments' decision to let the international students back to Australia, keep visiting Studyabroad.pk. Moreover, students who are willing to start their study abroad application for Australia they can also get the complete guide regarding study in Australia. Students, by the expert study abroad advisors, are guided that what is the best course or study option for them and how they can apply a safe application to start their journey of higher education in Australia.
X
FREE STUDY ABROAD

Free study abroad expert advice