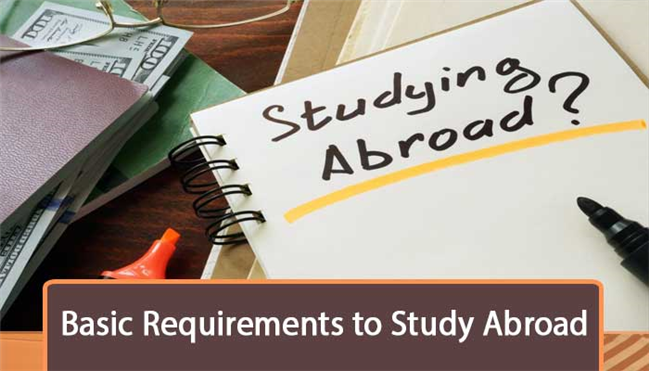 Studying abroad has become both a trend and a need these days for the students. The ratio of students going abroad is increasing every other year. A good international degree adds value to the CV as well as adds versatile skills and abilities to one's personality. The educational institutes of developed countries are more revolutionized in technology, research and every other learning aspect. Therefore their provided degrees ensure more job opportunities and more working abilities. However, applying for studying in abroad is not a piece of cake. There are quite a many requirements that need to be met before you go abroad for further studies. Although the requirements vary from country to country and university to university but there are some basic and starter requirements which all the countries require. We have highlighted all the initiating requirements which are as follows:
English Language Test:
The most important requirement out of all the others is the English language test i.e., IELTS. Most of the countries like Australia, UK, United States, and Germany etc require this test for applying process. The international acceptance score varies from 6.5-7 bands. British council is one of the most reliable organizations for taking this test.
Academic Record:
A good and presentable academic record from a recognized educational institute is also required. The academic record varies from program to program. The under graduate program requires good percentage in your Fsc or O levels and post graduate requires a good CGPA which is generally 2.5 out of 4. Higher the grades, higher the chances of securing an admission.
Statement of Purpose:
Statement of purpose also known as research statement or letter of intent is one of the major requirements. This needs to be very precise and striking. This statement is a kind of brief summary about your interest, experiences, your future aspirations and your motivations for the particular course that you applied for. Usually the SOP's word limit is of 1000 words but it varies from country to country.
Financial Requirements:
There are also some financial requirements that need to be fulfilled before you apply to study in abroad. Almost every country requires a bank statement from the student's guardian of a varied amount so as to eliminate their risks of fraud and other corruptions. Some of the countries like Germany also require a block account for the student. This account ensures the students living and accommodation expenses.
Health and Character Requirements:
Health conditions of a student are also required by certain countries so as to ensure the health safety and security of a student. Physically and mentally healthy students are basically being provided with the opportunity of studying abroad. Certain tests and vaccinations are being required before applying abroad. Other than that character's surety is also required. Specific character certifications from both the educational institutes and government of home country are required before the application processes. These certifications are mostly needed to be attested and verified from authentic and trusted organizations.
Study abroad Readiness:
This is the general requirement which includes almost every other aspect before applying abroad. The student has to demonstrate a serious attitude with valid reasons for choosing a specific program, institute and respective country. Students are also required to show sensibility, maturity and emotional stability for the particular period of time. Last but not the least, the students have to abide by the particular student laws, terms and conditions in order to study smoothly in abroad.
The above mentioned aspects are the very basic requirements that need to be fulfilled before applying to any study destination. Some of these may differ from country to country but most of them are definitely required. We really hope that this article helps you out in deciding your future study programs and plans. For further details visit our country guide section.
X
FREE STUDY ABROAD

Free study abroad expert advice