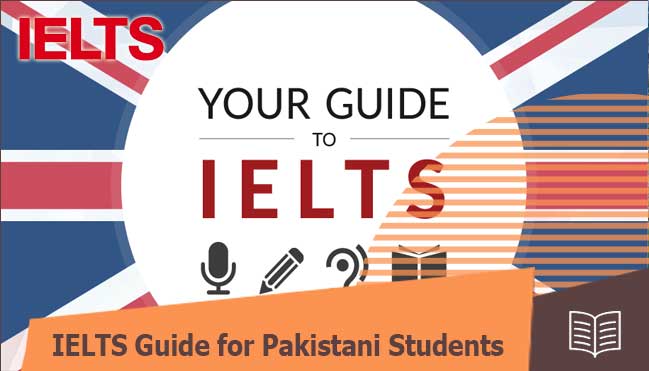 IELTS is an acronym for the international language testing system. The main purpose of IELTS is to design an English language profile of a Pakistani student who is an applicant at any foreign university where the language of teaching is English.

The test is so designed in order to examine and sketch out the overall ability and understandability of Pakistani student for English language. It's a complete analysis of their ability and hold over the English language.

IELTS recognized by the universities of abroad countries like Australia, Canada, United Kingdom, Singapore, Ireland, New Zealand, Germany, other European countries and United States of America. Almost about 1.4 million people take up the IELTS test each year.

From 1989, IELTS was recognized as an authentic and client-oriented test which enables its candidates to communicate well in English. After forty years of research, in partnership with IELTS Australia and Cambridge ESOL, the British Council developed IELTS.

IELTS has been made a benchmark for eligibility not just for admission but also, for obtaining almost all scholarships provided by best universities abroad.
IELTS Test Fees Pakistan
As the IELTS Academic tests are of two types, it may be paper based or computer based test at the center. The fee for both types is different here you can go for the paper based IELTS test fees for the year 2023 in different areas of Pakistan
| | | |
| --- | --- | --- |
| No. | City | Fees |
| 1. | Peshawar | 40,000 |
| 2. | Abbaottabad | 40,000 |
| 3. | Quetta | 40,000 |
| 4. | Mirpur | 40,000 |
| 5. | Karachi | 45,200 |
| 6. | Hyderabad | 45,200 |
| 7. | Islamabad | 46,400 |
| 8. | Lahore | 46,400 |
| 9. | Bahawalpur | 46,400 |
| 10. | Sargodha | 46,400 |
| 11. | Multan | 46,400 |
| 12. | Faislabad | 46,400 |
| 13. | Sialkot | 46,400 |
| 14. | Sahiwal | 46,400 |
| 15. | Gujrawala | 46,400 |
| 16. | Gujrat | 46,400 |
| 17. | Sukkur | 40,680 |
Online IELTS Test Preparation
Apply here for the online IELTS classes to get good score in test
IELTS four Modules Details:
It has four modules, listening, reading, writing and speaking that helps students overcome the language constraints in whatever country they opt to study.
Listening section: 30 minutes, 4 sections, 40 questions.

Reading section: 60 minutes, 3 sections, 40 questions.

Speaking section: 15 minutes, interview.

Writing section: 60 minutes, two pieces to write.
IELTS is conducted at test centers all across the globe. There are presently 500 centers that are functional in over 120 countries.
Types Of IELTS Test
Academic IELTS

General IELTS

The academic test of IELTS is for the Pakistani students who wants to apply for the admission in English countries

It's generally for those who want to go abroad for the continuation of secondary education, obtain work experience, training purposes.

The general test is also a pre requisite for immigration to the English speaking countries.

The writing is more centered on university related conversations, which includes description of an image in detail.

In general IELTS it's mainly letter writing, rest all remaining the same.
AEO and British Council IELTS Pakistan :
IELTS test service is provided by both British council and AEO for the convenience of the student. The format procedures and test pattern including online IELTS registration process are similar just the only difference is in IELTS test locations in Pakistanm and examination dates of IELTS test in Pakistan.
| | |
| --- | --- |
| British Council IELTS | AEO IELTS Test |
| The British Council offers eight locations for IELTS tests in Islamabad, Karachi, Lahore, Multan, Faisalabad, Peshawar, Gujarat, and Hyderabad. | AEO test dates in Pakistan are available throughout the year at its 5 different test locations in Islamabad, Lahore, Karachi, Jhelum, and Multan |
| The British council take up two test in a month in following cities of Pakistan Lahore Karachi and Islamabad, once in a month in Peshawar, Hyderabad, Multan, Faisalabad and Gujarat. | AEO test dates in Pakistan are available throughout the year |
IELTS Computer Based VS Paper Based:
The IELTS exam is provided in both forms paper based and computer based depending upon the choice of Pakistani student. The Pakistani student requires to mention the same in their IELTS application form.
| | |
| --- | --- |
| Computer Based IELTS | Paper Based IELTS |
| The most preferred IELTS computer based test because of the benefits of omission of errors in computer based IELTS | There are more chances of errors. |
| Computer based test is not only convenient but the test results are provided more quickly. | Students have to wait for the results. |
Online IELTS Registration for Pakistani Students:
Both the organizations provide similar test, the Pakistani student can apply for any one of the two. The Pakistani student can submit the application form online or can apply for IELTS by downloading the form and submitting the same at their nearest center.
The detailed list of the test center is being provided.
IELTS Preparation Pakistan:
IELTS is unlike any other English proficiency test, because of large number of applicants not only from Pakistan but everywhere, the standard of the exam has been maintained quiet high.
Large number of universities have a reliance on the IELTS test scores for the admission of international students. The score is between 1 and 9. The score can be a fraction like 6.5. Universities generally demand a score of 6 or 7 for admissions or as low as 4 in order to be eligible. Therefore a Pakistani student must take all precautions earlier, start preparing beforehand or even opt for enrollment in the IELTS coaching centers.
Therefore preparing for IELTS must be main focus of Pakistani student.
Ielts Questions/Answers
what is IELTS?
IELTS is an international standard test for English language proficiency.It is the world's most well known English language test.
which organization take IELTS?
Australian Education Organization
British Council
How many types of IELTS?
There are two types of IELTS Test:
IELTS Academic
IELTS General Training
What is the passing score of IELTS?
There is no passing or fail in IELTS in each module you have to score between 1 to 9
Is IELTS difficult?
Nothing is difficult the only thing is well prepration, and remember there is no pass and fail in IELTS
Can candidate ask for the repeatition of question?
There is limit the examiner will repeat only once and then he will not.
How can anyone prepare for ielts at home?
Understand the test format.

Practise with sample test questions

Official IELTS practice material

IELTS Progress Check

Consider a preparation course

Register as soon as possible
For how many times IELTS can be taken ?
There is not limit of attempts.
How long IELTS exam takes?
How long it take to prepare IELTS?
It varies on you, but you should take 2 to 3 months atleast for prepration
X
FREE STUDY ABROAD

Free study abroad expert advice