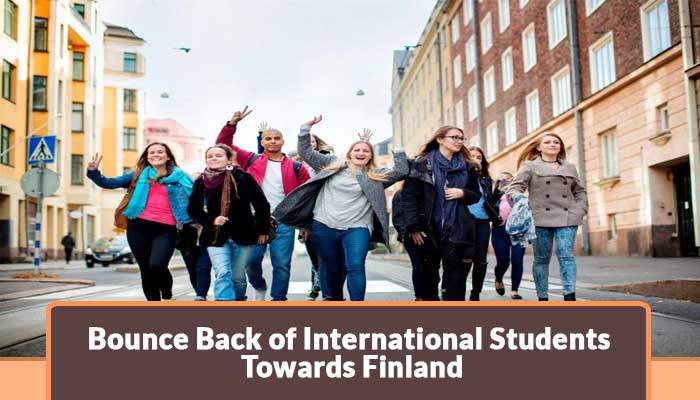 Students who are seeking to study in finland will be relieved to know that most international study destinations are reopening for full time face to face education after long duration of lockdown among many countries. Europe is again becoming a popular destination regarding finland universities for international students. Pakistani students who wish to apply towards foreign or abroad education can do so by applying toward experienced and qualified consultants for finland universities admission for international students.
Increase in international student applications
According to the Finnish immigration service report there has been a significant increase in the number of foreign student applications received in the year 2021 in comparison to 2020. According to a recent report 4,233 foreign applications excluding EU applicants were received in the time period from January 2021 to August 2021 for resident permit regarding study in finland in comparison to 1,756 applicants who applied last year during the same time period. Russia students comprising 899 and China students comprising 504 make up for the most number of student applying towards international study applicants in Finland.
Restart of international education
The year of 2020 low number of applications concerning finland universities admission for international students was considered as an exception due to the pandemic and its implications across the globe on the education forefront. The pandemic created situation which vastly affected international travel as many countries closed their international borders including Finland but things are starting to improve as international countries impose adherence to quarantine period and international vaccination acceptance.
Streamlining international student resident permit process
The Finland government is in the process of streamlining the process regarding application for residence permit for Finland universities for international students greatly reducing the required processing time involved for the applications. The Finland government is aiming towards issuing resident permit for studies regarding international students to be issued within months time period by the year 2023.
According to Finland government immigration department 3870 international students were issued first resident resulting in 93% permit issuance decisions being positive in comparison to negative decisions which were mostly due finance issues from the international applicants. The average applicant processing time regarding first residence permits was reported to be 12 days including majority of applicants receiving their results within 12 days time period.
Finland's study program benefits for students
Finland residence permit is usually issued for one or two year resulting in student applying towards permit extension during their studies. International students who have successfully completed their study program can apply for extended permit on work term basis. If international student does not possess job he also apply for extension of permit for starting business or for searching for work.
Finland government is working towards improving its legislation process and working on pilot projects to facilitate researches and student to stay longer in Finland by providing students, entrepreneur's and researchers longer working grants and permits.
Streamlining residence permits application process for international students
The Finland government is collaborating and streamlining the processing of granting residence permits by working closely with Finnish educational institutes and Universities. Various international student facilitation measures or good ideas are being carried out as to encourage Finland government collaboration with ministries and institutions to pilot project targeted toward improving entry towards international students.
Finland government wants to welcome international students as it proposed introducing long term D visa's for facilitating field specialists, respective entrepreneurs and their family entry into Finland. This pilot program was initiated after proposal after Finland government budget session held last year in which the government had come to conclusion that the fast track project regarding labour migration would be ready by June 2022.
X
FREE STUDY ABROAD

Free study abroad expert advice