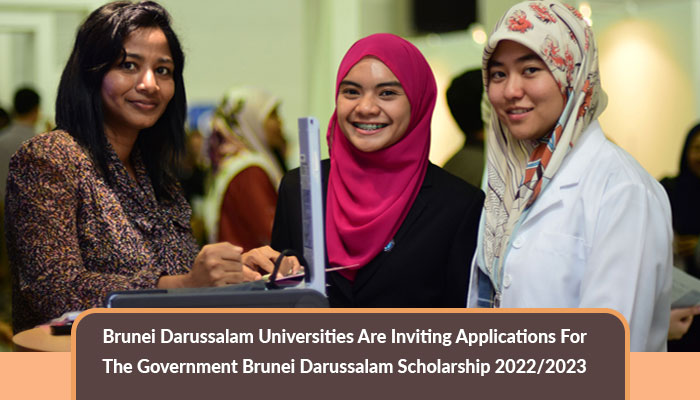 Brunei Darussalam is accepting applications from foreign students who want to get admission in diploma, undergraduate or post-graduate degree on scholarship. This scholarship is providing opportunity to foreigners including Pakistani students to get admission in following universities
Universiti Brunei Darussalam (UBD)
Kolej Universiti Perguvruan Ugama Seri Begawan (KUPU SB)
Universiti Islam Sultan Sharif Ali (UNISSA)
Universiti Teknologi Brunei (UTB)
Politeknik Brunei (PB)
Programs Offered By Brunei Darussalam Scholarship
Scholarships are awarded to all the courses taught in Brunei Darussalam Universities.
Benefits And Allowances Awarded By Brunei Darussalam Scholarship
Successful applicants will be awarded with a lot of described benefits as
No tuition, examination and registration fee
Economy class air ticket is provided to selected candidate (two times when candidate have to move to Brunei and when returned back to hometown)
For personal use monthly BND$500.00 will be awarded
Allowance for meal of BND$150.00/ month
Allowance for book of BND$600.00/ year
Accommodation is provided at respected university
Return ticket after completion of degree with luggage allowance of maximum BND$500.00 granted to selected candidates
Eligibility Criteria And Required Documents
Applicant must be a Pakistani or AJK national
For undergraduate and postgraduate program age limit is 18-25 and 35 years respectively
For undergraduate and postgraduate program, 12 and 16 years completion of education is required
Transcripts to be attached must be attested
Health and security clearance certificates must be provided with application
IELTS/ TOFEL scores attachment where it is required
Limitations For Selected Candidates
Candidate is not allowed to get another scholarship at the same time
No allowance for family members
No employment service is allowed to scholarship holding person
Application Process
Start application process and complete it before the deadline which is 9th February 2022
Following steps must be adopted carefully to complete the application process
Step 1: Click HEC - Scholarship Portal the following HEC website link and fill the online application form. After completion save the soft copy.
Step 2: Fill the Brunei application form through this link UBD Admission
Step 3: At last send scanned copy of all required documents to applybdgs2022@mfa.gov.bn and one hard copy of all required documents to HEC at described
address Learning Opportunities Abroad (LOA) HRD Division, Higher Education Commission Sector H-9, Islamabad.
X
FREE STUDY ABROAD

Free study abroad expert advice