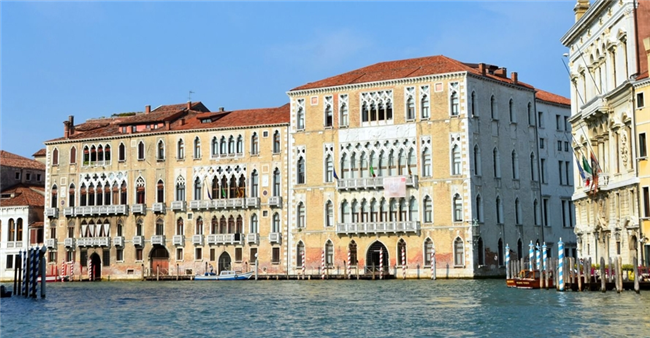 The rector along with a delegation from Ca' Foscari University, Italy are on visit to Pakistan, there are here to meet the higher officials of Higher Education Commission (HEC), Islamabad, Comsats Kinnaird College, Lahore.
Ca' Foscari University is a public University in Venice, Italy. It was established in 1868.It is one of the best University in Italy, it was ranked at 5th position by Italian Education Board in 2017. The QS World University Ranking ranked Ca' Foscari University at top 150 Universities of the world for its Arts & Humanities' and 'Languages' department, and among top 200 universities of the world for its 'History' and 'Economics' department. Apart from high ranks in QS world University list, Ca' Foscari University has policy to invite Nobel Prize winners to give lectures in the University.
Michele Bugliesi, the rector of Ca' Foscari University said that each year, his University receives dozens of admissions application from Pakistan. There are already many Pakistani students studying in the University. Talking about the University's policy for international scholarships, He said, "We offer this to all students. We have launched an initiative for that. We have put 4.5 million euro in scholarships for the next three years, most of which are directed to support our internationalisation programme."
Taking about the visa policy of Italy for foreign students, He said, "We have also a school for international education where we provide special programmes, including entry level courses, in Italian for students who were willing to learn Italian, "One of the things that helps get the visa was having a scholarship, We do provide our support and we do provide scholarships".
Well reputed Pakistani career counselor, Syed Abidi, was also present during the interview with Rector of Italian University. He said best study destinations for Pakistani students from his experience are; Italy, Germany and Sweden.
Ca' Foscari University is also providing fee concession and expenditure of accommodation to Pakistani and international students through is gold scholarship program. Syed Abidi said it's hard to select the most eligible candidates for scholarships from a large number of applications from Pakistan. The university takes help from Mr. Abidi and other universities for the selection process.
The Rector of Ca' Foscari University also said, "Pakistani students have huge potential and they are really hard working students, we are partnering with universities to get support in selecting students from Pakistan".
Here is the List of Best Universities in Italy according to Times Higher Education's World University Rankings:
Scuola Superiore Sant'Anna
Scuola Normale Superiore di Pisa
University of Bologna
University of Padua
Vita-Salute San Raffaele University
Like most of European countries, Italy has set free education rule for all nationalities that are residents of Italy. The public educational institutes in Italy are well reputed for quality of education; they are regarded better in comparison to private institutes. The research papers of Italian Universities are considered above average according to National Science Indicators (1981–2002). Studying in Italy is in all matters beneficial.
X
FREE STUDY ABROAD

Free study abroad expert advice