HCS (Hadi Consultancy Services) is a Pakistani Specialist education consultancy Services based in Pakistan. This consultancy services was established in 2003 and has earned an excellent repution among the students and parents who r seeking higher education in China, UK,UKrine, Austerilia and throughout in the world.
Medical Education in China and Engineering Education
way to China to study like the General Medicine and Surgery (MBBS), dental course or dentistry (BDS) ,M.D/M.S/M.D.S Course and Engineering course, business course. Every year there are over 300000 international students come to china study Medical, EngThe great educational infrastructure in Asia, cheap cost wise and highly reputed in technology, Engineering, Medicine wise,the availability of instruction in the English medium., more and more Chinese universities have made courses available to international students in English medium. Most of the Medical Schools in China are recognized in the World Health Organization ( WHO )'s "Directory of World Medical Schools". This listing make a student graduating from such Medical Universities and Medical Colleges in China eligible to appear for many of the screening tests like the USMLE, PLAB and also the newly introduced "Screening examination" conducted by the National Board Of Examinations, India, under the directive of the Medical Council of India. This has lead to an ever increasing number of international students makineering and Business Program etc. China is fast becoming the most favored destination in Asia.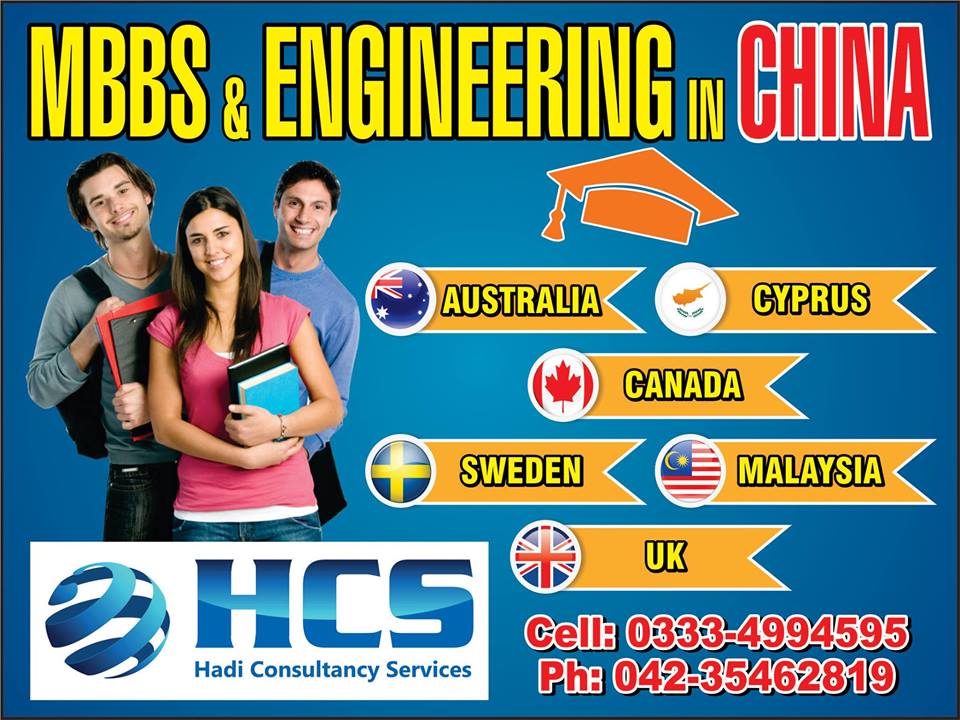 This profile page has been viewed 33398 times
Services:

HADI CONSULTANCY SERVICESS
HADI CONSULTANCY SERVICESS acts as a bridge between leading foreign universities and for those students who wish to study abroad.
What's your opinion about HADI CONSULTANCY SERVICESS
Asghar

"good "
Asghar

"good "
furqan

"provide reliable consultancy"
Ask any question from consultant
Consultants List
View Complete List
X
FREE STUDY ABROAD

Free study abroad expert advice