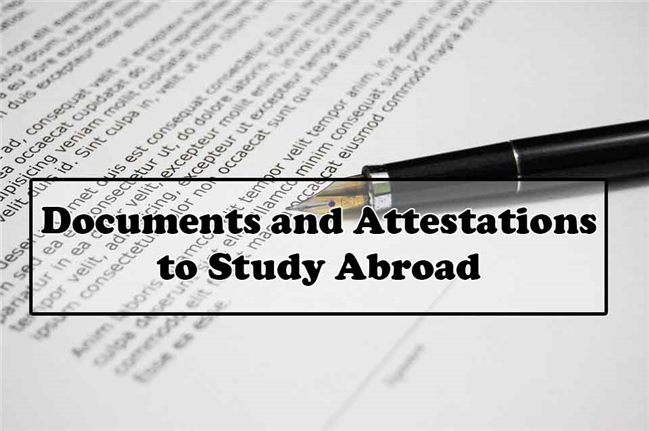 A number of different documents with certain attestations are required in order to apply for admission in a university. If you want to study abroad then your first step will be to apply for admission in a university. Universities have a proper application procedure for admission. Students are required to fill a form and submit a few documents with it. Documents may be scanned and submitted online or posted to university address. It depends on university requirements.
In order to apply for admission just gathering all academic documents is not enough. You have to prepare some extra papers and also need some of them to be attested by proper authorities. If you are a Pakistani student then this article will guide you what documents you need, and how and where to get them attested.
---
1 - Matric and Intermediate Certificate:
Matric and Intermediate certificates are compulsory if you are going to apply in a university. Make sure you also fulfill the minimum criteria of grades. Certificate usually takes 2 – 3 years before it is issued to a student. However, you must get your certificates on urgent basis from the exam board office. You will be charged around 3 thousand Pakistani rupees to get a certificate on urgent basis. After you have got these certificates, it is time to get them attested.
Step 1: Attestation by Exam Boards:
You will to need submit your original certificate of matric and intermediate with two copies to the exam board. If you studied under federal board, you will visit federal board office in your district. Likewise, if you studied under Multan board, you will visit Multan board office. Depending on the board, you will have to pay between 1,500 to 3,000 rupees for each certificate at board office. It will charge extra if you do it on urgent basis. They will attest these documents and keep one copy of the certificate. Hence, giving you attested original certificates and one copy in a sealed envelope.
Step2: Attestation by IBCC:
After receiving attested certificates from board office, you must not open the envelope and take them to Inter Board Committee of Chairmen (IBCC) office as they are, for further attestation. You can either download the application form and post the envelope to IBCC office. Otherwise, you can visit IBCC office and get your documents attested by them. As of 2017, they charge around 400 rupees for original certificate and around 100 – 200 rupees for each copy. Be sure to get more than one attested copies as you will most probably apply in more than one university for admission. Here you can see complete details about Attestation from IBCC and their offices.
Step 3: Notarization:
All attested documents are required to be notarized for further authentication. You will have to visit licensed Notary Public to get these documents notarized. Here learn more about Notarization in Pakistan.
Step 4: Attestation by Ministry of Foreign Affairs:
Third step is to get these documents attested by the Ministry of foreign affairs. Whether this attestation is required or not depends on your study abroad destination and university. Some may not need this while for some it is compulsory that documents be attested by the ministry.
SEE ALSO: Sweden is a Complete Study Abroad Destination for Pakistani Students
---
2 - Bachelors and Masters:
If you are applying for postgraduate program, you will also have to attest and submit transcript or degree of your Bachelors and/or Masters program.
Step 1: Attestation by HEC:

As all university degrees in Pakistan are issued by HEC so this is where you go to attest your transcripts. You can fill online application on HEC website and send your transcript to their office. They will appoint you a date when you can receive your attested transcript(s).
Step 2: Notarization:
University transcripts are also to be notarized just like matric and inter certificates. It is only after both attestation and notarization that documents will be accepted by a foreign university.
Step 3: Attestation by Ministry of Foreign Affairs:
Attestation of transcripts also depend on the requirements of the university. If they want the documents attested by ministry of foreign affairs then you must get transcript attested along with matric and inter certificates.
---
3 - English Language Test Certificate:
A certificate of English language test i.e. IELTS and TOEFL is always necessary to get admission in a foreign university. I would suggest at least a month of practice even if your English is good. There is no need to attest this certificate. You may have to submit a copy of this certificate yourself or have the institution (British Council or AEO) send it to the university. Student is required to fill a form and pay a fees of around 3 thousand rupees to send one copy from the institution.
---
4 - Recommendation or Reference Letter:
Recommendation or reference letter is also required by the foreign universities along with other academic documents. You must get your teachers or employer to write a good recommendation letter for you. Usually at least two reference letters are needed to submit. A reference letter shows others opinion about you and your study field.
SEE ALSO: Why Every Pakistani Girl Should Go Abroad for Higher Education
---
5 - Statement of Purpose:
Universities give a great importance to statement of purpose. They judge you based on statement of purpose. You are required to write about 2 – 3 pages about why they should select you. Be sure to write an extra ordinary statement of purpose in a formal language and have it proofread by a professional writer.
---
6- CV or Cover Letter:
It is optional but still a good CV or cover letter adds point on your side. If you don't have much to mention then I would suggest not to submit a CV. Have your CV or cover letter prepared by a professional that will put a good impact on reader.
---
7 - Bank Statement:
After you have been short listed, university will ask you to submit a proper bank statement that shows enough funds to finance your living and study in a foreign country. Each country has their own conditions about the bank statement so be sure to read specific requirements.
Want to Work While Studying Abroad? You can Apply for On Campus Work Study Scheme
X
FREE STUDY ABROAD

Free study abroad expert advice