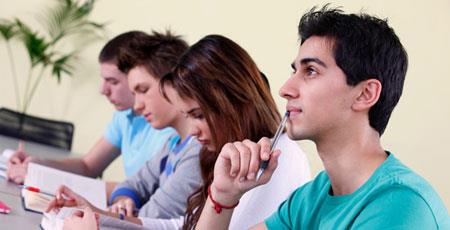 Students who want to apply for admission in internationally renowned universities. So, GRE general test score is basic requirement of these universities in all around the world. We give you the basic guidelines to know about GRE general test and how you can prepare yourself to give this exam for admission in graduate level degree.
What is the GRE?
Many universities all round the world required GRE Test score to get admission in university. GRE test is core part of the graduate admission procedure internationally.
GRE test is runs only in English language in all around world. Students who are interested in 7 study fields such as chemistry, biochemistry, physics, maths, psychology, cell, English literature and molecular biology must be eligible for this exam to join any university.
Who administers the GRE?
This test is directed by the Educational testing services which also called ETS.
GRE stand for?
Graduate Record Examinations
Why take the GRE?
Students who want to apply for graduate level program in any international university, GRE test score will be required for get admission.
Which universities accept the GRE?
Many universities in all around world accepted GRE score to get admission. For more detail please ETS website.
Where and when can you take the GRE?
A total 160 countries in all around the world have their 1000 test center for GRE test.
How can you prepare for the GRE?
Interested students will prepare themselves for GRE test with the help of ETS website.
What skills does the GRE test?
GRE test is based on three parts:
Verbal reasoning
Quantitative reasoning
Analytical writing
GRE Test Cost?
US$205
Need based assistance also available for students
Students who cannot pay the fee of GRE test, there are many option for need based students. They can pay limited amount for this test on their financial assistance basis.
Result available?
Students will get their result within 10 to 15 working days.
Can you retake the GRE test?
Yes
How long is the GRE valid for?
5 year of duration is valid for GRE test.
X
FREE STUDY ABROAD

Free study abroad expert advice