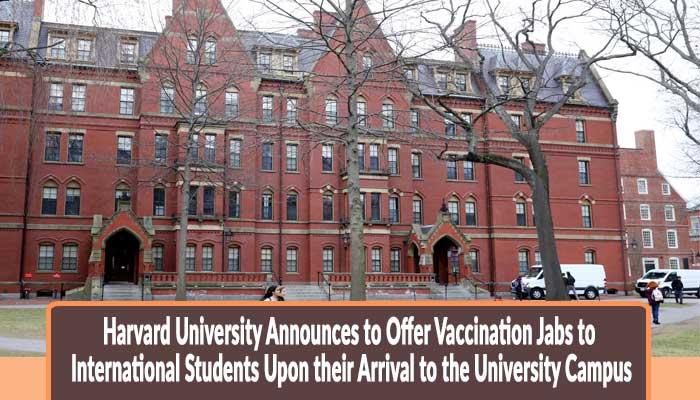 Many higher educational institutions of the United States have made vaccination mandatory for international students and Harvard University is also among those institutions, as the university has made it mandatory for international students to get fully vaccinated before they arrive for on campus classes this Fall.
However, an exemption has been made for international students. Those students who, for whatever cause, do not have access to the Covid-19 vaccine in their home country will be given the Covid-19 vaccination Jabs upon arrival on campus.
Harvard University Covid-19 Vaccination Plan
On May 5th an announcement was made regarding the vaccination plan on the university official website. Harvard University President Lawrence S. Bacow has insisted all the students, staff and faculty members to get properly vaccinated. The university emphasized the value of vaccination and how a high vaccination rate is critical in order to resume full-time in-person studying, research, and other programmes in the fall.
It was stated in the letter that, "Everyone should take time to plan your vaccine, know what your options are for receiving vaccine, and seek all options available to you. We are pleased to announce that HUHS will hold a COVID vaccine clinic on June 2 at the Murr Center, and then on a weekly basis at HUHS. Vaccine appointments are open to all students, staff, faculty, researchers."
President Lawrence S. Bacow said that, "We hope to be able to offer a less restricted, robust on-campus experience for all our students this fall. These plans, however, depend on low infection rates in our community and across our region."
Vaccination Exception for Medical and Religious Reasons
An announcement was also made for the those international students who are unable to get vaccinated due to medical or religious purposes. S. Bacow said that, "Harvard will require COVID vaccination for all students who will be on campus this fall. As with existing student requirements for other vaccines, exceptions will be provided only for medical or religious reasons."
"Students should plan to be fully vaccinated before returning to campus for the fall semester, meaning that at least two weeks have passed since the final dose of an FDA-authorized vaccine or vaccines authorized by the World Health Organization." He added.
What if the students have no access to the FDA and WHO approved Vaccines?
However, students who are unable to access an FDA or WHO-approved vaccine in their home country will be vaccinated upon arrival at the university.
This announcement comes after many leading Universities of US such as University of Yale, Princeton and Columbia made vaccinations mandatory for international students in hopes to provide a less restricted on campus experience to students this year.
X
FREE STUDY ABROAD

Free study abroad expert advice