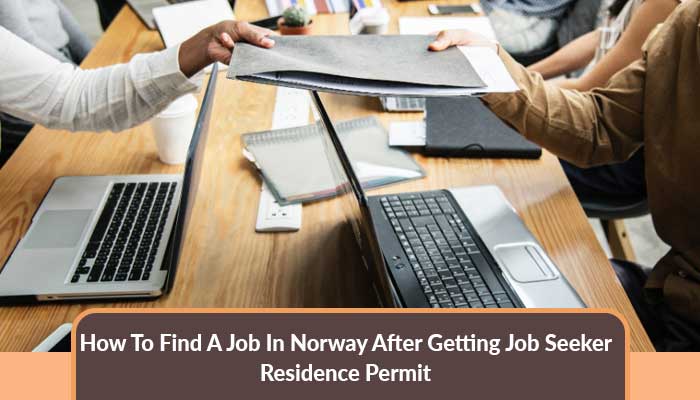 Congratulations! If you got your job seeker residence permit to stay for the next 6 months and find a job in Norway. Remember that finding a job in Norway can take time, so be patient and persistent in your job search. It is more probably an arduous task to find a job in another country and start career there as a foreigner.
Here in this article we described some tips and steps on how you can take a start in finding Norwegian jobs. The majority of the job's vacancies in Norway are available on the internet from where you can search and apply directly to companies.
​What Do You Need To Find A Job In Norway
Of course whenever and wherever you apply for a job, you always need some basic things. You must have the following for finding a job in Norway
Email ID: To apply for different job vacancies, you need a valid email address where you also get a feedback from the organization

Updated CV: A good CV is always important to provide information relevant to job you are applying for

Education Recognition: For a regulated professions, recognition from Norwegian government is mandatory to perform the profession with title in Norway.
Tips On How To Get Started With Your Job Search
Start With Yourself
Make it clear for what type of jobs you are motivated

Make an overview of your personal qualities

Judge about your unique qualities and strengths
Above three points will clearly tell you, how competent and confident you are and will help in writing a good application for job and preparation of interview.
Take a course to get skills
It make job appointment easy, if you get a course or training for job related skills. To improve skills you can visit JobbX.no that offers free job seeker courses to students between the ages of 16-26 years.
Be creative to find a job
If you are applying for a job where you lack competence, then add all relevant work experience (it can be a voluntary work or work experience while you were studying in Norway) in your application.
Get to know the companies related to your studies
You can use internet to find companies relevant to your study field

Jobbtreff is a platform in Norway where international students can get the opportunity to find companies and their positions
Turn the job notifications on
Whenever visit a site in searching of job that may have option to register there and get updated job's notification freely. Your registration at those sites will put a great benefit in finding job.
Register your CV
Explore different job sites and register your CV, keep in touch with them and be active.
Engage yourself in a temporary job
Until you find a permanent job, you can start a full-time or part-time job in Norway temporarily. It may lead to an extension or permanent employment.
Use your network
During your studies period, you interact with a lot of people including international students, friends, and university's professors. You can talk to them and get help to find job in Norway.
Attend job fairs
You can meet employers directly with your CV when attending job fairs. You can google and register yourself for a job fair.
Make a plan
Job searching could be really hectic and lengthy procedure (from weeks to months) so be patient and make a weekly plan to apply for jobs in Norway. Set plenty of time for searching jobs and note the time when you will contact to certain company from a long list of companies.
Job Portals To Find A Job In Norway
There are several websites and portals for finding jobs in Norway. Here are some of the most popular ones:
Frequently Asked Questions
1 - Do I need to speak Norwegian to work in Norway?
While it's not mandatory to speak Norwegian for all jobs, most employers prefer candidates who can speak Norwegian. If you plan to work in a customer-facing role, you will need to have good Norwegian language skills.
2 - How do I apply for a job in Norway?
To apply for a job in Norway, you will typically need to submit a CV and cover letter tailored to the Norwegian job market. You can apply directly to employers or through recruitment agencies. You can also search for jobs on job search websites such as Nav.no, Finn.no, or Jobbnorge.no.
3 - What qualifications do I need to work in Norway?
The qualifications required to work in Norway will depend on the job and industry. You will need to have the appropriate qualifications and skills for the job you are applying for. In some professions, such as medicine or law, you may need to have your qualifications recognized by the relevant Norwegian authorities.
4 - How do I network in Norway?
Networking is important in Norway, and many jobs are filled through personal connections. Attend job fairs, networking events, and join professional associations related to your field. You can also connect with potential employers on LinkedIn or other social media platforms.
5 - How long does it take to find a job in Norway?
The length of time it takes to find a job in Norway will depend on various factors, including your qualifications, experience, and the job market in your industry and location. It may takes weeks to months so it's worth being patient and persistent in your job search.
X
FREE STUDY ABROAD

Free study abroad expert advice