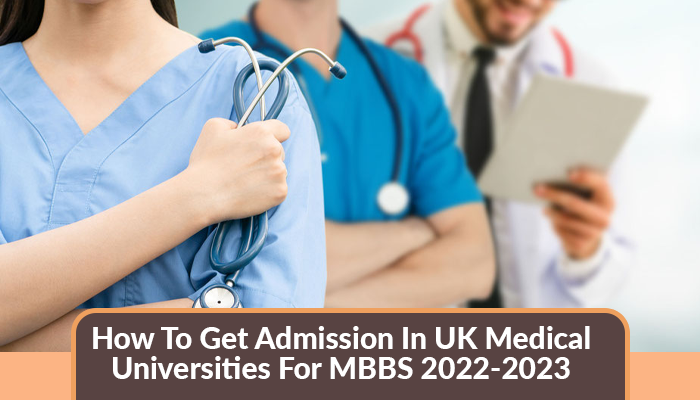 Medical Universities in UK that are affiliated with QS ranking have strong interactions with local hospitals and health care centers for medical practices. Pakistani students can apply for MBBS in UK through UCAS, it is a central application form for undergraduate level in UK. UK universities are subscribed by this site to make ease for international students to apply. Many universities in UK only accept the applications that are submitted through this portal or site.
Entry Requirements By UK Medical Universities
Entrance exam either UKCAT, BMAT or GAMSAT have to be clear by the applicant. Different types of entrance test depends upon the university requirement, either university require one from these described tests. It is not compulsory to pass all three described tests.
UKCAT
It is the UK Clinical Aptitude Test conducted by medical universities in the UK through UCAS to offer admission letter to international students for MBBS. Must have 650 marks to get admission.
BMAT
This Biomedical Admission Test is conducted by the 7 medical universities of UK, students have to register through UCAS to appear in test. Must have 4.5- 5.0 score to get admission.
GAMSAT
Student can take this general entrance exam before applying through UCAS. It is common test for all course including MBBS. Must have 60-66 marks to get admission.
Eligibility Criteria For MBBS In UK
Applicant must be at least 18 years old
Must have minimum 80% marks percentage in class 10 and 12 (Especially in subjects: Chemistry and Biology)
Must have passing score in entrance exams that is 650.
Documents Required For MBBS In UK
The following described list of documents must be submitted to UK medical university by the applicant
Attested copies and original transcripts of 10th and 12th class
Any diploma certificate
Letter of recommendation from any professor of previously studied institute
Work experience if any
Statement of purpose
Updated resume
Copy of IELTS, UKCAT/ BMAT scores
Bank statement
Application Process For MBBS Admission In UK
Students of Pakistan are require to have educational transcripts and IELTS test score to get admission in UK Medical universities. Follow the described steps to submit an online application for admission
Gather all required attested documents before the 30th June and 1st September, 2022
Apply via UCAS portal or directly through university's website
After submission of application wait for the confirmation from university's side
Visit nearest British Embassy to start immigration process
Before start Of Application At UCAS
Check the last date of entry in respective university
Prepare all educational transcripts
Write statement of purpose
Get two recommendation letters from professor
Enter employment details if have any otherwise keep it empty
MBBS In UK Without UKCAT
As described above UKCAT is entrance exam for MBBS in UK. There are two universities in UK that offer MBBS without UKCAT
Brighton and Sussex Medical School
University of Central Lancashire
X
FREE STUDY ABROAD

Free study abroad expert advice