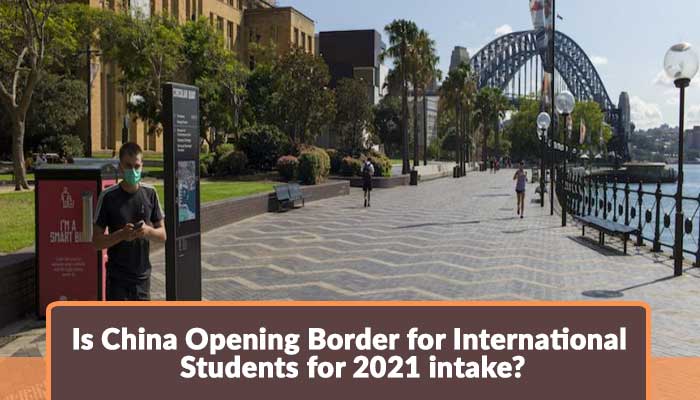 China was first country which reported a Covid-19 case. The Chinese Government immediately imposed lockdown all across the country; this lockdown was also implemented on Chinese educational institutions.
This effected many international students studying in China at that moment. Their studies were deeply affected and many returned to their home countries.
Can international students go to China for 2021 intake?
But as of now life in China has pretty much returned to normal routine, as the number of Covid-19 cases is very low. So the question regarding the intake of international students for academic year of 2021 is arising. Whether or not international students are allowed to go to China for studies?
The answer to this most frequently asked question is no. China has still not opened its borders for International students. Although the Chinese Government had recently allowed some workers to return to China but as far as international students are concerned, they cannot return to China as of now for physical classes.
Are admissions open for 2021 in China?
The admissions for 2021 intake in China are open. Admissions are open for Sprig and Autumn 2021 intake in China. Now for students who are residing in China will be able to take on-campus classes, whereas those who are outside of China will take first or next few semesters online until the Government change the lockdown policies and let international students enter Chinese border. As the Chinese ministry of Education said that China is looking into the matter regarding the return of International students very seriously and advices its universities to act responsibly and take all the necessary measure regarding the wellbeing of International students and their return. Universities should act swiftly and respond to their problems as soon as possible.
Can students still apply for Chinese Student Visa?
International students who are willing to study in China require an X Visa to study in China. Upon acceptance in any Chinese University an international student are given a JW202 form which is a Visa application to study in China. Thus upon receiving this JW202 form from the Chinese university students can then apply for Students visas in Chinese embassy.
Some universities in China are still offering this JW202 form to international students who are taking online classes while residing outside of China. But they cannot use it to apply for visa until China changes their policies. Students can apply for study visa after the opening of Chinese borders for International students.
View link to get information regarding visa application for China.
Application Deadlines for 2021 intake in China.
For students who are willing to take admissions in Chinese universities should keep in Track with the admission deadlines. As deadline for spring semester is until mid-July whereas for autumn semester the application deadlines are generally until late April. However deadlines can vary for different universities.
Covid-19 protocols in Chinese Institutions.
Chinese universities are mandated to follow the strict Covid-19 rules in case of reopening of borders for international students. The Government has issued all the Chinese universities to have proper disinfection system, and strict health measures should be implemented for the safety of students. Students will undergo a certain period of quarantine before returning to campuses.
Thus in order to get yourself informed regarding the reopening of borders you should visit the Chinese embassy and the Universities official websites.
X
FREE STUDY ABROAD

Free study abroad expert advice