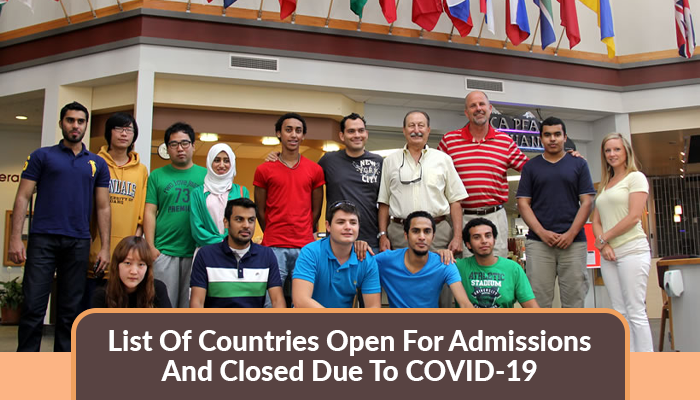 A number of students who wished to get their education from foreign countries but COVID-19 made them restricted inside. Now in 2022, though with closed borders in some termini's they are still able to get admission in most of countries. Study in foreign universities provide a great chance to get skillful modern technologies based knowledge.
Here is the list of countries accepting applications for admissions for the year 2022. There are several destinations that a student can consider to make their dreams successful. Many countries have top ranked universities including Australia, Spain, England, USA etc.
List Of Countries Accepting International Applications For Admissions
These listed countries accepting applications from international students, criteria is different for each country for example proof of vaccination is required by the country or may be quarantine is compulsory for 3, 7 or 14 days.
USA: International students from all over the world can apply in USA universities. Top ranked universities encouraged the students to get vaccine dose and be able to get admission in USA universities. Many educational institutes of USA willing to get back all students who are taking online classes to complete their course.
UK: Has started to welcome all students by adopting all safety measures. UK not only opened the admissions internationally but also make it possible to get campus based education. Applicable rules are that the countries come across low risk have to submit the proof of vaccination and those countries tagged as high risk countries have to submit the proof of vaccination along this have to be quarantine for 14 days.
Canada: International students who received admission letter from any Canadian university are allowed to enter Canada with provision of proof of vaccination. With availability of vaccination card they have no need to be quarantined.
Spain: Universities are accepting applications, from those students who are vaccinated completely (2nd dose prior to 14 days) before entering in Spain. If the period of getting second dose is longer than 270 days then student have to show the proof of booster dose prior to entry.
Taiwan: Has allowed international students to get admission by submitting vaccination certificate as a proof.
Switzerland: Universities are accepting applications from international students and opened their institutes for students to get higher education with some restrictions as it opened only for those students who want to pursue long term degree, applications are not accepting for short courses and for those which have short duration of completion.
Other countries allowed the international students to get admission include
Singapore
France
South Korea
Hong Kong
Italy
Dubai
Turkey
Argentina
Germany
Ireland
Countries Stopped Entertaining International Applications
Countries which closed their application process for international students include
China: China allowed International students to get admission and pursue restricted degrees but no specific date has yet been clear.
Japan: Japan has banned all international student's entries because of COVID-19. Either students are vaccinated or not is not considered by them, the ministry of foreign affairs announced a ban on new student's admissions at Japan's universities.
New Zealand: Ministry of foreign affairs implemented a restriction for all international students to get entry at New Zealand Universities. Any update about removal of restriction will be announced later on.
India: Indian ministry banned all international students to get admissions in its educational institutes. No update is there about exemption of all these restrictions.
X
FREE STUDY ABROAD

Free study abroad expert advice