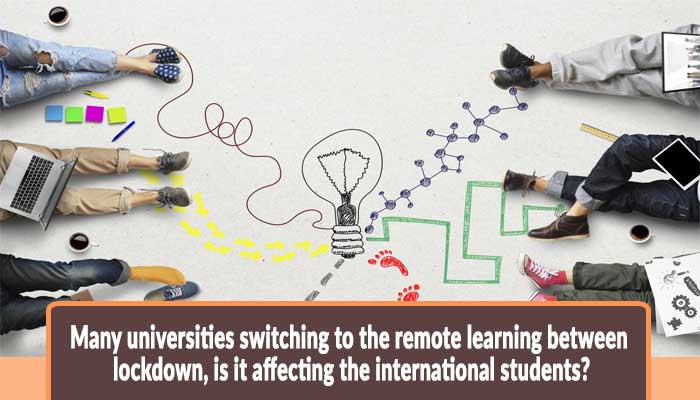 Many universities switching to the remote learning between lockdown, is it affecting the international students, as study abroad programs are looking very different in the age of coronavirus?
Starting from Wuhan, China in December 2019, Coronavirus created havoc in the world. World Health Organization (WHO) declared it a global pandemic. Soon after that countries starting struggling to contain the spread of this pandemic. They implemented new laws to minimize social contact. Educational institutions were also greatly affecting. In March, 2020 a worldwide lockdown was implemented resulting in shutting down all sort of educational institutions; this was great hit for the students studying abroad. Closure of educational institutions highlighted the method of E-learning also known as online learning.
But this Switching to Remote learning had its consequences. The positive side about it is that the international students could continue their studies and courses online without the fear of having to quit or drop their semesters but America proved to be a nightmare in this regard, as right after the declaration of switching studies to online platforms, an advisory was sent by the white house which stated that if all classes are held online than international students who are staying in USA on students visa would not be allowed to stay there. This resulted in great criticism to the Government.
Time Management during Online classes.
Right after lockdown was implemented many Pakistani students studying abroad started coming back to their homeland. For online classes they have to struggle a lot with managing the time difference between Pakistan and the country they are studying at. As for students studying in America they have to cope up with the time difference of 10 hours, as Pakistan is almost 10 hours ahead of America. Some of the classes which are held in America in afternoon, Pakistani students have to take them at night and sometimes even midnight. So management of time was and is one of the biggest struggles that international students have to face during lockdown.
The same is the problem with assignments. As many of the professor schedule their assignments and when the respective mail is sent students could get them late due to the time difference resulting in late handing in of assignments.
Internet issues during Online lectures.
This might be one of the most notable issues that every Pakistani student has to face during lockdown. As due to lockdown everyone is completely dependent on the internet, this resulted in slow internet speeds.
Bad internet greatly affected remote learning. Some cannot take their classes and some students joined late, due to joining late they cannot clear their concepts well. Most specifically this causes a great problem during exam submission, bad internet mostly results in late submissions of exams and assignments.
Remote Learning affecting concept development.
Remote learning is also affecting concept development as courses are held asynchronously. Most of the lectures they receive from their professors in abroad are pre-recorded which means that they cannot ask questions directly during lecture. International students claim that not getting to ask questions and clear out any misconception is a big struggle. And due to time difference between the two countries the professors also could not give them a spontaneous reply.
Coronavirus has created a lot many problems for students of international exchange programs but with time these problems are getting less as students are now getting use to this whole new learning experience with the passage of time. It requires extra understanding and support.
Also this pandemic is now getting in control and vaccines are also developed, vaccination rounds have started in all countries including Pakistan. Universities in abroad are opening again and international exchange program students will soon be able to resume their courses in their respective universities in foreign countries.
X
FREE STUDY ABROAD

Free study abroad expert advice