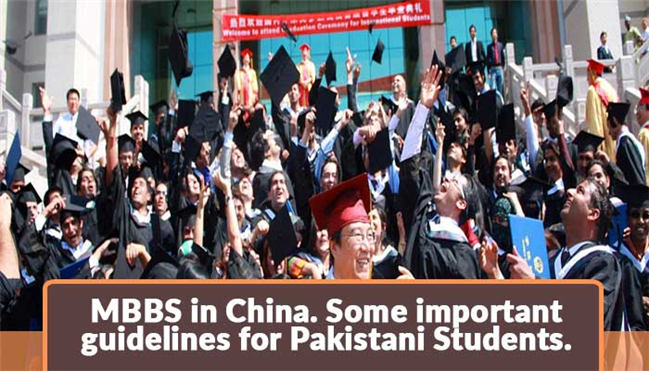 A large number of Pakistani students are going to China for pursuing degrees in various fields. Some of those students are going on merit basis, some due to scholarships and some due to affordability factor. However, the most attractive field of study in China is medicine. Chinese medical colleges are not offering one of the finest teaching facilities in the world but also they are affordable and merits are lesser than Pakistani Universities. Chinese Medical Colleges are favorite for international MBBS students and they receive a large number of admissions each year. Here are the guidelines of MBBS in China for Pakistani students:
Pursuing a medical degree is most expensive in countries all over the world. But Chinese Universities are offering least expensive fee structure for its national and international MBBS students. The average fee of any medical university of China is round about 2800$ USD including cost of living.
Pakistani students will get visa for their study in China quite flexibly. Chinese government and people are extremely welcoming to Pakistani people and this adds to Pakistani favoritism towards China. Apart from admissions eligibility and required documentations, Pakistani students will have to go through undue inspection for Chinese study visa unlike other foreign countries.
Chinese Medical Universities like Chengdu Medical College and Hebei University of Chinese Medicine are under top 100 Medical Universities of the world. Chinese Medical University degree is affiliated with WHO, PMDC and MOE.
Merit and Eligibility Factor:
Chinese Medical Universities and Colleges are accepting admissions of students who have acquired at least 60% grades in their FSC subjects. Whereas, in Pakistan, the merit for admissions in medical Universities is more than 90%.
Guidelines for Pakistani Students for Admissions in Chinese Medical Universities
There two type of medical Universities in China listed and non listed
Listed Universities offer MBBS in English Language and non listed offer MBBS in English and Chinese both
Merit is 60% marks in FSC minimum
Age limit is 17 to 24 and a few Universities even accept admissions of 30 years old
Chinese Medical Degree is internationally approved
Total Six Years Time Span MBBS Course will cost approximately PKR, 28,00,000/- to 32,00,000
Upon Selection, the fee can be payable after arriving to China
Visa process will take only a month
For Admissions Passport is not necessary , you can arrange for passport after getting admission
You will be received by your Chinese University's representative at the airport
Unlike Pakistan, Chinese Universities do not require entry tests for admissions eligibility
Top Ten Best Chinese Medical Universities and Colleges According to QS BRICS University Rankings
Tsinghua University
Peking University
Fudan University
University of Science and Technology China
Shanghai Jiao Tong University.
Nanjing University.
Zhejiang University.
Beijing Normal University.
Wuhan University
Wuhan University
X
FREE STUDY ABROAD

Free study abroad expert advice