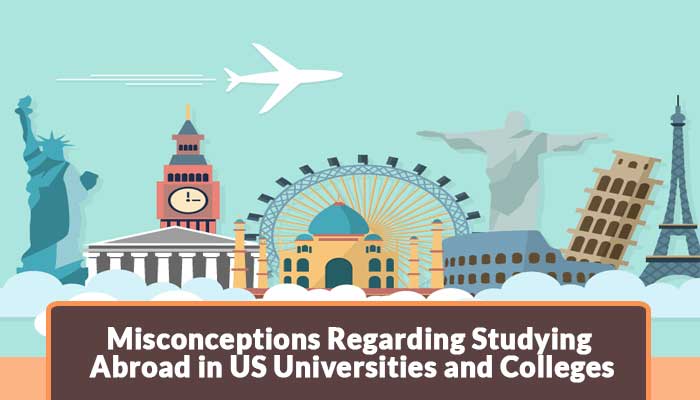 There are lot of rumors and myths regarding American colleges and Universities for International students who want to study abroad. Most of these myths regarding admission in USA universities emerge because lack of knowledge and research regarding the matter.
Yamily Villalba Paredes a Paraguay national never felt discouraged for applying for admission in USA universities as she recalls that President Trump created an atmospheres of hostility towards foreign student communities.
Not being welcomed by the community may be one of the concerns for students arriving in the state, Eric Welsh being a immigration attorney emphasizes that "schools and colleges continue to openly welcome foreign students" .
Some of the most misconception regarding foreign education who want to study abroad that keeps students from applying toward USA universities are listed below.
Student need to be financially strong to avail American education schools
Many American college vary greatly in their tuition fees and relevant costs related to education as Pamela Rambo found of Rambo Research consulting says "Tuition varies greatly in the United States". Tuition fees for students studying in the U.S can vary from $ 24,000 to $ 80,000 per year. Students who are high achievers will have not issue secure scholarships that U.S universities and schools provide that will greatly reduce their financial burden that students face while being away from home. Many Universities of America provide easy student loans and consider students for scholarships automatically.
Student cost of living also varies from $10,000 to $18,000 per year for prospective student studying in America. Students can choose their best study programs being cost focused degrees from University of Missouri, University of California, Florida State University and Virginia Tech University.
As foreign students contribute towards enriching educational experience and bringing diversity towards international universities thereby contributing towards improved quality education for all Americans.
International students should seek guidance and help from their local skilled immigration consulate to get help regarding denial of visa or overcoming reason for student not being eligible for international study program.
Student Visa is very difficult to obtain
Another great misconception among foreign student is that student's think that getting student visa is very difficult to obtain due to the current lockdown situation around the world and of embassies and consulates being closed down but experts agree the process is not difficult one student gets accepted towards the International study program.
Universities of US have specialized student centers that assist international prospective students in the process of getting admitted towards the University.
American Universities being unsafe for foreign students
Another misconception towards American universities being located in unsafe cities full of crime. Experts are of the opinion that America having approx. 4000 universities and colleges is excellent in upholding standards towards academic and educational safety standards.
Foreign students can determine American college or university ranking by vising U.S department of Education's ranking page website for campus safety ranking. Parents can also play their part and educate students who are attending U.S college to adhere to their campus security rules and regulation and stay alert.
Many American universities and college play their part for upholding law and order by working with the local law enforcement and investing int their campus police force ensuring security on the campus. Many USA schools and campuses also collaborate with student unions and student advocates to adhere to their safety rules and educate foreign students regarding the rules and procedure for safety and security on the campus.
U.S student and Universities have too much party culture
The image of U.S student's party culture have been heavily dramatized by Hollywood movies and pop television series depiction creating unique stereotype among the visiting foreign students. Majority of students studying in American universities choose not to engage in partying as they are investing their time and money saved by their families to successfully graduate and get hired by leading American organizations and companies.
Campus culture can also play part towards encouraging foreign student to engage in extracurricular activities or focus more attention towards studies for scholarship benefits. Families of foreign students can also play their part and educate their children reading the need to be successful is to focus on studies to be successful in life. ­­­
X
FREE STUDY ABROAD

Free study abroad expert advice