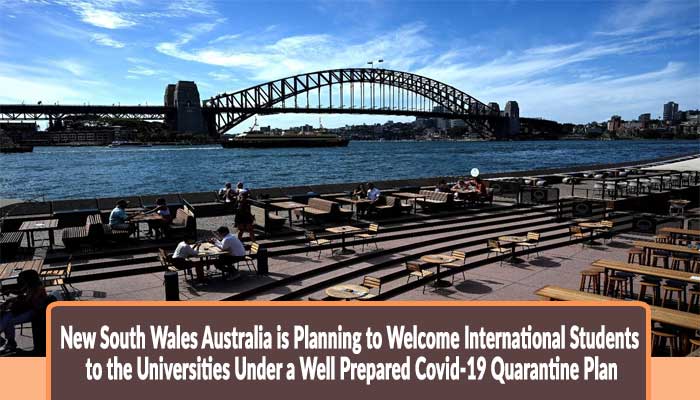 Australia is among those countries where international students are still not allowed to return to the universities for physical classes due to the strict border restrictions, this situation is causing a lot of hysteria among the international students who are unable to find any solution, However the new study plan announced by the Government of New South Wales can prove to be a ray of hope for international students. As the Government of NSW has announced that the students can fly to Australia in order to return to their studies, in a plan put together by the educational sector of New South Wales.
Restarting of the International Education Sector in New South Wales
New South Wales is a southeastern State of Australia. Sydney is the capital of this state and a major study attraction for international students around the world. Thus the Government of New South Wales has suggested that all the student accommodations in Sydney's CBD will be converted into quarantine chambers in order to restart the international education sector of New South Wales. Educational sector was providing great revenue to New South Wales before the pandemic.
The international student accommodation quarantine program was proposed by Barney Glover who worked very closely with the state and federal Government to make this idea a reality.
How will Student Accommodation Quarantine Program Work?
According to Barney Glover this program will help almost 250 students to fly in and quarantine every fortnight. He said that "That's very much a signal to our students offshore that we are moving now more rapidly towards an opportunity to welcome the international students back to Australia."
This whole plan was made to prevent further loss of international student population in New South Wales as due to the border restrictions that Australia has imposed, international students are left with no choice but to apply for courses in other countries which have made immigration concessions for international students.
When will this program start?
As of now there is no exact date which is set for the launch of this initiative. But according to few reports students can fly in to study in New South Wales by October. As Barney Gloves has said that, "I think we can see students coming within six months and I'd hope to see students arriving certainly in the early part of the second half of this year." State and Federal Government has also joined hands with the universities to start this student quarantine program.
Study in Australia.
Australia has emerged out to be a big study hub for international students and that is all due to the quality education the universities of Australia provide to the international students. Australian universities have been added in the list of QS World University Rankings. There are also many scholarships opportunities which are provided by the higher educational institutions of Australia to deserving international students. Study in Australia will allow you to be a part of a multicultural environment which will not only nourish your knowledge but will also help you in the practical world.
X
FREE STUDY ABROAD

Free study abroad expert advice