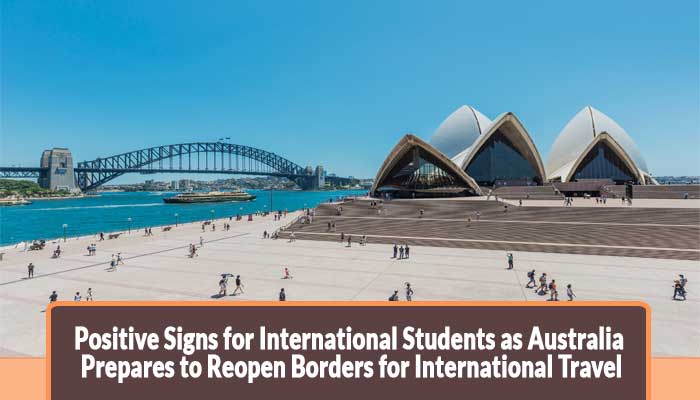 Students who wanted to study abroad will be very happy to know that the Australian government is finally in the final stage of reopening its borders regarding study in australia for pakistani students. As the city of Sydney finally remerges from lockdown after 106 days, friends and family gather around as saloons and pubs get full signaling signs of positive changes.
Professor Peter Collingnon tole of National University Australia expressed the need that some international travelers need to be home quarantined and monitored while Stuart Ayres NSW job minister emphasized that their state do not have the resources and they cannot make hard rules as they need to show flexible and adaptable.
NSW recently announced to bring back 500 international students in the month of December. Australia's New South Wales premier Dominic have announced that are scrapping the idea of hotel and home quarantine for international travelers who are fully vaccinated starting from November 1,2021. This is positive news regarding return of studies towards australian universities for international students.
Other positive signs regarding international student return to Australia are follows
Airline Qantas to increase flight to Australia soon
Qantas Airline has become more active in announcement of its flights towards Australia and other commonwealth countries. Originally Qantas flights were planned to resume operations in mid-December but that was brought back due to changing factors like accelerating vaccination rates of state like New South Wales, Victoria and others and announcement by New South Wales state regarding dropping of hotel quarantine and home quarantine for international travelers who are double dosed vaccinated.
"Qantas cabin crew and pilots are thrilled to get back to work" quoted CEO Alan Joyce of Qantas airline. He believes its still a long way to go but Australia is off to a good start as he believes dropping quarantine for vaccinated people is a sensible idea to NSW sate in line among other global city routes.
Australia states rising Vaccination rate
As of 19th October , 69.2% people over 16 years of age have been double vaccinated with 85.1% having vaccinated once. Australian state New South Wales and state ACT have 80% adult people having been vaccinated while state Tasmania and Victoria are expected to reach 80% in early dates of November. International reopening of Australian border including all states is directly linked towards Australian states to reach vaccination rate of 80%.
Australia Vaccine passports
Australian government has launched vaccine passports recently allowing international visa holders who are fully vaccinated to travel in and out of the country with confidence. Vaccine passport document has QR code that is secure and can be used by international border authority to verify international visa holder vaccination status. The new document adheres to the global standard launched by international Civil aviation organization and fulfills demands of World health Organization as Australian government ministers expressed their opinion that launch of vaccine passport is key step towards reopening international borders safely while supporting Australia's economic recovery from Covid-19.
NSW state recently announced that for double vaccinated travelers around the world their state is open for business as NSW premier Perrottet declared that his state wants people back as New South Wales is leading Australian nation out of pandemic and this is important step toward Australia economic restoration.
Premier Perrottet also announced that there to no be no cap towards international travelers receiving two doses of recognized vaccinations including Pfizer, Moderna, Sinovac, Johnson & Johson, astrazenca and Covishield by TGA. International travelers will be restricted to 210 people per week for those who are not fully vaccinated and will require to undergo 14 day hotel quarantine. As Australia reaches 80% vaccination rates, international travel restrictions will be eased off. So Pakistani students must hurry and avail all possible opportunities for australia scholarships as international airlines have already started booking flights towards Australia popular cities providing world class education to international students.
X
FREE STUDY ABROAD

Free study abroad expert advice