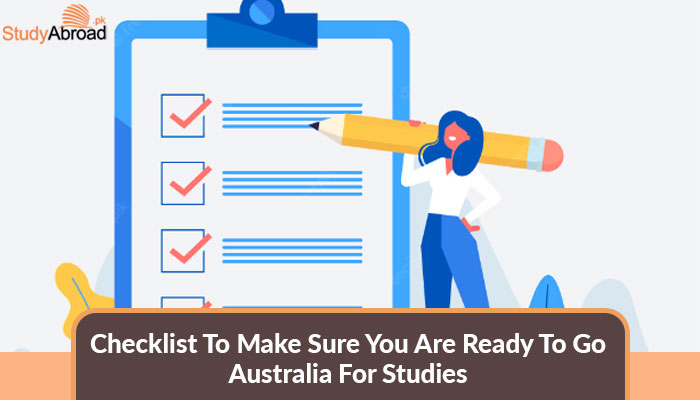 Have you been accepted to your ideal Australian university after putting much effort into your admission and visa application process? But that's not it! There are still some things you must complete before departing to Australia. We have prepared a Preflight checklist for you to make sure you are ready to begin your study abroad journey in Australia. After getting your Confirmation of Enrolment (CoE) from an Australian university, make sure you have prepared the following things:
Valid Passport
Before departing for Australia, make sure your passport is valid for at least six months. Your passport is evidence of your identity and citizenship; keep it somewhere you can take it out easily. In an emergency, printing copies of your passport is also a good idea.
Valid Australian Visa
Before you prepare to fly, verify you have a valid visa to enter and study in Australia. Also, ensure that you have your visa documentation (including a Confirmation of Enrollment or eCoE) with you well before your departure date.
Vaccination Proof
When traveling to Australia, you are not required to present evidence of your COVID-19 vaccination. However, in case of need or for your safety, we advise everyone to keep their COVID-19 vaccination certificate or card with them. Also, check the vaccination requirements of your airline, as they may have their own terms and conditions.
Book Your Flight
Another important step is to book your flight ticket to Australia. Make your flight arrangements early on so that you can get the best flight deals. Also, make sure the date of your flight arrival gives you plenty of time to settle into the new city and your university before the commencement of your academic program. Keep your flight ticket details safe and secure with your passport and visa information. Do not book your flight ticket unless your Australian student visa is confirmed.
Check the Requirements for Your Study Destination and Your Arrival City in Australia
You need to follow necessities in the state or region of your arrival and some other state or province you intend to travel to. If you intend to transit within Australia, you must be aware of and prepared to meet the requirements for arrival in Australia and your study destination.
Get a Travel Insurance:
In addition to your Overseas Student Health Coverage (OSHC), you should also think about purchasing travel insurance, which covers medical expenses, loss of passport or personal belonging and flights cancellation expenses etc. To get more information and advice on the best travel insurance policy for you, consult your education or travel agent.
Important Contacts
When you travel, bringing a list of emergency contact information is a good idea. Keep the contact details of your embassy, accommodation, and university details on your mobile, and also the contacts of any friend or family you may have in Australia. Keep the contact information of the education agent you used on your phone if you need to contact them once you arrive in Australia. It is also advised to keep a list of your important contacts in hard form with your passport and visa.
Currency Exchange:
There are many currency or money exchange counters in the cities and airports of Australia, but you should bring some Australian currency with you when you arrive in Australia. When you travel internationally, use cash rather than a credit card. It is the most common way to pay for small transactions, enables you to pay like a local, provides a crucial backup payment method and is widely accepted.
What to Anticipate Upon Your Arrival:
You will be expected to show your passport or visa at Passport Control, get your bags, and get rid of anything that can't be brought into Australia, like the food from the plane. Your bags may be inspected at customs and border protection. You will also be required to fill out an incoming passenger card to verify your identity by providing some specific information. A passenger card provides passenger identification and an effective record of a person's entry to Australia.
What You Can And Cannot Bring Into Australia:
Due to Australia's stringent border controls, you must know what you can and cannot bring into the country. If you fail to declare biosecurity goods at the Australian border accurately, you will be subject to penalties under the strengthened biosecurity laws of Australia. It means that you must declare the following upon your arrival in Australia;
Anything edible, plant-based or animal-related

Ammunition, weapons, and sharp objects

Currency in the amount of 10,000 A$ (or the foreign equivalent)

Medications etc.
Book Your Accommodation
Prior to your arrival, confirm that you have booked and confirmed your accommodation in Australia, must note the address and phone number of the place where you will be staying. Students can go for on-campus or off-campus accommodation in Australia. You get the information about the on-campus accommodation from your university and for the off-campus accommodation you have browse the internet.
Provide Your Address to Your Education Provider
In accordance with visa condition 8533, you are required to provide your education provider with your residential address in Australia within the 7 days of your arrival in Australia. You must let your education provider know if your residential address changes after your arrival in Australia due to any reason.
Do You Intend To Work?
You can work while you study thanks to your Australian student visa. In addition of earning some extra cash it will also assisting you in gaining valuable language and cultural experience. While academic program is in session, international students in Australia with a valid student visa can work up to 20 hours per week and they can work as many hours as they want during vacations or semester break.
Enjoy Your Time Studying In Australia
Your study adventure begins after you have finished adjusting to your university and new surroundings in Australia. You can enjoy the community, diverse culture and fascinating locations of cities in Australia along with your studies. Studying in Australia will set you up for an experience like no other.
X
FREE STUDY ABROAD

Free study abroad expert advice