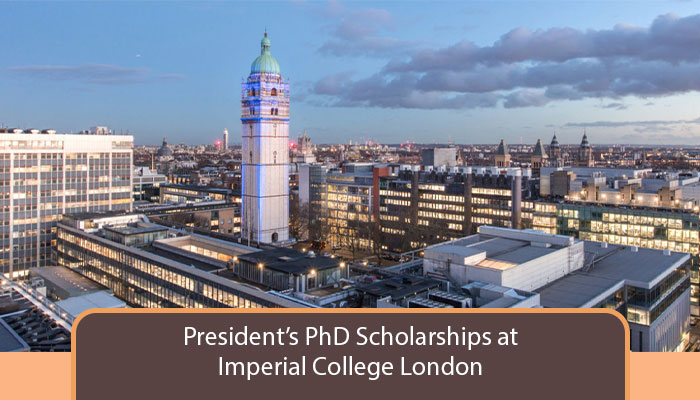 ICL is located in London, United Kingdom, and is a public research university providing educational services to students. The university was established in 1907 by the Royal Charter. Imperial College London offers Bachelor's, Masters, and PhD programs related to science, technology, medicine, and business.
22,445 students are currently enrolled here and the academic staff comprises 4435 members. Imperial College London is affiliated with the Association of Commonwealth Universities, European University Association, Global Alliance of Technological Universities, League of European Research Universities, and the Russell Group.
President's PhD scholarship at Imperial College London is a great opportunity for students who are high achievers in undergraduate or Master's programs and want to pursue higher education such as the PhD program at a leading university. The scholarship will cover the tuition fee and a stipend will be given for a 3-year PhD at the university. This scholarship will allow students to undertake a research project with the support of an excellent supervisor.
Also, students applying for President's PhD scholarship will be considered for two more scholarship programs that are:
Sir Michael Uren Engineering Scholarship

The Sir Michael Uren Medicine Scholarship
Benefits Of The Scholarship Program
During 3.5 years of study 50 scholarships provide the assistance given below:
Full tuition fee will be covered.

A stipend of £22,900 (2023-24 rate) will be given to cater to the living costs.

For the first 3 years of study, a consumables fund of £2,000 per annum will be given.

To the graduate school a 'program of bespoke opportunities and events will be delivered.

International students and handicapped students will be supported also.
Application Requirements And Eligibility Criteria
Applications from talented students are accepted at Imperial College London from the UK, and throughout the world. Applications from people from all backgrounds and nationalities are welcomed. This scholarship program is open to new PhD applications only. Current registered Imperial PhD students are not eligible to apply for a President's PhD Scholarship.
Students applying for President's PhD Scholarship must have secured an equivalent or first class in undergraduate or integrated Master's degree or have got a distinction in a standalone Master's program are eligible to apply.
Application Process:
Applications are considered at 3 three points in the academic year. Students are advised to make contact with a supervisor in an academic department at the university who agrees to supervise their research project, prior to applying.

Students are required to submit their application for admission to study at Imperial through the 'online admissions system' and the concerned department will select them for the scholarship.

The earliest start date for funded places is August 1, 2023, and the latest start date is November 1, 2023, for the years 2023-24.

Students are required to submit a 2-page document. On the first page write a 'personal statement' that explains the reasons for applying to this scholarship program. On the second page, students have to write a research proposal.

Also, the names of two academic referees are required which shouldn't include the proposed PhD supervisor.

Within the online application form the candidates are required to select the option in the funding section of the additional questions tab so that they can be considered for the President's PhD scholarship scheme.
"Check how to write Personal Statement"
Review And Selection Of Applications
Department (to which the student has applied) will review the candidate meeting the eligibility criteria. Shortlisted students will be presented to College Selection Panel for consideration. College Selection Panel is bound to make the final decision.
Faculties and College Selection Panel assess students on the basis of 'Academic Excellence' that is their past academic achievements, transcripts, awards, class position, and distinctions. Also, students are assessed on the basis of 'Research Potential' which is the research experience of the student at present, their plan for research, and their interest in innovations and discovery.
Common Mistake to be must avoid while writing a "Statement Of Purpose" or "Personal Statement"
Application Dates
Applications for the Scholarship program are considered at three points in the academic year.
Have the following deadlines:
Applications are submitted till November 4 2022 and those applicants who are given scholarships will be informed by January 23, 2023.

Students submitted applications till January 6 2023 will be notified as winner by March 20 2023.

Students can submit applications till March 3 2023 and will be notified as winner by May 22 2023.
X
FREE STUDY ABROAD

Free study abroad expert advice