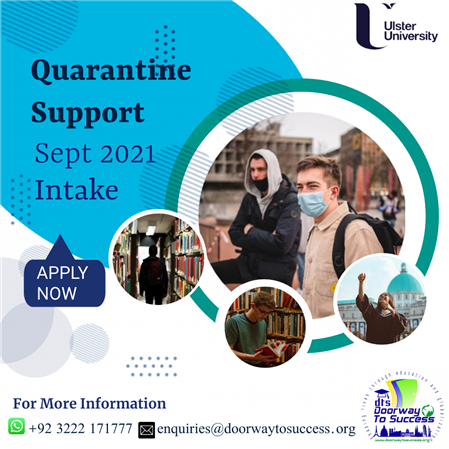 | Admissions open @ Ulster University
for Sept 2021 Intake|

Why Students study @ Ulster University


1) Ulster University is Northern Ireland's largest university.

2) Ulster University has strong links with business & industry.

3) Ulster University offers wide range of courses from Foundation Programme to Undergraduate to Postgraduate.

4) The University has one of the highest graduate employment rates.

5) Ulster University is located in one of the most affordable region in the UK.
APPLY NOW @ ULSTER UNIVERSITY & GET SCHOLARSHIPS UPTO 2,000-/ GBP.
Ulster University is now offering to support students in quarantine charges for September 2021 intake in Northern Ireland campuses, up to a maximum tuition fee discount of £1,750 to offset the additional costs for quarantine from Red List Countries.
Please note, this will not affect the £2,000 scholarship awarded to Ulster University international students.

CONTACT US TODAY;

Click the link below;
https://rb.gy/zoenxz
OR

WhatsApp @ +92 423 5783698

Call @ +92 3222 171777
Consultant Info
X
FREE STUDY ABROAD

Free study abroad expert advice