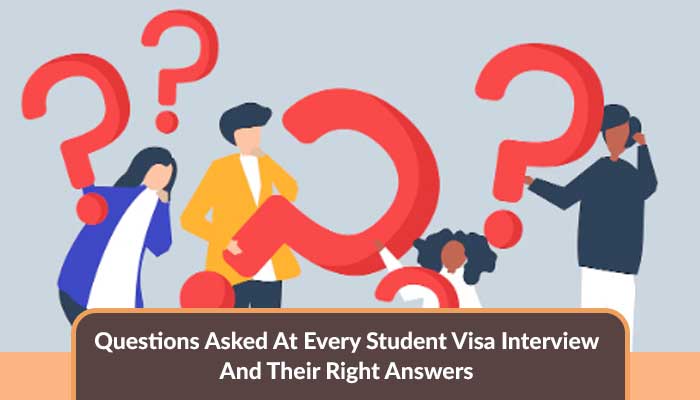 Studying abroad has become a common occurrence among students. It is regarded as a chance to obtain a world-class education under the supervision of highly qualified professors. However, in order to gain admission to any foreign university, a number of requirements must be met by each student. Obtaining a student visa is a critical but basic step.
Student visas are in higher demand than ever before due to the increased interest in studying abroad. Individuals who have received a document or an offer letter from a specific university are eligible for a student visa. The duration of a student visa is determined by the duration of the degree.
Steps To Get A Student Visa?
The application process of a student visa includes the following steps which are mandatory for every student.
Apply for a university abroad

Consult the particular embassy of the country you apply for

Complete all the required documentation

Apply for student visa

Pay visa fee

Appear for the student visa interview
Student Visa Interview Question And Answers
An important step of the student visa process is to appear for the interview. Candidates are required to appear for the interview as per the given date and timings. There shouldn't be any delays and you must not miss the interview in the first place, as it is hard and sometimes impossible to reschedule the interview process.
An interview is basically held to evaluate the credibility of an individual and determine if they are eligible to get a student visa or not. The interview session will cover the questions regarding your study plans, choice of university, and much more. Let us tell you the questions asked at every visa interview and what their right answers could be.
Why Have You Chosen The Particular Country For Studying Abroad?
It is one of the most important questions that is frequently asked at interviews for student visas. You must ensure you give valid answers for choosing the particular country. You can mention the quality of education, tuition fees, your affordability, the scope of your field in the particular country, and the different scholarship opportunities the country has to offer. You can also generate your answer by linking it to how passionate you are about achieving a degree in the chosen country due to its academic excellence, quality of life, and future opportunities.
Why You Chose To Study Abroad Instead Of Studying At Your Own Country?
This is another important question for the visa interview. You need to answer confidently and be able to draw a comparison in terms of quality education, availability of scholarships, international recognition of degrees, and how international exposure will be beneficial for your career growth. You can also point to the difference in the education system between having a theoretical approach to learning or a practical one as well.
Why Have You Chosen This Specific Course Of Study?
A student should always be confident in the degree program they want to pursue. Having complete knowledge regarding the scope and career of the study program is essential. Your interviewer is more likely to ask you questions regarding your degree program than to ask you why you have chosen this degree. For instance, if you are likely to pursue a career in information technology, you should answer questions regarding your interests in the field. You should know the future and emerging scope of the degree that is likely to benefit your career.
Why Have You Chosen That Particular University?
Before enrolling in any degree program you must go through the university and its details. It is one of the valid questions for the visa interview. You need to be prepared through thorough research on the university and its academics. Your answer can include the international recognition of the university; infrastructure; highly qualified professors; exposure to practical learning parallel to theoretical; cultural diversity on campus; and the ranking of the university and the particular chosen department.
What Are Your Future Goals?
An important question indeed! Being clear about your future goals and aims helps in the foundation of a successful career. The choice to study abroad is a big step and a dream come true for some. However, without any goals, it might be hard for you to be able to achieve success. Your interviewer must be checking your confidence, passion, and level of hard work you are willing to put into achieving your goals. Try to stay real and answer in relevance to your passion to achieve a career in your field of study.
How Are You Going To Manage Your Tuition Fees?
You need to be clear regarding your expenses abroad in addition to your tuition fee. Your interviewer will ask you regarding your tuition fee, and you need to tell them honestly without hesitation. You are required to provide proof of your bank statement or other if acquired by the interviewer.
Do You Plan To Work While You Study?
Every country has specific work criteria for international students. Your interviewer might ask you regarding your plans, if you are likely to do a part-time job while studying or not. And what preferences will you have if you look for a job while studying.
How Many Family Members Do You Have?
You might be questioned regarding your family and family history. If you have any family members in the country you are applying for, and how is your family going to support your education abroad? This is a simple question but sometimes can be acquired in a different manner, making it a little tricky.
The abovementioned questions are the most basic and frequently asked for visa interviews for any country. Apart from the questions, applicants are advised to stay calm and confident during the interview process. Whatever the questions may be, you need to compose your answers accordingly and present them in a mannerly way. Also, be authentic with your answers and avoid giving bad answers.
X
FREE STUDY ABROAD

Free study abroad expert advice