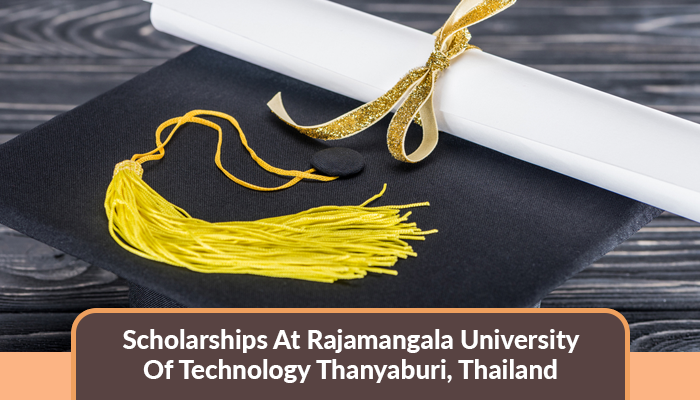 Almost 25076 students are getting their education from Rajamangala University Of Technology Thanyaburi. This university offers 113 academic programs. RMUT is inviting 60 brilliant, brightest and outsatnding students from all over the world to start their bachelors, masters or Doctoral study on scholarship for the year 2022.
By keeping corona pandemic under consideration first semester of each degree will be taught online. Will keep the students updated about next semesters, it depends upon the situation in Thailand to make sure student's safety.
Available Study Programs
A number of bachelors, masters and PhD programs are available to study at RMUT.
Types Of Scholarships
There are three types of scholarships available
1. Extraordinary Scholarship
Students fall under this category will awarded
Free tuition and no admission fee
Free accommodation (RMUT Dormitory)
2500 Baht / month allowance
2. Exceptional Scholarship
Free tuition and miscellaneous fee
Free accommodation
3. Excellent Scholarship
This type of scholarship will cover only the tuition fee
Learn here how to apply
Eligibility Criteria For Each Type Of Scholarship
To Get Extraordinary Scholarship
Must have 75% marks or 3.0 GPA in last degree
TOEIC score must be 650
Pass Thai language exam during second semester(Only for undergraduates)
Exceptional Scholarship Requirements
To be eligible for exceptional scholarship applicants
Must have 75% marks or 3.0 GPA in last degree
TOEIC score must be 650
Excellent Scholarship Criteria
Only required 3.0 GPA or 75%marks in previously passed degree
Documents Required At The Time Of Application
Following documents are required at the time of aplication
Certificate of previously passed exam
Detailed marks sheet/ Transcripts
CV/ Resume
Statement of purpose that must have at least 1000 words
Copy of passport
2 reference letter
Portfolio (only for those who are applying for Fine Arts)
Publications of academic or research paper in ISI (only for post-graduate students)
Application Process
Online applications are open now to apply.
X
FREE STUDY ABROAD

Free study abroad expert advice