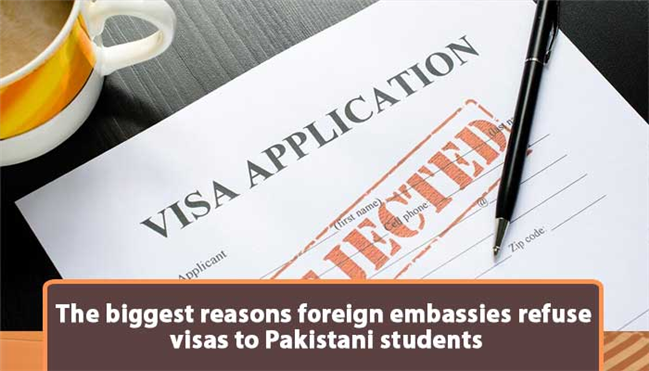 Many students failed to get visa in spite of fulfilling all the requisite of visa and getting genuine admissions. It causes waste of whole year of students and sometimes universities admission deadline end. Pakistani students applying for visa have quite high chances of rejection of their visa application. There are many vague reasons due to which study visa of Pakistani students get rejected by embassies. At studyabroad.pk, we will discuss the biggest reasons why foreign embassies refuse visas to Pakistani students:
Visa applications of Pakistani students get rejected usually when it comes to required documents. Documents should be completed in all respect and attested through higher authorities are pre-requisite for acceptance for your visa application in foreign embassies. Embassies usually refuse visa when documents are not fully attached or not fully attested.
Acceptance letter from unauthentic Institutes:
​ Many students get acceptance letter from institute which are unauthentic or have some problems in their affiliation with country authorities. Embassies reject visa applications if you have acceptance letter from unauthentic or unaffiliated institute of that country. Students must cross check the authenticity of institutes before applying for visa. We have list of authentic institutes at studyabroad.pk for the students dreaming to study abroad.
Not proper financial Statements:
Financial statement in student account shows the seriousness of the student. If you don't have enough money in your account, your visa will reject. Students should have maximum amount in their account to support full tuition fee and accommodation. Students who have sponsor should attach financial statement of at least six months.
Not a valid reason to enroll in foreign country:
Pakistani student Visa application usually reject because they not give a proper and valid reason behind getting enrolled in respective university and country. You must have a valid reason behind choosing that country and university for your successful acceptance of Visa application. Reason must be a logical to show your interest in that field of study and university.
Medical certificate attached from local labs:
Medical certificates play an important role in the acceptance of your VISA Application. Medical tests should be taken from authentic labs. Check that the country you are willing to apply accept report of which lab. Most countries accept the medical reports of Agha Khan Laboratory. An unauthentic medical report leads to the refusal of foreign visa to many Pakistani students.
Professional career not fully explained:
Many Pakistani students don't take their career serious. They try to get admission abroad. Sometime admission in irrelevant field is granted and students apply visa for that field. Such Visa applications have high risk to get reject. Embassies not grant visa if you are going for irrelevant field and changing your field of study. At studyabroad.pk, you can search your relevant field of study and career counseling for your bright future.
Puzzle in visa interview:
In interview for your visa application, they ask for your career plans. Some students get puzzled by this question. They confuse themselves and also the interviewer. Interviewer satisfaction is foremost requirement of acceptance of your visa application. If you puzzle in stating your career plans to interviewer. Interviewer will get a negative response from you and there are chances that he will reject your visa. Most Pakistani student get confused for their career plans and thus rejected.
Students usually not take expert opinions:
Students who not take expert opinion get rejected in visa applications. At studyabroad.pk, we have updated top educational consultant list for the benefit of students who want to study abroad. Students can get their help for successful acceptance of their visa application.
X
FREE STUDY ABROAD

Free study abroad expert advice