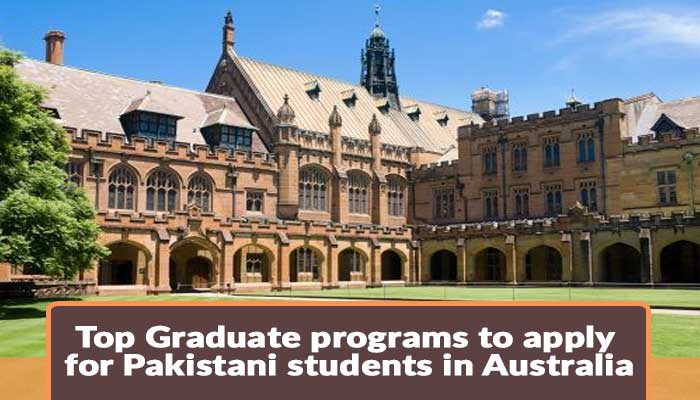 Every year many Pakistani students opt to pursue a degree in Australian universities because of the remarkable standards of education in Australia. Students get a chance to experience new cultures, environments, study patterns, and most importantly Pakistani students experience the life of being independent and learn to have a balanced life.
Australia offers globalized educational programs to international and Pakistani students; it has some top ranking universities. Seven Australian Universities are included in the list of top 100 educational institutions world-wide. Australia offers great Graduation programs for international students all around the world, and if you plan to reside their permanently then choosing a degree with soaring scope is crucial that is why a right degree selection is important. Here is a list of a few great graduation programs you can study in Australia.
Master's in Accounting.
Masters in Accounting is a 2 year degree program. If you complete your masters in accounting then you will have many options in future, either to complete your specialization with other study options or apply for a job after graduation. Accountancy has huge scope in tax, management, Business and stock departments. Master degree program in Accountancy from Australian universities can cost around 63,000 AUD to 96,000 AUD
Master's in Agricultural Science.
A field of biology that deals with the detailed studies related to the science used for better and proper cultivation of various plants. This degree has great scope in Farming, Agricultural and forestry fields in Australia. This degree can almost cost around 40,000AUD.
Master's in Biomedical Engineering.
Australia is known for its science related degree programs. Biomedical engineering is a field where engineering techniques are used to create devices, and machines which are used in the medical world to diagnose and treat human disease. This degree has great scope in Australia.
Master in this field can cost between $16,299 and $40,400 every year for tuition only, other additional cost regarding lab researches and buying books can cost almost 3000$.
Master's in Computer Science.
Computer science graduates are in great demand not only in Australia but also all around the world. This degree offers great career opportunities and most importantly specializing in data management and banking field can really boost your career. Master's degree in Australia from leading and top ranking universities can cost around 38,120 AUD to 91,709 AUD.
Master's in Psychology.
Master's in psychology is another field of great scope in Australia. With the modern age learning about human behavior and their thought processes is an absolute need. Graduates of master's in psychology can be clinical psychologists, educational psychologists and psychotherapists. Clinical Psychology is the most practices field among all and Master's in Clinical psychology can cost around 29,000 AUD to 51,000 AUD.
For more information regarding study in Australia click
Student Visa for Australia.
In order to study these Master's degree programs in Australia you have to apply in a university of your choice and upon acceptance from university you can further apply for Student visa for Australia.
Applicant should meet all the necessary requirements of Genuine Temporary Entrant (GTE).

Acceptance letter

Police certificate

Financial requirements]

Health certificate

Language proficiency test certificate

Police certificate

Health insurance form
To get further information regarding Pakistani Student visa for Australia
Top Ranking Australian Universities.
According to the QS World University Rankings. These are the top ranking universities of Australia in the world where Pakistani and other international students can apply.
Australian National University (ANU)

University of Sydney

University of Melbourne

University of New South Wales (UNSW)

University of Queensland (UQ)

Monash University

University of Western Australia (UWA)

University of Adelaide

University of Technology Sydney (UTS)

University of Wollongong
For further information regarding universities in Australia
X
FREE STUDY ABROAD

Free study abroad expert advice