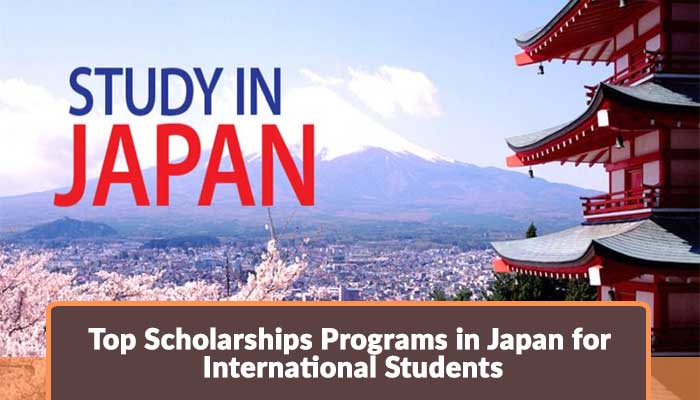 Japan, also known as the Land of the Rising Sun, is widely regarded as an ideal country to study for international students. According to a new study, Japan is the nation with the most technical expertise. This country is home to a few top higher education institutes, which provide foreign students with a plethora of academic opportunities. According to a 2019 QS Best Student Cities survey, Tokyo is ranked the best student city in the country. This is the reason why the number of International students in Japan is soaring every year.
Many concerns about study and living expenses pop up in the minds of students as they consider studying abroad an expensive option. However, in response to the number of foreign students enrolling in Japanese universities, the Japanese government and universities are providing a variety of scholarship programmes to international students. These scholarships cover your tuition fee expenses making it easy for deserving students. The details of a top scholarship programs in Japan are listed below,
The University of Tokyo Undergraduate Scholarship 2021
This four-year fully funded scholarship programme is available to applicants who have excellent academic record. This scholarship pays for tuition, entrance fees, and other living expenses. Accepted candidates will receive nearly JPY126,000 every month. The university will revisit this scholarship every year, and its extension will be entirely dependent on the recipient's academic results. To apply for this scholarship programme, you will be required to register electronically, you also need to have official qualifications and transcripts, as well as your result sheet to prove your academic ability.
Kyoto University of Advance Science Scholarship 2021
Two types of scholarships are offered by KUAS first is the Super KUAS-E Scholarship which provides a 100% tuition and admission fee exemption, as well as a stipend of around 1,200,000 JPY per year to the eligible students. The second type is the KUAS-E Scholarship through this scholarship program you will be able to get a 30%, 50% or even 100% tuition and admission exemption. This scholarship is available for undergraduate, master's, and doctoral programmes. This scholarship is available upon entry to KUAS, and applicants must note it while applying if they wish to earn it. To be eligible for this scholarship, you must have a strong academic record. Once the scholarship is awarded, the institution may evaluate the student's academic record every semester.
Japanese Government Scholarships for International Undergraduate Students
The Japanese government also funds several scholarships for foreign students. The Ministry of Education, Culture, Sports, Science, and Technology (MEXT) offers these scholarships to foreign students who wish to pursue any Undergraduate/ Bachelor's degree programme through the Japanese Government (MEXT) Scholarship Program. This scholarship scheme will pay for your tuition and other research costs, as well as provide you with a monthly stipend of 117,000 JPY. To apply for this scholarship, you must have evidence of your ethnicity, age, qualifications, and Japanese language proficiency.
Hokkaido University Scholarships
Those who desire to study at Hokkaido University can apply for a scholarship program offered by Ministry of Education, Culture, Sports, Science and Technology (MEXT). You can apply for this scholarship by three different ways first through the Embassy recommendation, meaning that you have received a recommendation from a Japanese Embassy or Consulate in your country. Secondly through University Recommendation and thirdly through domestic Selection. The stipend offered for Bachelor's, Master's and PhD programs is different.
JFUNU Scholarships for PhD
Students who are granted admissions to the PhD Programme in Sustainability Science at United Nations University Institute for the Advanced Study of Sustainability (UNU-IAS) are eligible for this scholarship program. JFUNU Scholarships for PhD are offered to those students who have shown great academic record in previous degree programs. This Scholarship program is offered for PhD in Sustainability Science. A monthly allowance of 120,000 JPY is offered to the selected candidates. English language proficiency is required in order to apply for this scholarship.
X
FREE STUDY ABROAD

Free study abroad expert advice